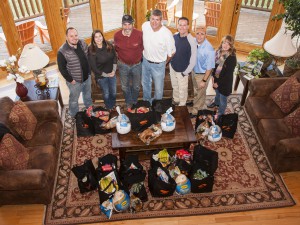 Turkey Day is almost upon us and you can start to feel the excitement in the Taylor-Made offices! We are so proud to once again announce that our work family had pulled together to donate for the Thanksgiving Holiday to local families in need! All together our employees donated enough food to feed multiple families. Corn, green beans, rolls, potatoes, pies, juice, fruit, the pile was Huge! Of course, we can't forget all of the huge turkeys that rolled out of our office today! We are so proud that our employees always go above and beyond to donate and give!
Just a reminder for those that are visiting this weekend, the Festival of Trees begins on Friday @ 9 am and continues until Saturday. Basically it's walking through a true winter wonderland where you get the opportunity to start your holiday shopping early by perusing the vendors' tables. For the kids, they can have dinner with Santa, make crafts, pose with Frosty, and much more! Lots of fun for the whole family. Team Taylor-Made has been hard at work to create the perfect tree that they will donate for the live auction held on Saturday. I don't want to give away the big surprise but all I can say is that it looks like a very colorful puff of cotton candy!
Wishing all of our friends, family, guests, and homeowners a Very Happy Thanksgiving Holiday! We can't wait to see you at the lake!