Well, it's official. We are not going to have a white Holiday this year. Since this is clearly not something that anyone can control, I think that we should just embrace it and take advantage of how comfortable it is outside. No need to dress in multiple layers and put on a snow suit just to go to the store. On the serious side though, it is nice that we can still go to the state parks and hike around. People are still jogging down Deep Creek Drive and there are several activities going on at Wisp right now (mountain coaster, canopy tours, Segway tours, and the ice skating rink). Besides if you are a last minute procrastinator and still having shopping to do, it's much easier to lug your shopping bags from store to car when it's not 10°. It will snow soon and balance will once again be restored to our mountain life.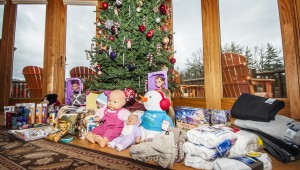 Taylor-Made employees once went above and beyond for our Holiday donation this year! Each year we choose a different organization or family in need to shop for! Every department pulls together to get the items on their assigned list. This year we choose to donate to Dennett Road Nursing Home, a local nursing home here in our area. We gathered boxes and bags of everything from crosswords puzzles, body wash, socks, blankets, calendars, CDs, and list goes on. It says a lot about our employees and why we are so proud of them. They give often and always in abundance. The satisfaction for everyone is knowing that we helped give to someone in need at this time of year. So, this is a big Thank You & Shout Out to our Taylor-Made Family!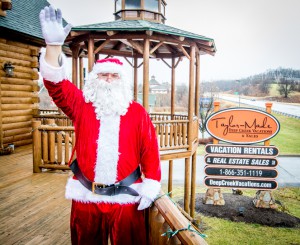 Speaking of Taylor-Made, our annual tradition of Santa Claus stopping by the office will be happening on December 24th from 10 am – Noon. Bring your wish list and stop by! We will having cookies, hot cocoa, Holiday stories and you can even get your picture taken with Santa! Fun times!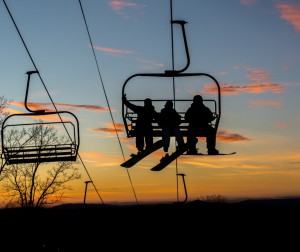 You still have time to plan a last minute trip to Deep Creek for the Christmas Holiday! Can you image the sheer delight from the family to learn that Mom & Dad planned a last minute getaway! We are offering some fantastic last minute discounts so give us a call (1-866-351-1119 or online www.deepcreekvacations.com) and let us help you find that perfect vacation home for your special stay! We can't wait to see you at the lake!