Spring wedding season is upon us at Deep Creek Lake.  Excited brides and grooms are finalizing their plans and our event coordinator is busy taking care of the last minute details.
Deep Creek Lake destination weddings have become increasingly popular over the years.  Scenic mountain vistas and beautiful lake views provide the perfect backdrop for outdoor spring weddings and throughout the rest of the year too.
We offer a wide variety of wedding friendly homes that are ideal to host your big day.  From intimate affairs at a classic mountain lodge to larger gatherings at a luxury chalet, there's something to meet the taste of every couple.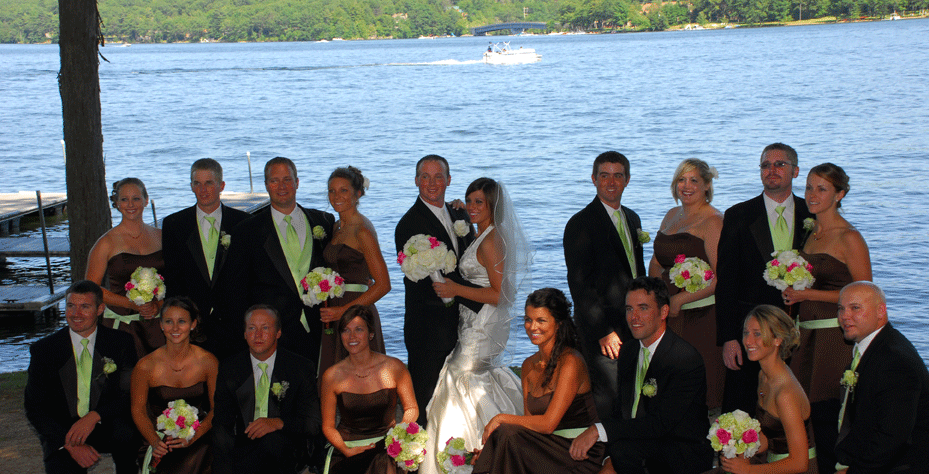 Depending on the size of your group, the ceremony and reception can be held by the water's edge or on a deck overlooking the lake and mountains. Our event coordinator can guide you through the process of contacting vendors for tent rentals, catering, flowers, and more.  We'll help you with all of the small details that go into making your day truly memorable.
If you're looking for Deep Creek Lake vacation rentals to house your group but would like to hold your ceremony elsewhere, we can help with that too.  We assist you with choosing homes that are close together and in the area that you prefer.  Additionally, we can provide you with a list of local churches or other unique venue options like Swallow Falls State Park.
Spring weddings in the mountains of Western Maryland gives you the chance to combine a great getaway with the most important day of your life.  Imagine enjoying Deep Creek Lake activities like boating, hiking, and kayaking with your favorite people as you look forward to the big event.  It's an opportunity to share time with people that you may not see often enough throughout the year.
Request more information about Deep Creek Lake spring weddings (and other seasons too!), and we'll help you get started.  In the meantime, browse our wedding friendly homes to explore all of the options that are available.