A favorite summer destination, Deep Creek Lake State Park is home to endless outdoor adventures on water and on land.  It's a popular spot throughout all four seasons, but it truly shines in the summertime.
If you are at Deep Creek this summer, grab your floats and flip-flops and head to the sandy beach at Deep Creek Lake State Park.  It's a great place to spend a sunny afternoon swimming, picnicking, and enjoying the view.  Tables, grills, restrooms, and a bathhouse are all available for you to use.  If you're vacationing with a larger group, you may want to consider reserving one of the pavilions in advance.  Lifeguards are on duty at the designated swimming area from 10AM-6PM Memorial Day through Labor Day.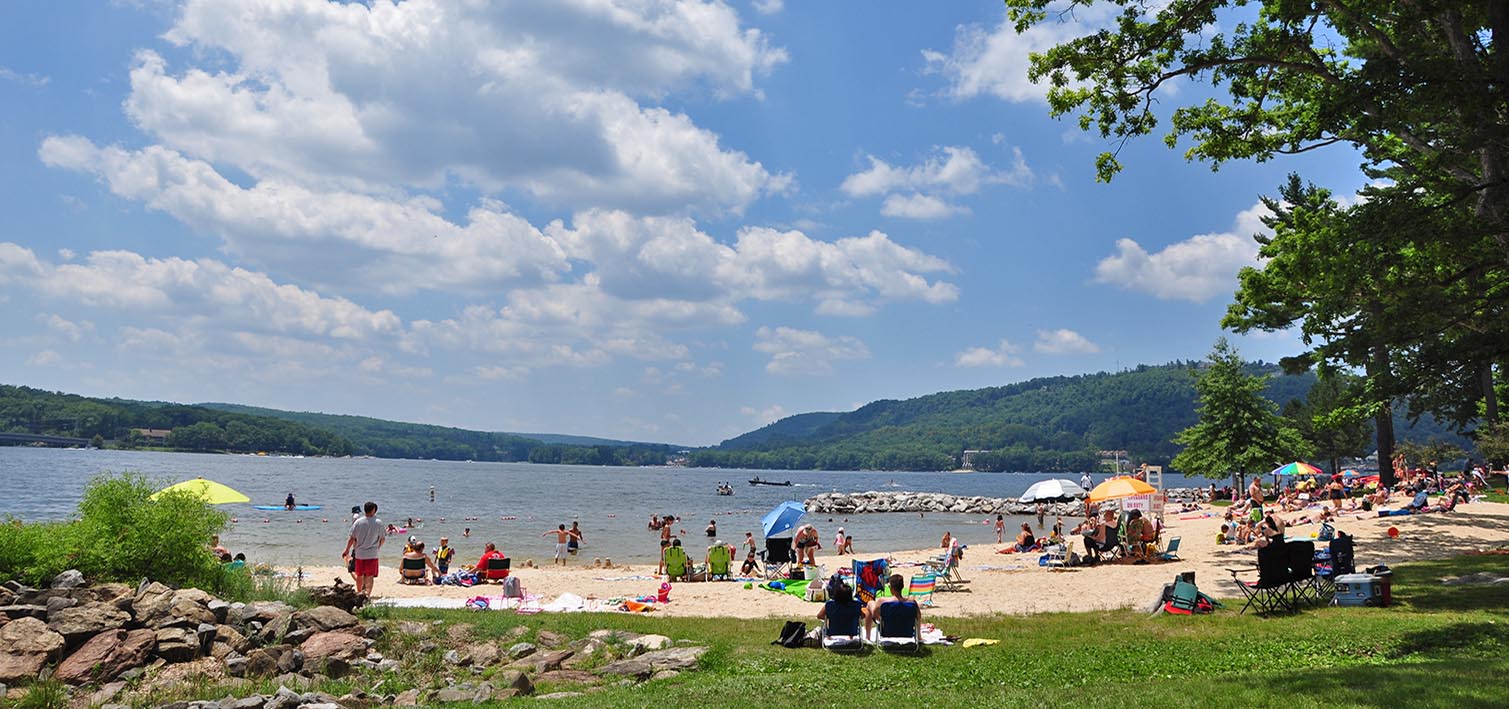 Wisp Resort operates the concession stand at the state park where you can get ice cream, cold drinks, and snacks.  You can also rent a kayak, canoe or stand up paddle board from them.  If you are a first-timer, they can give you some instruction before you head out into the water.  I suggest paddling along the shoreline towards the Discovery Center.  Go under the state park road bridge, and you will find yourself in a quiet cove with little boat traffic.  That makes paddling a little bit easier and you are bound to spot some wildlife along the way.
Deep Creek Lake fishing is a popular past time, and you can cast your line from the state park shoreline if you have your Maryland fishing license.  The lake is a habitat for Smallmouth and Largemouth Bass, Yellow Perch, Rainbow Trout, and many more species.
The park is home to multiple hiking trails that range from easy to difficult.  You can take an interpretive walk from the Discovery Center to the site of the old Brant Mine or follow longer trails ascending to the top of Meadow Mountain.  Periodically through the summer, the state park opens a trail to the historic fire tower that offers incredible views.  Check with the Discovery Center for dates and time.  (Be sure to take your camera on that one!)
Speaking of the Deep Creek Lake Discovery Center, it's a great place to take kids of all ages.  It's an interpretive environmental center with hands-on exhibits.  Learn about the flora, fauna, and wildlife of Deep Creek.  Special programs for kids include nature crafts, visits to the aviary, and guided nature walks.  Touring the center is a great rainy day activity too!
You can even bring your four-legged friend when you visit the park.  Your dog can swim from the shoreline (except for the sandy beach) or hike on the trails right along with you.
Many of our homes offer state park passes as an amenity during the summer months.  This is an an economical way to explore the parks with your family.  Choose "State Park Access" when using our advanced search.
With so much to offer, this state park is a "must see" during the summer months.  For Deep Creek Lake State Park hours, admission fees, and more info visit http://dnr2.maryland.gov/publiclands/Pages/western/deepcreek.aspx.