Planning a Deep Creek Lake summer vacation?  Our list of 27 Things to do at Deep Creek Lake with Kids includes destinations you don't want to miss. So read through and consider this an outline and know these activities are really memorable for all ages. For more information go to our Deep Creek Lake Things To Do page with all sorts of categories from lake activities to winter skiing. There's also an interactive map to show you where they are.
The Deep Creek Lake area is unique in that there are more than 90,000 acres of public land that make up state forests and parks.  That means there are virtually limitless options for keeping your crew entertained and making memories with your favorite people.
Miniature golf is a classic family vacation activity that is fun for big and little kids alike. I suggest hitting up Deep Creek Funzone or Funland when you are ready to play.
Ride a zipline with views of the lake at Monkey Business Adventure Park.  They offer three levels of aerial challenges for ages 5 and up.
Pedal and paddle along the Youghiogheny River. Wilderness Voyageurs will outfit you with everything you need to enjoy a bike ride along the Great Allegheny Passage (it's a relatively easy/flat ride) that leads you to a relaxing float on the Middle Yough. Pack a lunch for this non-guided adventure, and plan to swim, relax, laugh and enjoy!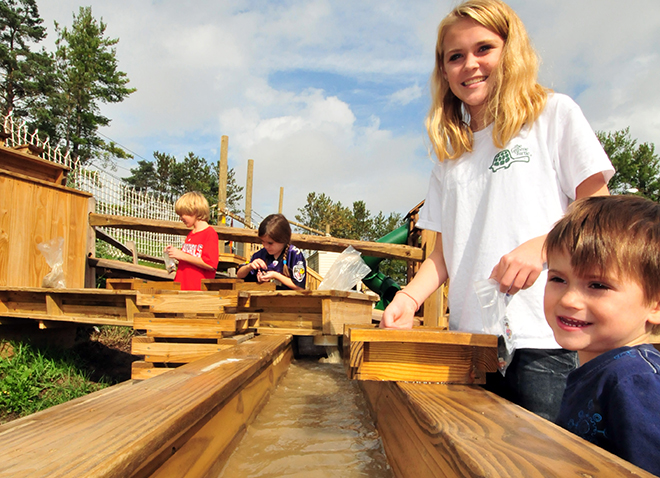 For ages 2 and up, uncover treasures at the Marsh Mountain Mining Company. This is a great option for younger kids! Located in the Mountain Park at Wisp Resort, they supply a bag of "gem mix" to sift through in their sluice. There is also a playground that they can enjoy.
Designed for ages 4 and up, Wisp offers kid-friendly aerial adventures on the Chipmunk Challenge course. They can navigate their way through swinging platforms and ziplines with the help of a guide.
Create a handmade keepsake at Deep Creek Pottery. Reserve a spot and look forward to painting pottery or making a mosaic that you can take home as a memento of your time at the lake.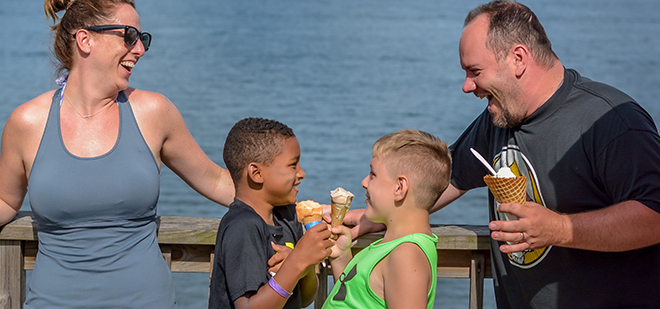 Indulge in a few scoops at Lakeside Creamery. This local landmark features huge ice cream menu along with milkshakes, smoothies and sundaes. They have picnic tables overlooking the lake, so you can enjoy the view while you eat or get a larger container to keep at your Deep Creek cabin.
Discover FunUnlimited's nearly endless arcade. Offering over 97 new and vintage games, this is a great option to keep all ages entertained and you can grab some pizza while you are there too.
Try the ATV tours at Western Trails. You can ride off-road trails through wooded and open terrain. If you have small children, a hand-led pony ride offers a tamer option.
Paddleboarding at Deep Creek Lake State Park is a fun activity for everyone.  You can rent a paddleboard for a half our or an hour from Wisp's Beach Hut.  Pack a picnic lunch and spend the afternoon at the sandy beach and swimming area. Kayak and canoe rentals are available as too.
High speed thrills are waiting at Wisp Resort's Mountain Coaster! Open year-round, it twists, turns, dips, and rolls for 3,500 feet downhill. You control the speed as you zoom through the trees to the bottom of the mountain.
Check out area events that include kid-friendly activities. In June, you can experience the Garrett County Celtic Festival. July offers Independence Day fun like the Fire on the Mountain Fireworks Display or the old-fashioned parade in Accident where there is a chance to catch some candy. Later in the month, Art in the Park will keep you entertained. Next is everyone's favorite event – the Garrett County Agriculture Fair.
Hiking to a waterfall (or 3!). At Swallow Falls State Park you can hike trails leading to three different waterfalls.  Make it a fun family adventure to see them all – Swallow Falls, Muddy Creek Falls, and Tolliver Falls.  If there are smaller kids in your group or family members with limited mobility, a handicapped accessible ramp leads to a platform that offers beautiful views.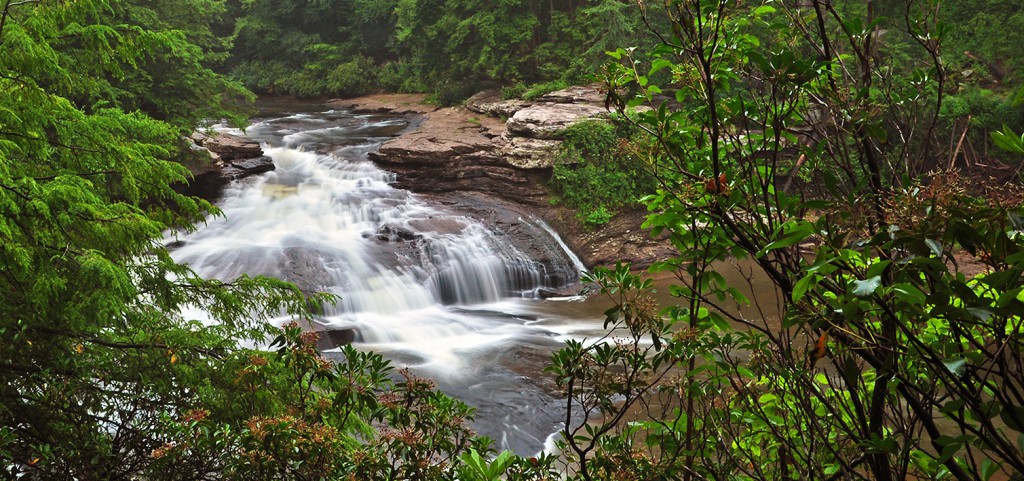 Tour the Deep Creek Lake Lavender Farm when the flowers are in full bloom (usually end of June through mid-July). With more than 1500 plants, the pastoral scenery is truly breathtaking. The kids can pick their own bouquet, and you can also visit their farm store that is stocked with lots of lavender-based products.
Go Fishing.  Fishing opportunities are around every corner.  Get your Maryland fishing license and cast your line from the dock at your Deep Creek Lake vacation rental or head to a state park: New Germany, Deep Creek Lake, and Herrington Manor.
Take a scenic chairlift ride at Wisp Resort.  Ride the chairlift to the top of the mountain at Wisp for beautiful lake views.  When you get to the top, walk to the Adventure Sports Center International and watch whitewater rafters.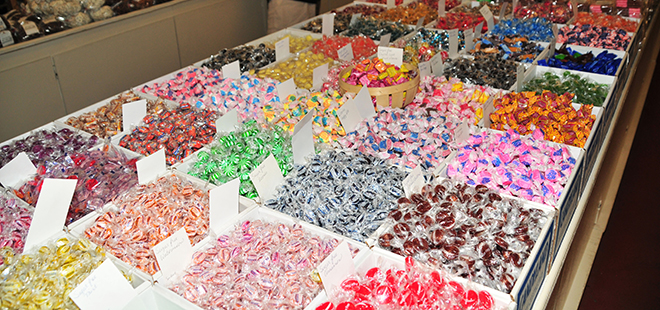 Candyland! With over 900 varieties of candy, this is a stop that will surely bring a smile to any kid's face.  Located at the Farmers Market in Oakland, it is just a short drive from Deep Creek Lake.
Take a kayak tour and watch for bald eagles at Savage River Reservoir.  All Earth Eco Tours will guide you on a kayak trip on this large winding lake surrounded by the area's tallest mountains.  No motorboat traffic means that there are more opportunities to spot wildlife.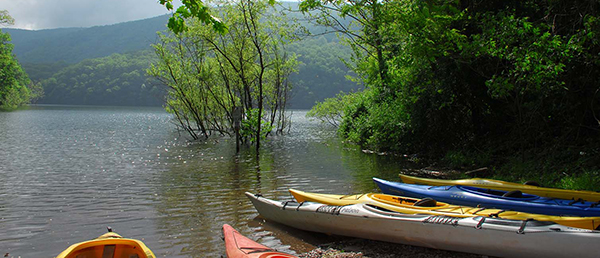 Take a horsedrawn carriage ride and learn about farm life.  Pleasant Valley Dream Rides is located a short drive from the lake in Amish country.
Visit the petting zoo at Schoolhouse Earth.  Mom can do a little shopping at this eclectic store while the little ones check out the llamas, goats, and chickens at the petting zoo.
Explore Deep Creek Lake by boat.  The best way to enjoy the lake is without question by boat.  Encompassing more than 3900 acres, there are lots of quiet coves and swimming holes to explore.  Bring your own boat and keep it at your lake front or lake access Deep Creek Lake cabin, or rent one for the afternoon from Deep Creek Marina.   Make a pit-stop for lunch at Brenda's Pizzeria or Ace's Run where you can dock while you dine.
Not sure about your boating skills?  Let the folks at High Mountain Sports do the driving.  Offering Deep Creek Lake Pontoon Boat Tours, their captain will share local history and knowledge as you enjoy an hour-long cruise.  This is an economical way to experience boating at Deep Creek Lake.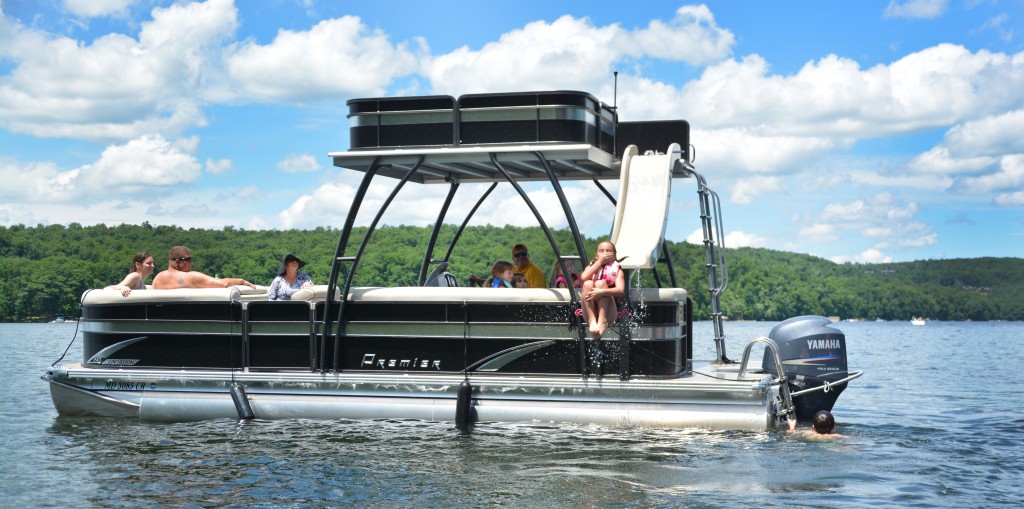 Listen to live music at free summer concerts.  Wisp Resort hosts weekly free summer concerts. You can also hear tunes at the Little Yough Summer Music Festival Friday evenings in downtown Oakland.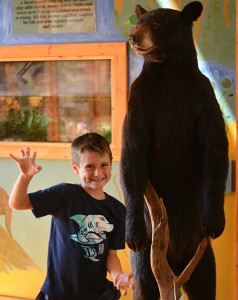 Deep Creek Lake State Park is a place where kids can learn about the area's history and environment from park naturalists.
Spend the afternoon at the Honi-Honi.  A Deep Creek Lake tradition, sunny Saturday afternoons are best enjoyed on the lawn at Uno's Chicago Grill and the Honi-Honi.  Live music, cornhole, and cold beverages will keep mom and dad entertained while the kids climb the oversized whale and elephant or play in the wooden pirate ship.
Relax.  Seriously, the scenery here is breathtaking and you don't have to go far for amazing views.  Unplug and unwind and truly savor your time with special people in such a special place.
This is just the tip of the iceberg when it comes to things to do at Deep Creek Lake with kids – mountain biking, rock climbing, and disc golf to name a few more.  Be sure to get out and explore when you're here to discover the best of our area!