Here's your Deep Creek Lake real estate market update from Taylor-Made Sales Manager, Bob Carney. It includes stats from March and April 2017.
Snow melted, check.  Docks in the water, check.  Buds on the tree, check. Escalation clause included with the offer, check. Wait, what?  When was the last time you saw an escalation clause?  They are back.  Multiple offers with competing buyers are here at Deep Creek.  Don't get me wrong, this isn't happening on all listings, but it can if you have staged your property, great curb appeal, attractive location and priced appropriately.  April's numbers show a shift from last year from our residential market to the resort market.  We are down in the number of units sold but up in sales volume.  We had 46 sales last year in April for $11.8 million and 33 sales totaling $12.1 million.  The portion of lake area sales were up $2.4 million over last year with 22 units sold with an average sales price of $467,986 (up from $361,036 LY.)   
MARCH 2017 MARKET RECAP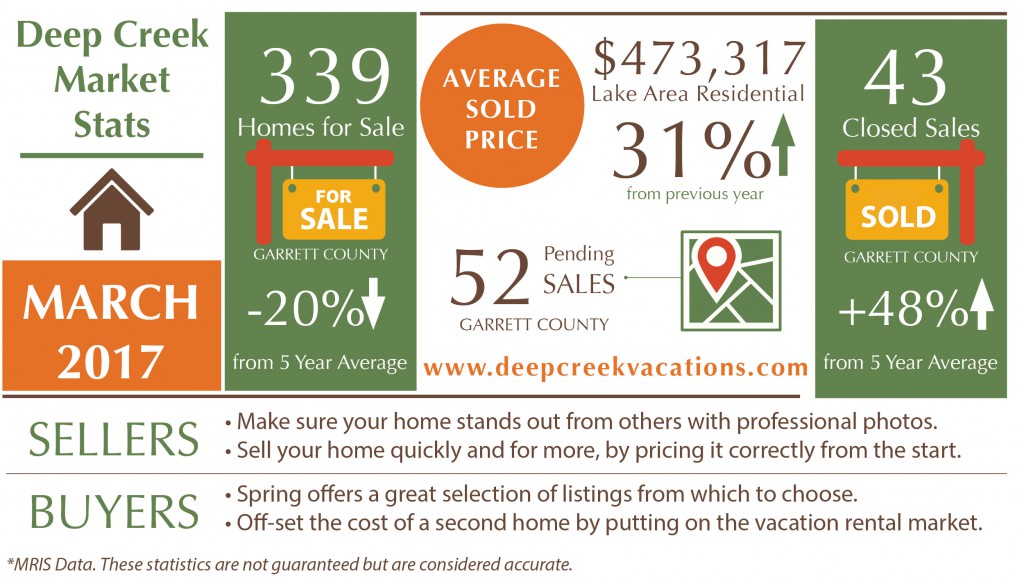 If you are ready to buy something around Deep Creek Lake, you will need to be ready to write on it when you see it, because chances are someone else is thinking about it too.
If your home is currently listed with another broker this is not intended to solicit that listing.