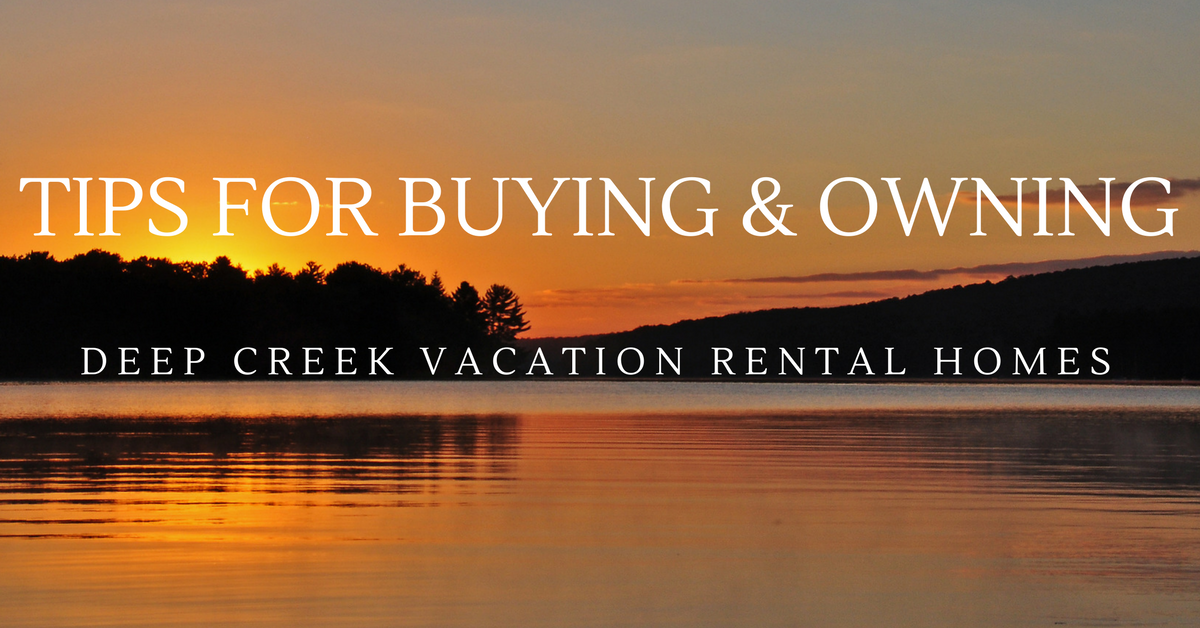 Many people who love vacationing at Deep Creek Lake dream of one day owning a home here. Putting your home on the vacation rental market can make the cost of a second home more affordable.
Deep Creek vacation rental owners want to be sure their home rents well. There are important things to know so that you can maximize your income. Things like location, amenities and size should play a key role in the decision making process.
Invest in the Right Amenities
Speaking of amenities, we have done the research for you so that you know exactly what vacationers are looking for. We analyzed searches performed on our website during a six month timeframe and determined that hot tubs, WiFi and air conditioning are the most popular among our guests.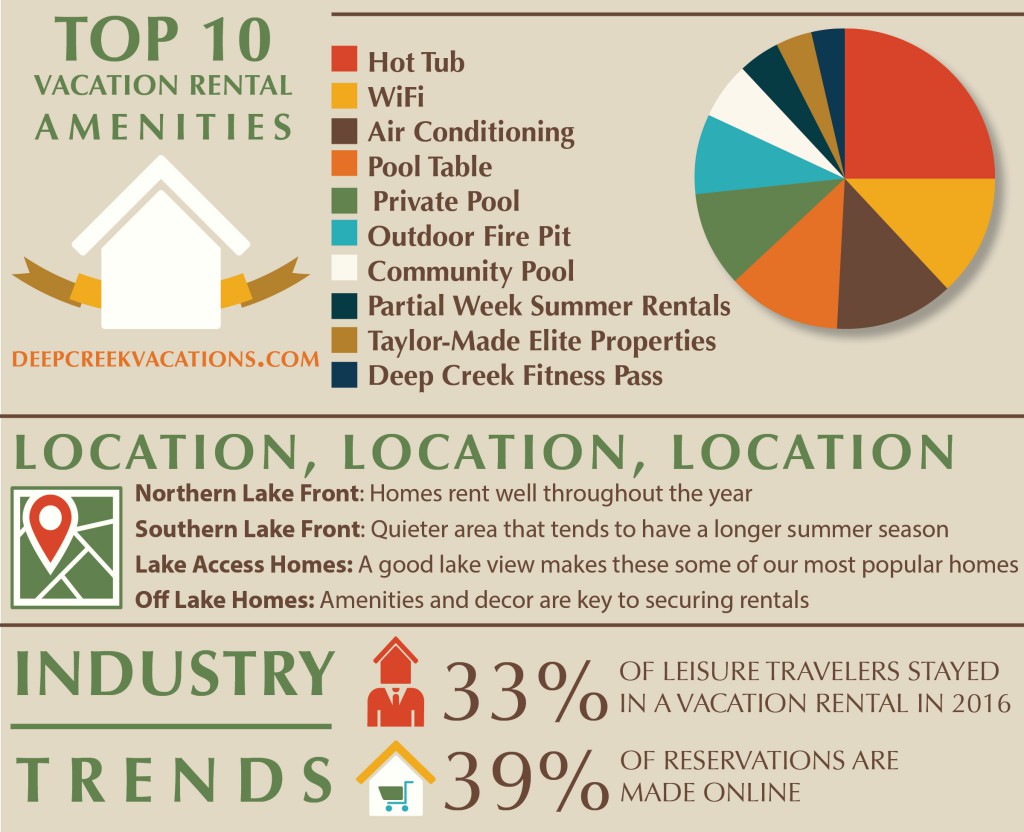 Hot Tubs are the #1 requested amenity. 15% of searches include this year round feature, and it is the reason many choose a particular property.
Wifi is a necessity for today's traveler. It is looked at as a "utility" like electricity. Guests need to stay connected to work, social media and more.
Air Conditioning is also an expectation for many people. If you cannot get central AC, consider split systems or standing units for upper level bedrooms that tend to get hot.
Pool Tables give guests an option for indoor entertainment and are popular with both families and groups of couples staying together.
Private Pools are well worth the investment if you have the space to add one. Indoor pools have an especially good return on investment since they can be used no matter what the weather.
Outdoor firepits/places are a way to expand gathering space and have become sought after. You can go from basic to elaborate – basic will get the rental, elaborate will bring them back.
Community Pools are something to consider if you are buying a home. Communities like Blakeslee, Ski Harbor, Sunplace and DC Highlands are popular because of their pools.
Partial Week Summer Rentals have increased in popularity in recent years. A three night minimum is a great option to increase the number of summer bookings for off-lake homes.
Taylor-Made Elite Properties are held to certain standards so that guests know they are getting a property with desirable amenities, updated electronics, high-end decor, etc.
Deep Creek Fitness Passes are an inexpensive extra to offer your guests so that they can keep up with their workout regimen while they are on vacation.
If you don't have a big budget, consider investing in one high-dollar item that will attract renters and add little items like board games, cards and books that can go a long way towards getting them to come back.
Remember, wise choices in terms of amenities will pay-off in the long run. Your home will be reserved further in advance and satisfied guests return.
Location, Location, Location
If you have been a frequent visitor to Deep Creek in the past, you likely have an idea of some of the more popular locations and the benefits that they offer throughout the seasons. You will also want to keep your own needs in mind – do you love to ski or is on-the-water fun more your style?
Things to consider:
-Northern end lakefront homes do very well, but this is a busier area.
-Look at the body of water, is it deep water, is it shallow, is it level or does it have stairs, is there a view?
-Do you have morning sun or afternoon sun on the dock?
-The lake's Southern end is quieter and the summer season tends to be longer.
-Lake access properties with views are some of the most sought after in the shoulder seasons.
-If you buy off lake, amenities and decor are key in securing rentals.
Based on our data, a 5 bedroom home in the northern to central lake area can expect about $50,000 in rental income with the right amenities and marketing.
New Homes vs. Older Homes
While new construction will always be sought after, older homes with the right updates can be just as attractive and generate substantial revenue.
Our team can help you identify where your dollars will go further but here are a few quick tips:
-Paint should be fresh and carpets should be clean
-It is always a good idea to upgrade appliances, counters and fixtures
-Comfortable mattresses and pillows – bigger bed sizes are always better
-32"+ for bedroom TVs and 55"+ for living area TVs
-Provide seating in the dining area for the maximum occupancy of the home
A majority of our guests come from Pittsburgh, D.C. or Baltimore and, in terms of quality, they want the equivalent of what they have at home or better. Flea market decor or cargo furniture should be replaced with modern furniture to give the house an up-to-date look.
Keeping Up with Property Upkeep
Just like your primary residence, home maintenance is a big part of owning a vacation rental. There are daily, weekly and annual tasks that will keep it in tip-top shape and ready for guests.
Routine maintenance items include:
-Deep Cleaning (twice a year is recommended)
-Carpet Cleaning
-Window Washing
-Yard Clean-up
-Inspecting docks, swing sets or outside furniture for wear-and-tear
-Pressure washing and staining decks to prevent slippery surfaces
This is one of the area's where a vacation rental management company can be a valuable partner. They can take care of these items that can not only detract from your home's appearance but can also present a liability.
Choose the Right Property Manager
This is a big decision – from maintenance to marketing, you want to be sure your home is in good hands. Here are a few questions you want to ask:
Can you give me references?
Talking with existing homeowners before committing.
How are owner costs minimized?
Get a good understanding of how maintenance costs are handled. Find out if the VR manager negotiates discounts with vendors and how their in-house staff works to reduce your costs. In-house lawn care and snow plowing often offers you better pricing than outside vendors.
How long have you been in business in this area?
Look for a company with an in-depth understanding of the local market. They should be able to explain everything from seasonal rental trends to transient vacation rental permitting.
What does your marketing plan include?
Online marketing, print advertising, professional photography, email marketing, social media and a robust website are just a few of the items you should ask about. You will want to know if there are any additional costs for marketing services. Find out if your home will be listed on top distribution sites like HomeAway and VRBO.
When will I get updates?
Know your point of contact, what the inspection process entails and how often you should expect communication.
There are a lot of variables to consider when choosing the right property for your family that is also marketable as a vacation rental home. That's where we come in. We will put our years of experience and industry knowledge to work to help you work with one of our sales agents to make the right choice.
Learn more about Taylor-Made services or contact Jodi Taylor Refosco at jodi@deepcreekvacations.com.
*Amenity data is approximate and based on six months of search results on www.deepcreekvacations.com.
**Vacation rental industry stats taken from 2016 Phocuswright study.