Deep Creek Lake cross country skiing offers adventure to some and peace of mind to others. It is an accessible sport that appeals to all ability levels and ages.  One of the best aerobic workouts in the world, this multi-generational activity is known for its quick learning curve, low injury rate and low impact motions.  Refreshing the mind as well as the body, cross country (Nordic) skiing provides a sense of solitude for many as they inhale crisp mountain air and travel through hardwood forests and open meadows.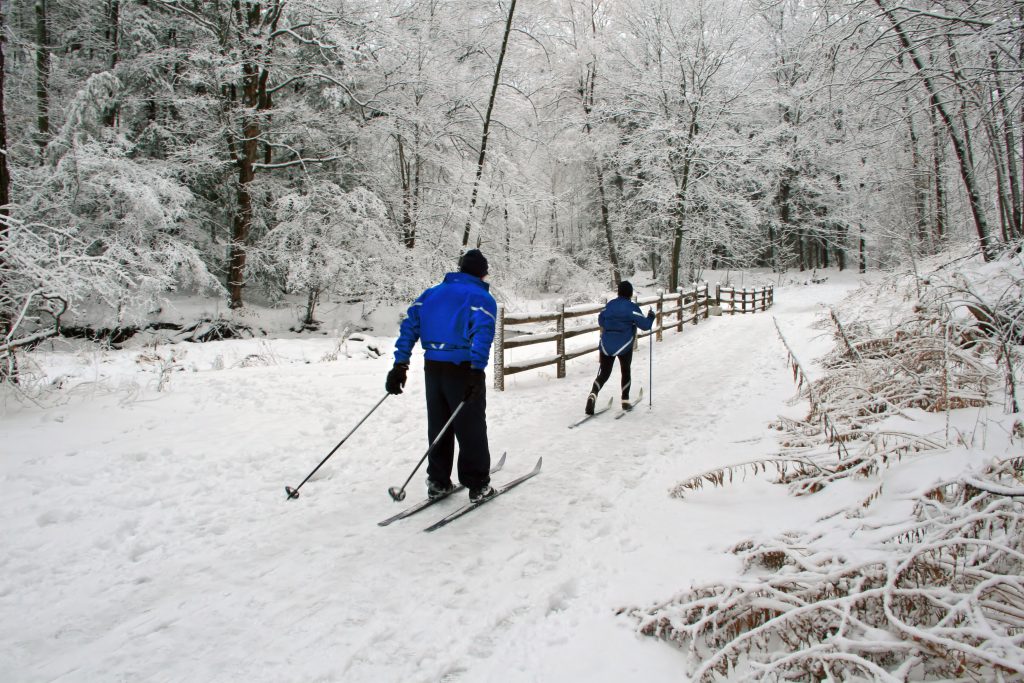 Garrett County and the surrounding areas offer miles trails.  Most of the trails in the county were developed in the 1930's through the combined efforts of the state of Maryland's Forestry Department and the Civilian Conservation Corps.  The CCC is responsible for much of the labor that went into developing New Germany and Herrington Manor State Parks.
New Germany State Park
New Germany's 12 miles of trails are probably the most well known.  Lending themselves to all ability levels, the groomed trails are perfect for beginners. Novice skiers will enjoy the flat Green trail that parallels Poplar Lick or the Three Bridges trail.  For more advanced skiers, there are many trails that branch off the Green Trail and climb the steeper walls of the stream valley.  The trails are very well marked, but always have a map handy just in case.  Cross country ski and snow shoe rentals are available as conditions allow.
Herrington Manor State Park
Rolling terrain, snow laden hemlock forests and a 53 acre lake make up much of Herrington Manor State Park.  Track set as conditions allow, there are 10 miles of easy to intermediate trails to explore.   After a day on the snow, warm up by the fireplace in the lake house, complete with snacks, tables and restrooms.  Ski, snow shoe and sled rentals are also available at Herrington Manor and may not be taken out of the park.
Deep Creek Lake State Park
Deep Creek Lake State Park's hiking trails are ungroomed but open to cross country skiers.  The 5.5 mile Meadow Mountain trail allows you a chance to catch a glimpse of the lake or a white tailed deer.  Visit the Discovery Center for snow shoe rentals and information on local outfitters that offer cross country equipment.
Wisp Resort
Cross country skiing is available at the Nordic Center located in the Appalachian Yurt in Wisp's Sundown Village.  The trails rely on natural snowfall and are located on Fantasy Valley Golf Course terrain.  You can get trail passes, equipment and lessons at the Nordic Center.
Nearby West Virginia
Canaan Valley Resort, in nearby Davis, WV, offers miles of trails that showcase the spectacular natural beauty of the area.  Trails are well marked but ungroomed and can be accessed free of charge.  Rentals for both adults and children are available.  White Grass (also in Davis) offers cross country and backcountry trail networks that are the perfect way to explore the Alleghenies in winter. White Grass also provides instruction, rents equipment and has a great cafe that serves natural, wholesome foods.
Private and Group Lessons
For information on private and group lessons, as well as tours, contact All Earth Eco Tours at 1-800-446-7554. With more than 30 years of experience, they will have you kicking and gliding in no time! The offer instruction for all ability levels at Herrington Manor State Park.
Deep Creek Lake Cross Country Skiing Getaways
Browse our Deep Creek Lake vacation rental homes to find your mountain getaway, or give us a call at 301-387-5999 to get help choosing a property close to state parks.
Click here for up to date Deep Creek Lake cross country skiing conditions.