Wisp Resort snow tubing is a favorite Deep Creek Lake winter activity! There are "no skills required", so the entire family can enjoy it together.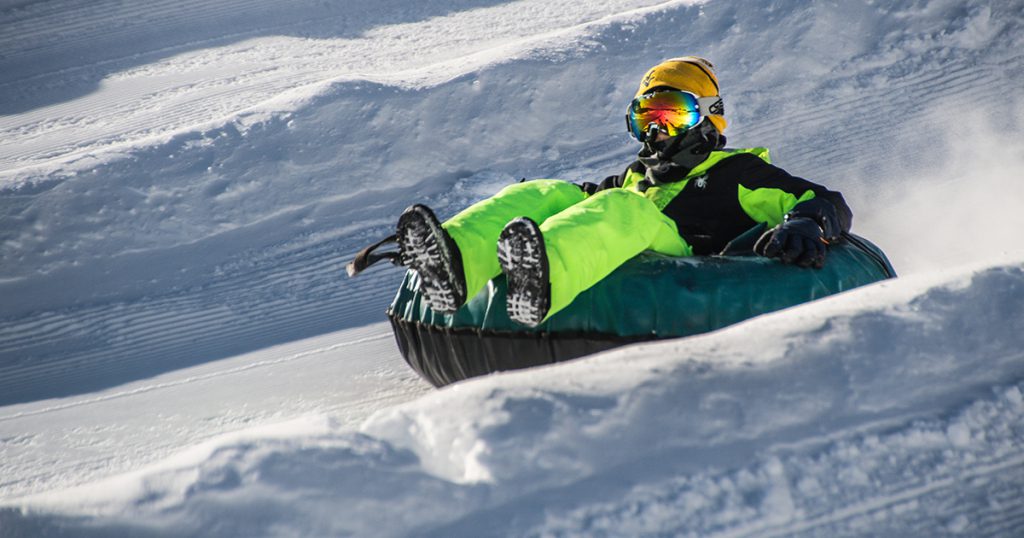 About Wisp Resort Snow Tubing
Bear Claw Snow Tubing Park offers twelve tubing lanes. Each one is 750 feet long. This area has its own snowmaking and grooming machines. Grab a tube and ride one of the two conveyor carpets to the top of the hill. Staff is on hand to help you out at the top and bottom.
What you need to know before you go
Wisp Resort snow tubing is popular, so reservations are recommended. Each session is two hours. There is no age limit, but kids must be 42 inches tall to go tubing. Currently, the cost for standard sessions is $24 and premium sessions are $34. Always check with Wisp for the most up-to-date pricing.
What to wear
Make sure you stay warm! Winter gear including a hat, gloves and proper footwear are recommended. Steer clear of loose clothing, like scarves, that could get caught up. Keep an eye on the weather so that you are dressed appropriately.
Mountain park cafe
After your session, you can warm up in the Mountain Park Cafe. They have pizza, hot dogs, snacks and beverages so that you can recharge for another round of tubing.
What else can i do at the mountain park?
You can combine a ride on the mountain coaster. The mountain coaster is perfect if you are looking for a "lazy" winter activity. Plus, it offers great views!
More info about winter fun at deep creek
There are lots of other fun winter activities for non-skiers. Bring your family to Deep Creek Lake to experience a fun and relaxing mountain getaway. Browse vacation rental homes now to find the perfect spot!