Buying lakefront real estate is a different experience than buying an ordinary home in a typical neighborhood. When you buy lakefront real estate at Deep Creek, you are also buying a way of life.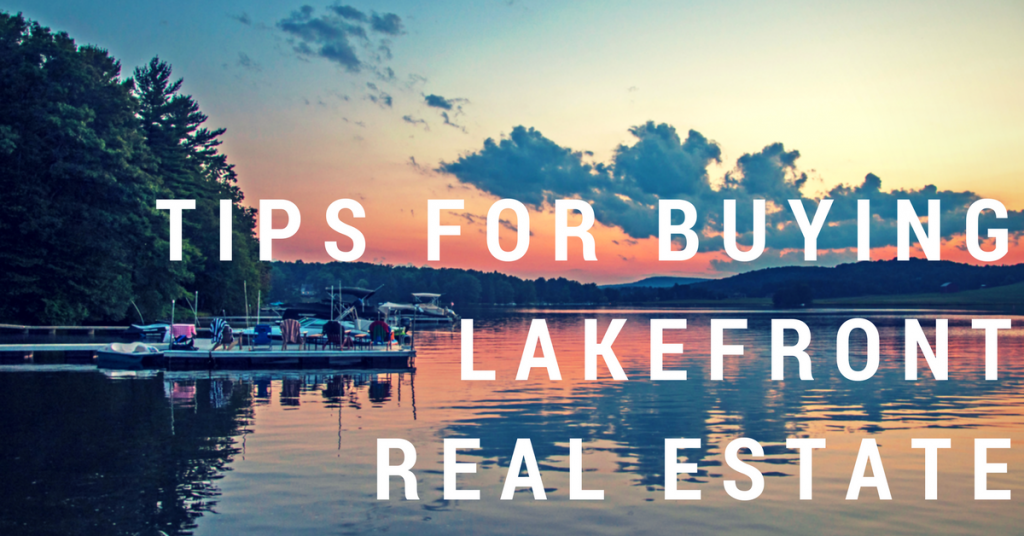 Buyers frequently ask our agents about lakefront real estate. Our experts point out all of the differences and things to be aware of. Here are some of their best tips to get you started on your Deep Creek Lake real estate search.
Secure Financing Early
Figure out your financing early on in the process. Unless you are paying in cash, you will need to obtain a mortgage. Getting pre-approved is key when buying a lakefront home. Lakefront home sellers are often advised by their agent to only accept an offer from a pre-approved buyer.
Pre-approval can also give you an edge over other buyers who might be competing for the same home. Having your financing squared away puts you in a good position when owners are receiving multiple offers.
Find an agent who knows lakefront real estate
It is a good idea to work with an experienced agent any time you buy a home. However, it is especially important with lakefront real estate at Deep Creek Lake. Don't be afraid to ask them if they have they have a background with this type of transaction.
A knowledgable Deep Creek Lake sales agent can guide you through the process. They will help you understand things like the buffer strip and buydown areas.
Find out about associations
If you are looking at a home in a community with an HOA, be aware that they can come with additional fees. Also, there might be additional rules and regulations. Your agent can help you with that info. You will want to ask about common areas, community docks and shared slips. Deep Creek Lake communities have lots of great perks too – like indoor pools, tennis courts and par-3 golf courses.
Consider additional costs & longterm maintenance
All homes come with additional costs and maintenance – that is just a fact of life. When you buy lakefront real estate, there are some things to keep in mind.
If there is a dock, be sure to check out its condition. It may need maintenance or replacement. Because the level of the lake is lowered in the fall, docks must be removed by December 1st each year. They go back in April 1st. Your agent can help you line up a vendor for that. Retaining walls, stairs to the dock and decks will also require routine maintenance.
If this is a second home, you will need to consider who will take care of the lawn, leaves and snow removal when you are not in the area. Taylor-Made offers a variety property services for non-rental homes.
Do you want to rent your home?
Many owners of lakefront real estate at Deep Creek put their home on the vacation rental market. This is a great way to off-set your costs. Professional management will ensure your home is well taken care of and properly marketed for the best return on investment. You can block off dates for your own use while opening it up to renters when you are not at the lake.
in conclusion
Buying lakefront real estate at Deep Creek Lake has a lot of unique considerations. By reviewing the tips above and partnering with the right agent, you give yourself a great advantage for your Deep Creek Lake house hunt!