Real estate activity at Deep Creek Lake is heating up with the warmer spring temperatures. We are seeing positive signs of a seller's market in the making! 
May 2018 Real Estate Update
Out of the 200 active lake area homes, 17 of them sold in the last month. And better news, the average sales price to average list price was only a 5% difference.  In other words, the offer price is getting closer to the listing price. Historically, that number has been around 8-12%. The average days on market for these homes was about three months. As we get into the summer months, I will take a guess that timeframe will get shorter.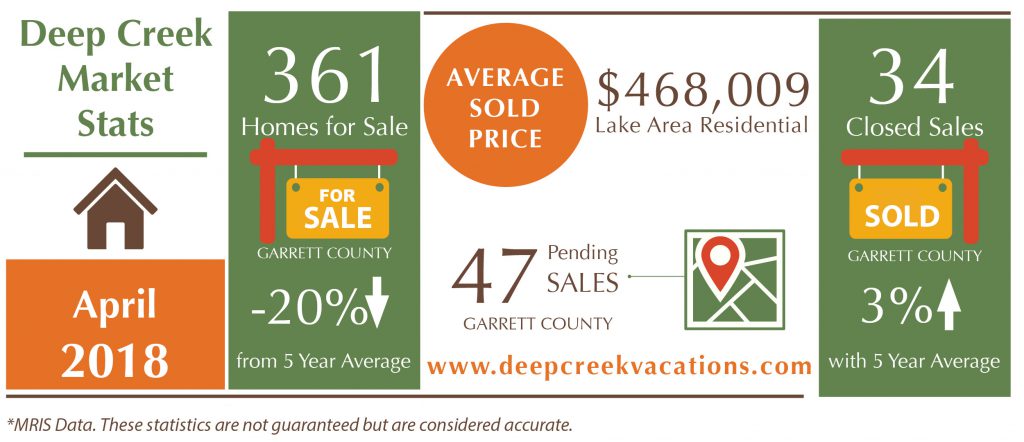 Location, presentation and price are still the key factors in any real estate transaction. You have location nailed. Deep Creek Lake is the place to be. 
Buyer Tip
If this is your first house in Garrett county and you plan on living in it right after the sale, Maryland Mortgage Program has some money for you. We have agents that recently certified with this program and can help you get funds  for closing costs, if you qualify. Contact one of our agents today to get that process started and find out if there is money available for you.
Seller Tip
Contact us for a free list of items to consider when getting your home ready for the market. If you need personal advice on how to get your home ready, call us.  We will gladly help you make the right decisions to maximize your sales price and minimize your cost.
Ready to Buy or Sell?
If you need any advice on Deep Creek Lake real estate, please don't hesitate to give us a call at 301-387-4700. You can also browse real estate online!
Have a great spring and see you Memorial Day weekend!