HART for Animals is an important part of the Deep Creek Lake community. They use 85% of all revenues to support charitable programs, including adoptions, spay/neuters, rescue and transports and sheltering. Taylor-Made Deep Creek Vacations & Sales has supported their work for years through donations, volunteering and event sponsorship. HART for Animals is tireless in their endeavor to improve the condition of animals in Western Maryland.
HART is more than adoption center. They are also home to Bredel Veterinary Clinic, Bed 'N Bark Inn pet hotel and Muttworks grooming.
Fast & Furriest 5K Run/1K Walk
In 2017, we sponsored the very first Fast & Furriest 5K Run/1K walk in conjunction with HART for Animals. It was a big success, and we are continuing the sponsorship. On Saturday, June 29, 2019, you can bring your pup join us in supporting HART.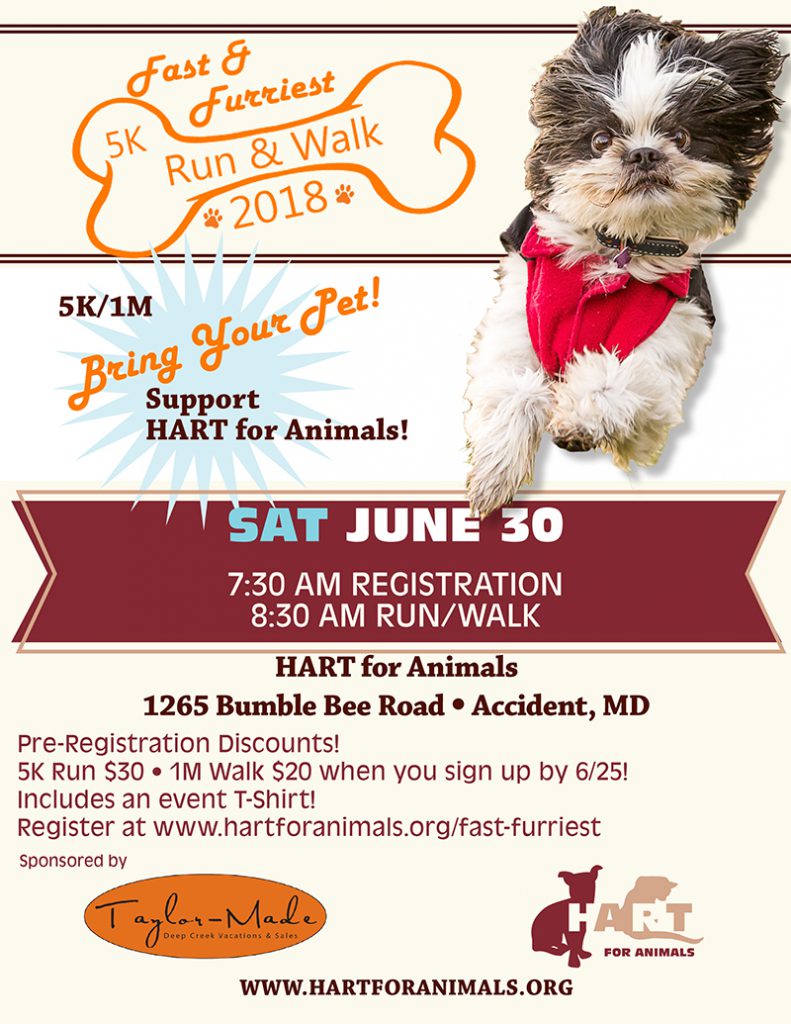 Registration for this dog friendly fun run/walk starts at 7:30AM at HART – 1265 Bumble Bee Rd., Accident, MD 21520. It is a fun outing for the entire family! Get more information and make plans to attend the 2018 Fast & Furriest 5K Run/1K Walk!
HART for Animals guest bartender challenge
Every spring, the Taylor-Made team looks forward to HART's Guest Bartender Challenge. Local companies "compete" to raise the most money. Each one hosts a night where they bartend at an establishment. All tips and funds raised from silent auction items are donated to HART for Animals.
Taylor-Made has partnered with JG's pub for the event for many years. It is a fun night with great food, music, raffle items and more. In 2018, we raised over $3,360.
Deep Creek Lake Art, Wine & Beer Festival
In its 15th year, this event also benefits HART for Animals. It is a favorite late summer happening that offers something for all ages. It takes place Saturday, September 7, 2019 from noon-6PM at the Garrett County Fairgrounds in McHenry. Wine tastings, numerous local and regional artisans and kid's activities are just a few of the highlights.
In Conclusion
HART plays a key role in the betterment of life for animals in the Deep Creek Lake area. We are fortunate to have their facility and the many people who work or volunteer there.