There are so many Deep Creek Lake hiking trails that you can explore! We are giving you an overview because we can hardly cover all of them here. Garrett Trails is a great resource for more detailed info on Deep Creek Lake hiking trails.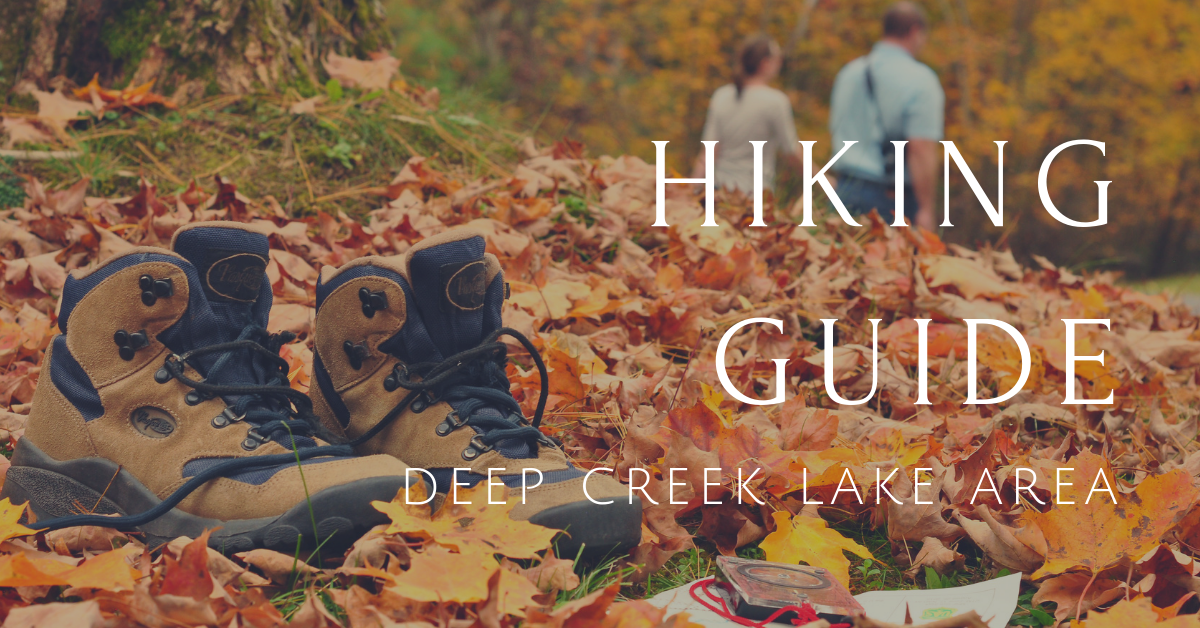 Deep Creek Lake Hiking Trails Overview
The statistics don't tell the whole story, but they're enough to entice hikers of all experience levels:  over 80,000 acres dedicated to public parks, forests and open space areas, abundant wildlife populations and scenic beauty unlike what is found anywhere else in Maryland.  The state forests and parks of Garrett County offer an immense, challenging and easily accessible hiking paradise.
Savage River State Forest
Savage River State Forest comprises 54,000 acres along the Savage River and the reservoir.  It is the largest of Maryland's state forests and features miles of rugged trails. Avid backpackers will enjoy the lengthy and picturesque trails found in this area.  Big Savage Trail is the longest, following a 17 mile path along the ridge of Big Savage Mountain.  Travel through upland forests of oak and hickory and reap the reward of the breathtaking view at High Rock.  Before you lace up your boots, be sure to stop by forest headquarters to pick up a backcountry permit.
New Germany & Big Run State Parks
Within the forest are New Germany and Big Run State Parks. New Germany features 10 miles of trails ranging from easy to difficult.  This circuit trail system is popular throughout the year.  A spring walk reveals wildflowers such as painted trillium, sweet cicely and wild strawberry. Summer brings asters, Joe-pye weed, milkweed and daisies. Sugar maple, red maple and black gum produce stunning fall foliage.  When the snow falls, the trails are groomed for cross country skiing.
Big Run is the trailhead for a 6-mile "hikers only" trail, known as Monroe Run.  Of moderate difficulty, this one-way trail was formerly used by the Civilian Conservation Corps during the 1930's.  There are no bridges and numerous water crossings, so be prepared to get your feet wet when attempting this hike.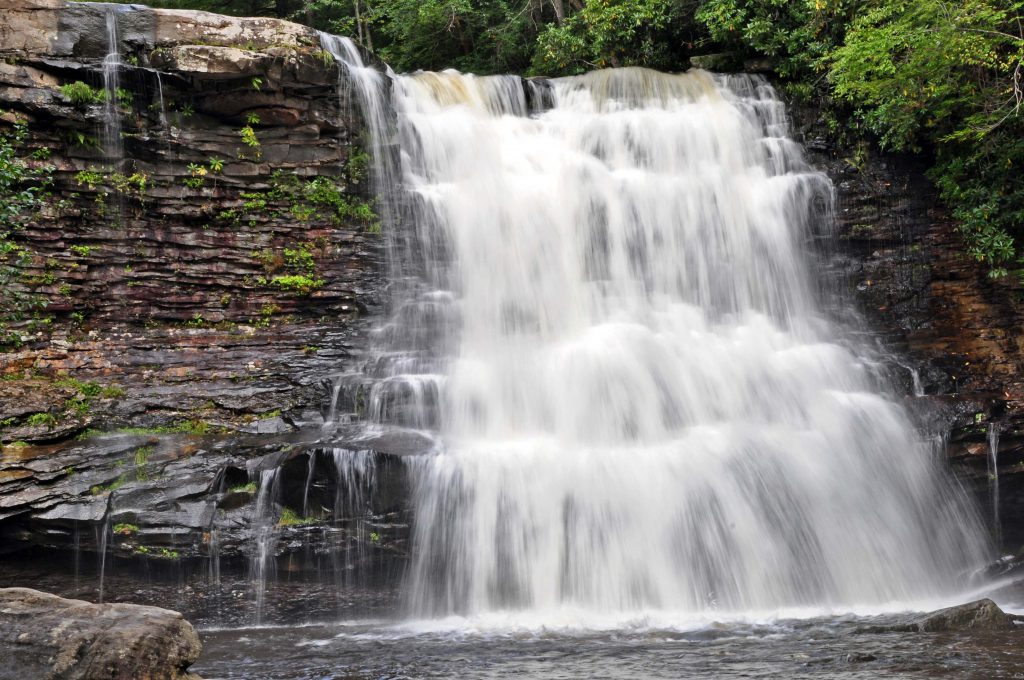 Potomac Garrett State forest
Potomac-Garrett State Forest totals 18,000 acres and is spread out in patches in the southern and western parts of the county.  On the western edge are Swallow Falls State Park and Herrington Manor State Park.  They are connected by a 5.5 mile beginner level trail that served as a logging road in the 1800's.  The classic Canyon Trail is located in Swallow Falls State Park follows the Youghiogheny River. It provides lots of photo ops with views of 4 waterfalls.  The 10 miles of trails located in Herrington Manor are of beginner to intermediate difficulty and wind through hardwood and coniferous forests and several wetland areas.  In the winter, these same trails are groomed for cross country skiing.  Portions of the forest bordering the North Branch of the Potomac River offer visitors easy to moderate hiking opportunities. They are highlighted by scenic overlooks, pristine mountains and several beautiful waterfalls.
Deep Creek Lake State Park
Located at the base of Meadow Mountain, Deep Creek Lake State Park is home to trails that provide options for all ability levels.  One of the more popular hikes is the Brant Mine Trail.  This half mile trail leads hikers to the site of the historic Brant coal mine and homesite.  The mine was worked by the Brant family and supplied bituminous coal to local residents for heating and blacksmithing.  Park naturalists and volunteers often lead hikes highlighting a variety of topics including:  bird watching, tree identification and wildflowers.
Hiking Tips
Whether you hit the trail on your own, or choose a guided hike, safety is of the utmost importance.  These are natural areas that present certain hazards.   Because some areas are open to hunters, hikers are advised to wear blaze orange during the designated seasons.  You are responsible for having the necessary skills, knowledge and equipment for a safe and environmentally sensitive visit.  For information on "Leave No Trace Ethics" visit www.int.org.
Recommended Gear
Small first aid kit
Water and a snack
Sunscreen
Insect repellent
Adequate footwear
Compass
Rainwear
Everyone is sure to appreciate the variety of trails and natural beauty that make Garrett County an ideal hiking destination.  So remember – come prepared, travel smart and leave amazed.
In conclusion
For more information on area hiking, trail maps and safety tips, visit http://dnr.maryland.gov/publiclands/Pages/default.aspx.  Trail maps may also be purchased at area state park headquarters.
Plan your next getaway, and spend some quality time exploring the outdoors. It is a great way to make memories with family and friends!