One of the most famous summer vacationers in Garrett County history was the German-born genius who created the world's most famous equation. His name was Albert Einstein. His two week visit during September of 1946 was a well kept secret for over 30 years.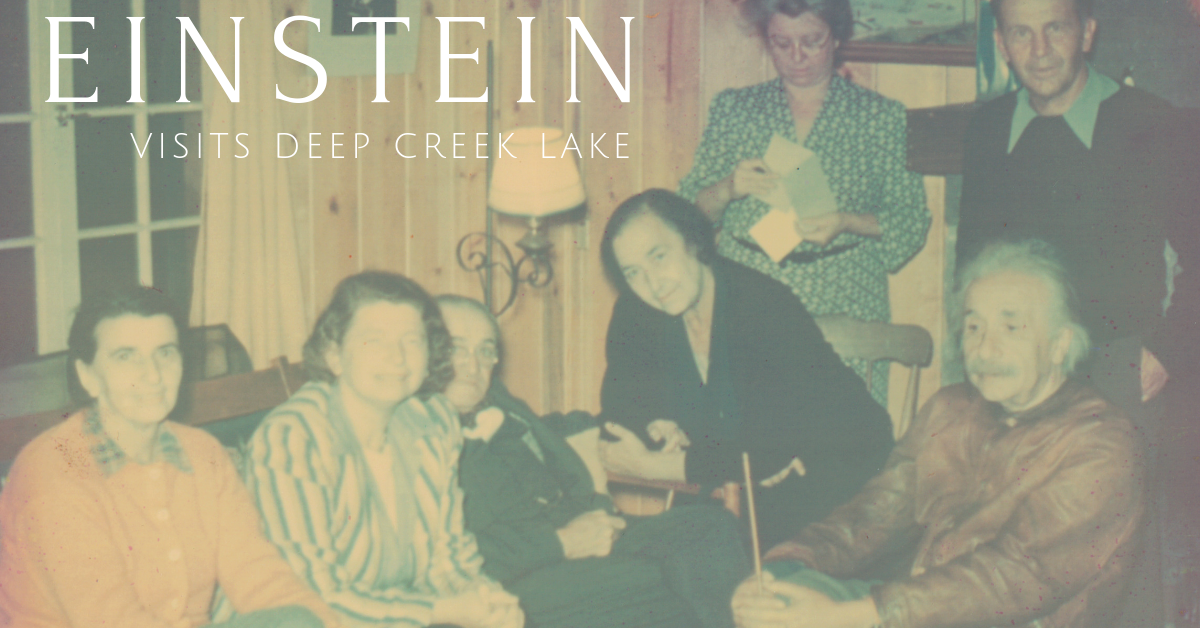 The year 1946 was a difficult one for Einstein.  The previous year atomic bombs had been dropped on Hiroshima and Nagasaki, Japan.  Despite the fact that he had nothing to do with the manufacture of the bomb and his stance as a pacifist, he was pictured next to a mushroom cloud on the front cover of TIME in July of 1946.  His famous E = mc2 equation, first proposed forty years earlier, held the basic principles necessary for the development of the fission bomb.  Yet he expressed deep regret for having signed the letter to President Franklin D. Roosevelt that acted as a catalyst for the Manhattan Project.  Alarmed by the growing Nazi in 1939, Einstein urged him to initiate a nuclear research program.
Einstein Visits Deep Creek Lake
In 1945, having just retired from the Institute for Advanced Study in Princeton, Einstein was tired of the unwanted publicity and media attention.  Seeking solitude, he accepted an offer from John Steiding of Midland, MD to visit Deep Creek Lake.  Mr. Steiding worked for the Celanese Fiber Company as a chemist and became acquainted with famous physicist through a co-worker's wife who was sculpting a bust of him.  In his quest to escape the spotlight, the professor came to stay at the summer cottage in the Turkey Neck area of Deep Creek Lake owned Dr. Frank Wilson, a prominent Cumberland surgeon.
His time at Mar-Jo-Lodge reflected the simplicity of a man who was capable of such complex though.  Much of his time was spent reading and meditating in front of the fireplace. He brought with him a suitcase full of books but also read the New York Times, Christian Science Monitor and local newspapers.  He quickly fell in love with the tranquility western Maryland, enjoying daily walks along the lake, fishing and bird-watching.  He frequently stopped to chat with area residents, most of whom had no idea who he was nor did they expect some one so famous to be in their midst.
After theoretical physics, his second love was sailing.  Einstein loved sailing because it was in his words "the sport which demands the least energy."  An avid sailor since his days as a student in Zurich, sailing gave him a sense of peace and freedom.  His passion for the bear essentials led him to refuse to wear a life jacket, despite the fact that he could not swim.  He never used a compass, guiding a borrowed sailboat intuitively around Turkey Neck inlet.  He often spent his time on the water just drifting, and always doing what he did best, which was thinking.
Many of the stories of his visit demonstrate Einstein's quirky sense of humor.  Fred Steiding, brother of John Steiding, asked him to explain relativity in basic terms. "Put it this way," said Einstein, "if you sit on a park bench with your sweetheart, an hour seems like a minute. If you sit on a hot stove by mistake, a minute seems like an hour." There is also a story regarding the invitation Einstein received from Isaac Hirsch, president of B'er Chayim Congregation in Cumberland. Einstein's response was, "Despite being something like a Jewish saint, I have been absent from a synagogue so long that I am afraid God would not recognize me and if He would it would be worse."
It's easy to imagine that while he was here, he must have been thinking about his unified field theory, on which he published papers in 1950 and 1953. Deeply concerned about world peace, in October 1946 he wrote a letter to the United Nations urging them to form a world government to maintain peace under nuclear threat.
In Conclusion
Einstein truly appreciated the simple life he lived in western Maryland.  Friendly, unassuming, humble and yet so famous, his ordinary and yet so extraordinary visit, reveals his simplicity, humanity and unique personality.  In his own words, the visit to Deep Creek Lake was "one of the most restful and zestful vacations."