If you like to hike, you'll love snowshoeing at Deep Creek Lake! When the newscasters are frantically reporting the latest "blizzard of the century," that's the perfect time to strap on some snowshoes and head outside.  Whether your goal is to get out for a leisurely walk in the snow or go for a more physically challenging adventure, you'll find this traditional mode of travel easy to learn—and effective at getting you where you want to go.  With miles of hiking trails available to snowshoe enthusiasts in area state parks, Garrett County is home to endless opportunities for winter backcountry travel.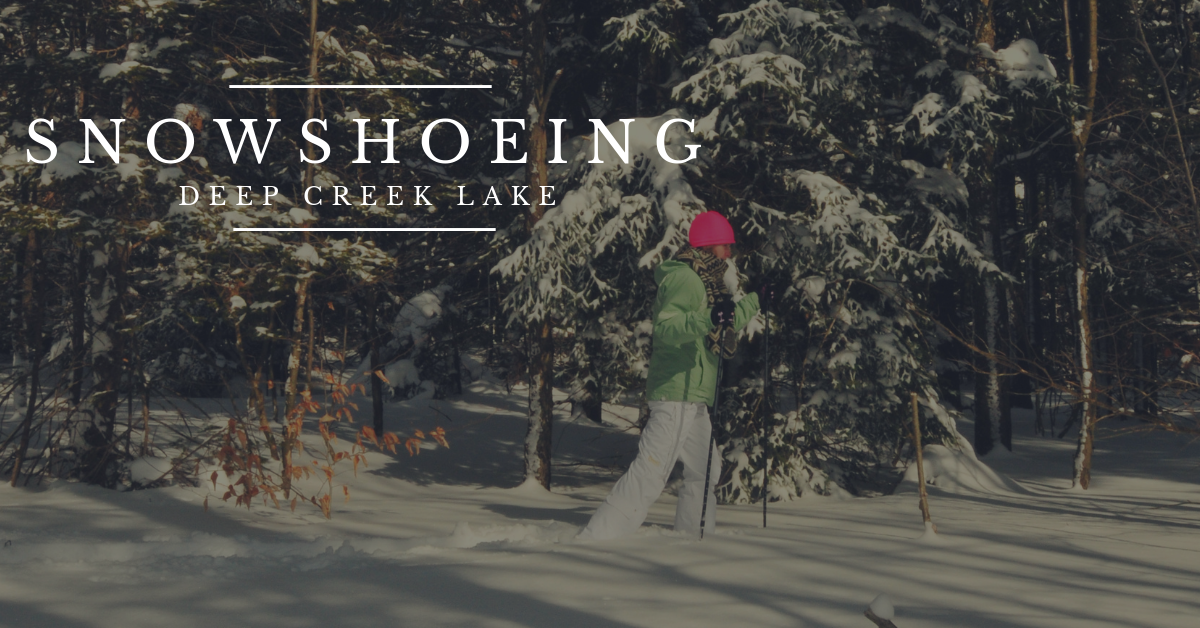 History of Snowshoeing
The origin and age of snowshoes are not precisely known. Historians believe they were invented from 4,000 to 6,000 years ago, probably starting in Central Asia. Before humans built snowshoes, nature provided examples. Several animals, most notably the snowshoe hare, had evolved over the years with oversized feet enabling them to move more quickly through deep snow.
Two groups of snowshoe pioneers diverged early on, setting patterns that can still be seen today. One group abandoned the snowshoe as it migrated north to what is now Scandinavia, eventually turning the design into the forerunners of the Nordic ski. The other went northeast, eventually crossing the Bering Strait into North America.  Here, their descendants developed the most advanced and diverse snowshoes prior to European exploration and colonization. Nearly every Native American tribe developed its own particular shape of shoe, the simplest and most primitive being those of the far north. The Inuit have two styles, one being triangular in shape, and the other almost circular, both reflecting the need for high flotation in deep, loose and powdery snow.  The Plains Indians wore snowshoes on their wintertime buffalo hunts before horses were introduced. Despite their great diversity in form, snowshoes were one of the few cultural elements common to all Native American tribes that lived where the winters were snowy.
Snowshoes were slowly adopted by Europeans in what became the U.S. and Canada, with the French well in advance of British settlers. Superior French snowshoeing skill almost turned the French and Indian War, a conflict that saw two engagements named the Battle on Snowshoes, to their favor.  The British were quick learners and sixteen years later, after a French-Indian raiding party attacked a British settlement near what is today Schenectady, N.Y., the British took to their own snowshoes and pursued the attackers for almost 50 miles. They ultimately recovered both people and goods taken by their attackers.  The "teardrop" snowshoes worn by lumberjacks were about 40 inches long and broad in proportion. This form, the stereotypical snowshoe, resembles a tennis racquet and was copied by the Canadian snowshoe clubs of the late 18th century. Originally founded for military training purposes, they became the earliest recreational users of snowshoes.
Snowshoeing Today
Today they are mainly used for recreational purposes. Modern snowshoes have gone high-tech, with components made of plastic, rubber and aluminum.  Most are made of light metal, while others are a single piece of plastic attached to the foot to spread the weight. In addition to distributing the weight, snowshoes are generally raised at the toe for maneuverability. It's important that they do not accumulate snow, hence the latticework, and require bindings to attach them to the feet.
If you've got snowshoes, strap 'em on and head outside. Snowshoeing is great exercise. Whether you're going out for a short day hike or a full-fledged backpacking trip, here are some tips  to get you started:
Choose the right snowshoe for the conditions: Snowshoes come in a variety of shapes and sizes. The most important consideration: How much "float" do you need? Float refers to how effective the snowshoe is at keeping you on top of the snow—in other words, float is what keeps you from sinking. The heavier you are, the more float you'll need. The kind of snow matters, too: On powdery fluffy dry snow, you need more float than in wetter, denser snow.
Shoes: Leather hiking boots that have been waterproofed are great for hiking and backcountry trekking. Trail-running shoes are perfect for running and aerobic snowshoeing (look for GORE-TEX material). Snowboarding boots are also ideal for snowshoeing. Waterproofing is the key.  Wool socks for hiking and/or a wool/silk combination for running are important to snowshoeing. Never wear cotton socks when in the snowy elements.
Gaiters keep snow out of your boots: A big advantage.
A pair of ski poles is a must: They'll help you keep your balance and get up when you fall.
Technique: If you can walk, you can snowshoe. Despite the width of the snowshoe, the design actually lets you walk in a pretty normal gait. The only thing you can't do is go backwards because the heel will stick in the snow and flip you over.  Instead, to reverse direction, pivot by moving the fronts of the snowshoes around in a circle.
Snowshoeing at Deep Creek Lake
So, where should you go snowshoeing at Deep Creek Lake? 
The answer is simple – if it is covered in snow…go for it!  Remember to be careful. Don't take risks and most importantly, have fun.
Wisp Resort's Nordic Center rents snowshoes and cross country skis for use on their groomed trails.
High Mountain Sports is another local outfitter that can fulfill your all your snowshoeing needs, whether your looking to rent or to buy.
All Earth Eco Tours offers snowshoeing adventures. You can explore breathtaking backcountry with an experienced guide. Equipment is provided as well.
Our state parks offer miles of scenic hiking trails that are perfect for snowshoeing during the winter months.  Staff naturalists can recommend the best path for your ability level.  If you're new to the sport, the trails at Herrington Manor State Park are groomed for cross country skiing which makes maneuvering in snowshoes a little easier.
In Conclusion
Snowshoeing at Deep Creek Lake is a great way for non-skiers to enjoy the beauty of winter. Plan your winter vacation now and look forward to exploring the outdoors with your favorite people.