Your Deep Creek real estate update brings good news about the winter market! The snow guns are pumping out the snow on the slopes and buyers are still pumping out contracts. We may have slowed down with showings for the year, but the buyers are serious.
The sales have stayed steady for this time of year with 42 closings in November. The county average sales price was $454,200 and a lake area average of $601,398 is up over last year's average. The inventory continues to trend down for the winter with 371 active listings for hungry buyers.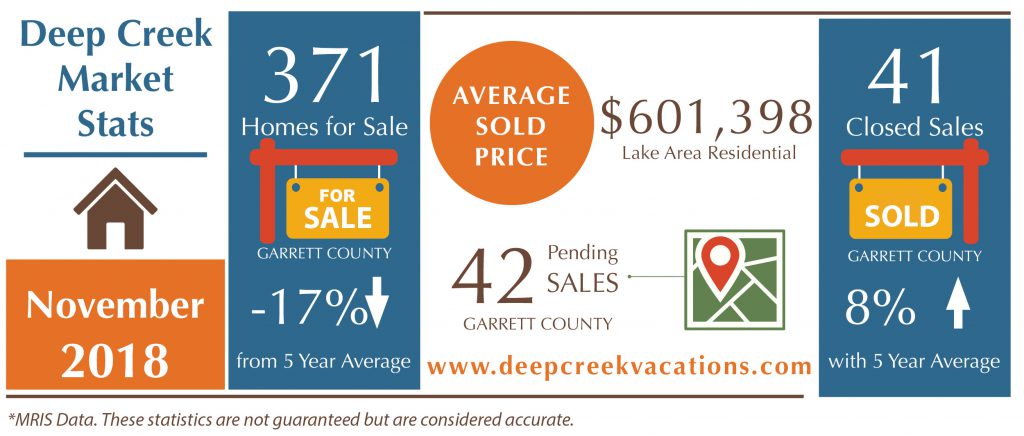 Buyer's Tip: First time home buyer money is available from the Maryland Home Mortgage program. Contact one of our agents about getting some free money from the state. All of Garrett County is a target area for this program.
Seller's Tip: Cold temperatures have arrived in the mountains, and you need to make sure that vacant homes are winterized or heated and set up to prevent pipes from freezing. Keep cabinet doors open under all sinks. Make sure heat is set above 55 degrees. Shut the water off so that the house doesn't flood if a pipe does freeze. Check on your property frequently to make sure the heat is still working.  Smart home devices can help you monitor from your phone.   
Wax up the skis and lets get ready to hit the slopes. Wear your helmet because buyers are coming in hot. Call us if you need help determining your next real estate adventure.