"There are three kinds of lies: lies, damned lies, and statistics." – Mark Twain
My name is Jay Ferguson and I am one of the owners of the real estate division of Taylor Made Deep Creek Vacations & Sales. I am entering my 19th year in the real estate business here in Garrett County and at Deep Creek Lake. If you are interested, you can find out more about me personally and my background here.
I will be writing a monthly blog post about our local real estate market, sharing & interpreting statistics and offering some insights into the market as a whole…as I see it. These are my personal thoughts and musings about the market in general and are not intended as anything more specific.
Lastly, every stat I reference is based on the official stats published by Bright MLS on or around the 15th of each month. My plan is to give you straightforward stats, analysis and let you interpret what you read. This first post will be longer than most, as I have more background to cover to bring you up to speed.
January 2019 Real Estate Rundown
So, without further ado, lets jump into some numbers!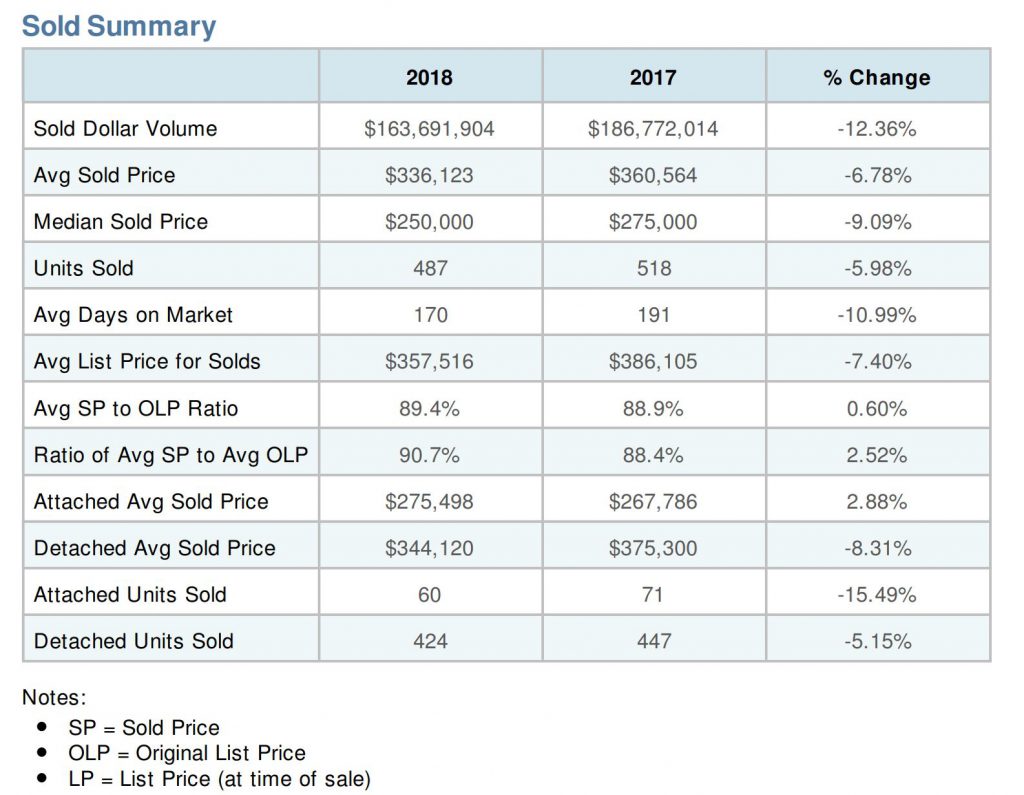 2018 was an off-year compared to the robust numbers we experienced in 2017. The market was down in almost every measurable category. Total sales volume (-12.36%) and average sales price (-6.78%) both dropped over the past year. The total number of units sold was down nearly 6%.
Taking a Closer Look
In looking closer, you can see that Average Days on Market was down (-11%) and that's a great thing. Homes are selling quicker. The average sales price to original list price was also up slightly, .6%, which means homes are selling for closer to asking price. The market is tightening up in those areas.
Taking a big step back and putting this all in perspective, I want to tell you a little more about our market to keep things in context.
The Deep Creek Lake area is vastly different than a 'normal' residential market because:
• It's primarily a vacation home/second home market. What we are selling is a WANT, not a NEED. Prices and overall sales are more apt to fluctuate when dealing with something that isn't a necessity.
• Our market is seasonal. We have spikes in our inventory/homes for sale and fluctuations in our visitors/vacationers. Most of our buyers are here for only a few weeks or weekends each year…at random times of the year… so timing matters.
• Our market is affected by adverse weather conditions. A mild winter (see 2016-2018) or a rainy summer (2018) can have drastic effects on our sales and visitors. You can imagine how a bad month or two can alter the stats.
• Our market is directly affected by world events. The state of our economy, the stock market, elections and…interest rates. If 2018 was anything, it was a roller-coaster ride every day with regards to these factors.
I would argue that 2018, while statistically lower in key areas, was actually a healthy year for the market. We shed a large amount of inventory. In fact, it was continuing a trend that has been ongoing for a while. If you look at the chart below, a 10 year look at supply and demand, you can see how our inventory has dropped consistently since the 'bubble of 2008'. We had a 3 year supply of homes from 2009-2012. And, more homes coming on the market every day. It was a mess. Inventory stabilized from 2013 to 2014/15 and that's when I believe we started to turn a corner. More and more homes were selling and fewer homes were coming on the market. That is a recipe for a healthier market and that trend has continued, even into these 2018 numbers.
>>>>>>>>>>>>>>>>>>>>>>>>>>>>>>>>>>>>>>>>>>>>>>>>>>>>>>>>>>>>>>>>
As our excess supply diminished and Deep Creek Lake continued to be popular and in demand, we have slowly crawled our way out of the effects of 'the bubble of 2008'. It took 10 long years, but that's what happens when you have a LOT of inventory suddenly available (2008), followed by the slow, but steady interest in purchasing a second home as the economy and stock market improved and interest rates remained favorable. To be honest, it took a long time for investor confidence to stabilize. We were all shell shocked by what we witnessed and the catastrophic fallout that ensued.
Back to 2018, you can see from the chart below (mouse-over for data points), you can see the month to month fluctuations in average sales price. The dips you see in activity/price are all relatively close to the announced increases in interest rates, ironically. The Federal Reserve increased interest rates 4 times in 2018 and it undoubtedly had an effect on purchasers and prices they were willing/able to pay. Further, 7 months out of 12, prices were close to, if not higher than, the previous year average.
Per the Garrett County Chamber of Commerce, our area hosts over 1 million people here annually. Garrett County & Deep Creek Lake are still very much in demand and more and more people are visiting our area each and every year. People want to be here and if they aren't buying, they are still going to rent and not miss out on a vacation. Our rental data reflects just that, as we continue to break records every year in terms of overnight visitors who stay with Taylor-Made. Our sales volume and market share continue to grow, as well. This has given me a tremendous amount of confidence and allowed me to understand these market fluctuations a little better than I had before.
January 2019 Real Estate Wrap Up
In conclusion, nobody can deny the numbers were down slightly in 2018 when compared to 2017. But, I strongly believe that it had more to do with timing of world events, crummy weather, rising interest rates and volatile markets, and not so much the quality of what the area has to offer. People are still going to vacation here – multiply times each year, in fact. When the timing is right, they will invest in a purchase. If they are getting mixed signals or are waiting to see how things play out, chances are they just come for a week or two. The great news is, they are still choosing Deep Creek Lake.
Whether you would like to stay for a weekend or a lifetime, Taylor Made Deep Creek Vacations & Sales is here to cater to your needs!
PS- If you would like a free market analysis of any specific property you are buying or selling, I can help with that, as well! Feel free to contact me anytime!