"There are three kinds of lies: lies, damned lies, and statistics." – Mark Twain
My name is Jay Ferguson and I am one of the owners of the real estate division of Taylor Made Deep Creek Vacations & Sales. I am entering my 19th year in the real estate business here in Garrett County and at Deep Creek Lake. If you are interested, you can find out more about me personally and my background here.
I will be writing a monthly blog post about our local real estate market, sharing & interpreting statistics and offering some insights into the market as a whole…as I see it. These are my personal thoughts and musings about the market in general and are not intended as anything more specific. And, to be clear, I am an optimistic, glass half-full kind of guy.
Lastly, every stat I reference is based on the official stats published by Bright MLS on or around the 15th of each month. My plan is to give you straightforward stats coupled with my analysis from the front lines and let you interpret what you read in your own way.
Your February 2019 Real Estate Rundown
January 2019 brought us some extreme temperatures and it had an effect on the real estate market. First it was WARM…too warm for snow making. It was the 10th before we had below freezing temperatures for more than 24 hours. Then it was COLD. Too cold for anything. We had record low temperatures here in Garrett County, resulting in several lost school days, cancellations/delays and generally unsafe conditions. I woke up one day to a frosty -16 below and wind chills in the minus 25 range. With those kind of temperatures, people elected to stay home and stay indoors. I had several clients postpone trips to look at homes because of the weather. Besides the temperatures, there wasn't a ton of snow. Once Wisp would get a good base going, it would warm up and rain/melt it all away. Case in point, we had a healthy 12" of fluffy, beautiful snow show up on January 31st, and the very next day, Punxsutawney Phil called for an early spring. It was near 60 for the next few days and all the snow we had accumulated was GONE. As I look outside right now, it's a perfect 'snow globe' day, which we could use some more of!
The real estate market was warm and cold, too.
Some of the highlights:
-There were 50 new listings that came on the market. That's an increase of 78.6% from last month and a 66.7% increase from last year AND its higher than the 5 year January avg. This is a trend I have noticed over the past year or two. One thing about these 'warmer' temperatures, it has sellers pulling the trigger on listing their homes prior to spring and traditionally warmer temperatures.
-Pending sales (homes that went under contract) were up 34.6% from last month. That matched January 2018 and it was up from the 5 yr avg.
-The total number of active listings is down, which is a good sign of a healthy market. County-wide, there are now only 335 listings for sales versus 348 in Dec 18. It's lower than the 5 yr avg, as well. This has been an on-going battle we have waged since the 'bubble year' of 2008. The lower this number gets, the more prices stand to rise.
-Lastly, the average sold to original listing price (OLP) ratio improved to 88.7% from last month. Its down slightly from Jan 18 to the tune of 1%.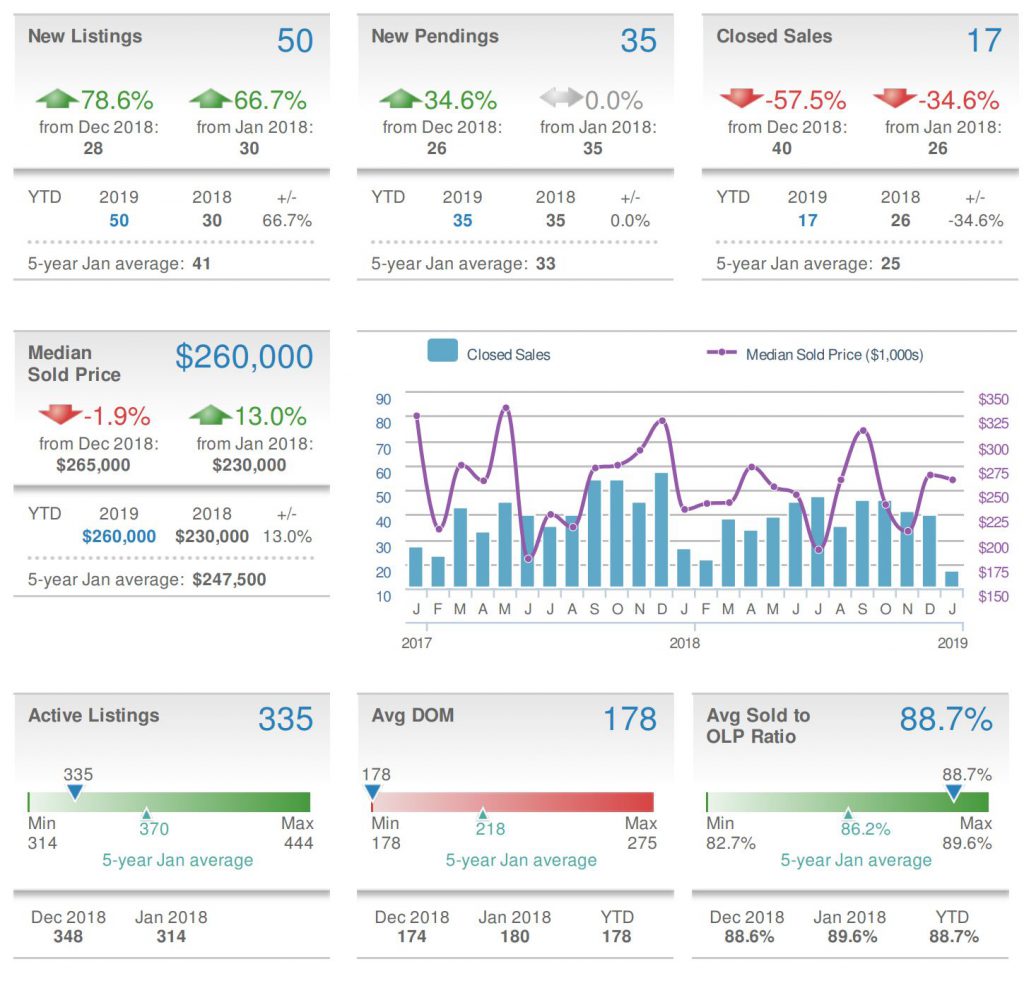 -The median sold price is down to $260,000. That's almost 2% off last month, but its higher than January of last year and it beat the 5 yr avg. The truth is, with this number, its always going to be off month to month. We don't have a cookie cutter market, as ALL of Garrett County is factored into theses stats. Interested in more specific stats for YOUR property, drop me an email jay@deepcreekvacations.com
-The average days on market (DOM) was down 4 days from last month…but better than last years 180 days. Bottom line, its one week difference over the course of a year. The real story is this number is a whopping 40 days lower than the 5 year average. That's measurable progress!
-Lastly, the worst stat I noticed is the total number of sales was 17. That's down a LOT from last month, last January and its lower than the 5 yr avg. Let's hope that number is a fluke as we move forward. Also, to keep this in perspective…we only sold 9 fewer homes than last January and with 40 homes closing in December 2018, it's more likely a few of those people rushed to close on their new house before the new tax year.
To sum it up, the market overall remains healthy and the national economic indicators are mostly positive. In our unique vacation market, the numbers will tend to spike month to month, but the overall value proposition of a lakehouse or vacation property here in the mountains is too tempting to pass up. And with the warming trend in the weather, that just means you can enjoy more time here at the lake 😊
Questions about the market? Whether you are buying or selling, I can put my experience to work for you! Contact me anytime for a free market analysis of any property you may be interested in purchasing or selling!
Jay Ferguson
Co-Owner
Associate Broker
301-501-0420 – cell