Deep Creek Lake kid's camps offer something to keep all ages entertained! Whether you own a home at the lake or are vacationing with your kids/grandkids, they may enjoy making new friends at one of CARC's Adventure, Music or Athletic Camps.  The camps begin June 17th and run through August 16th and are for children ages 6-12.  You can sign up for a full day or AM half day.
Deep Creek Lake Kid's Camps at the CARC
The Great Garrett Adventure Camp lineup this summer 2019 can be found here and includes everything from an All Star Camp, Mythical Monsters & Mayhem, American Ninja Camper, Junior Chef, Water Water Everywhere, From A to Zoo and Who Done It.  The Music, Athletic and Adventure Sports Camps have not been announced yet but typically include a baseball and basketball camp and more.
You can find FAQ's on their website.  Lunch is provided for full day campers and Before & After Care is available as well.  You can sign up anytime between now to the Friday before the camp starts, pending availability.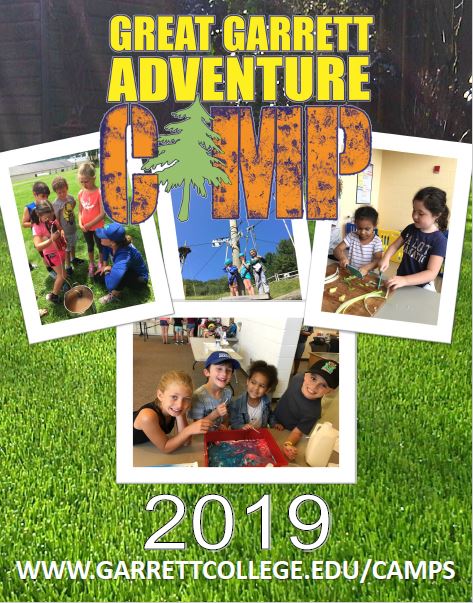 4H Camp Summer 2019
There is also a local 4H Camp that is very popular and fills up quick.  For 2019, the camp runs from July 7th to 11th and is for ages 8 to 14.  Exciting things are being planned for the week, including classes in marksmanship, environmental studies, canoeing, archery, and crafts, recreation, campfires, food, fund and new friends.  The Camp is an educational activity of the Garrett, Allegany, & Washington 4-H programs with instructors and counselors volunteering their time.  The Camp is situated beside a 20-acre lake that is used for swimming and canoeing.  There are 12 cabins, sleeping 12 campers each, plus a Lodge Hall, dining hall, showers, Nature Center, challenge course, basketball court, archery and riffle ranges and miles of hiking trails.  The Western Maryland 4-H Center is an American Camp Association Accredited facility and program. Click here for more information.