"There are three kinds of lies: lies, damned lies, and statistics." – Mark Twain
My name is Jay Ferguson and I am one of the owners of the real estate division of Taylor Made Deep Creek Vacations & Sales. I am entering my 19th year in the real estate business here in Garrett County and at Deep Creek Lake. If you are interested, you can find out more about me personally and my background here.
I will be writing a monthly blog post about our local real estate market, sharing & interpreting statistics and offering some insights into the market as a whole…as I see it. These are my personal thoughts and musings about the market in general and are not intended as anything more specific. And, to be clear, I am an optimistic, glass half-full kind of guy.
Lastly, every stat I reference is based on the official stats published by Bright MLS on or around the 15th of each month. My plan is to give you straightforward stats coupled with my analysis from the front lines and let you interpret what you read in your own way.
March 2019 brought more good news for the local real estate market and the market in general: The Federal Reserve announced that there will be no more interest rate hikes this year. That's great news for everyone ('except bond traders', as a client who happens to be a bond trader quipped). It's good news for buyers and sellers alike. It's starting to feel more like spring in the mountains. Leaves are budding, birds are chirping, and docks are hitting the water!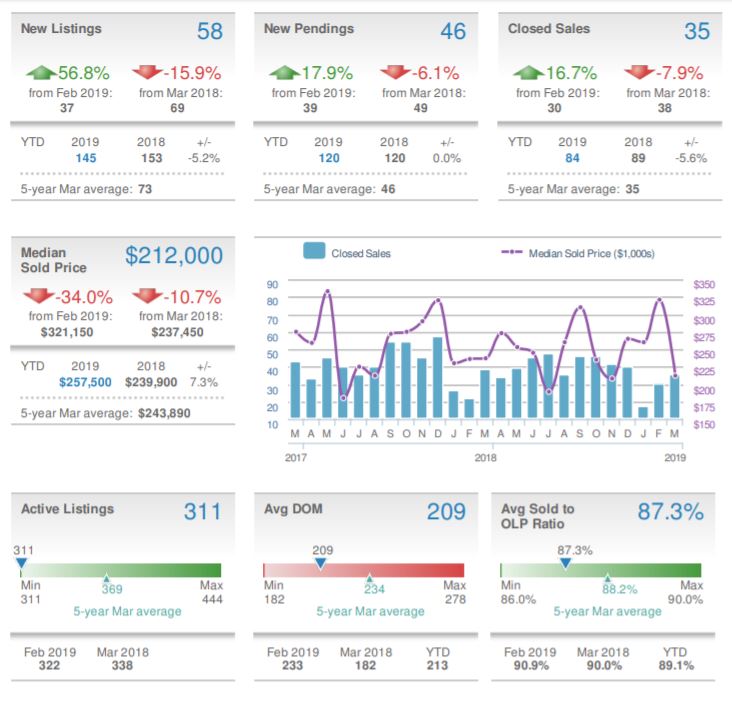 The specifics:
-There were a whopping 58 new listings that came on the market. That's an increase of 57% from last month and a 15.9% decrease from last year. The 5 year average was 73 new listings for the month of March,
-Pending sales (homes that went under contract) were up 17.9% from last month. That's a decline of 6.1% from February 2018 and it was right in line with the 5 yr avg.
-Closed sales (homes that actually sold) were up 16.7% from last month, and down 7.9% over last March. Again, this number is right in line with the 5 year county average.
-The total number of active listings is down AGAIN, which continues a trend I have been watching. County-wide, there are now only 311 listings for sales versus 322 last month. Its way lower than the 5 yr avg, which was 369 homes. As inventory continues to drop, it is going to slowly squeeze prices higher. Great news for sellers, not so much for buyer selection.
-The average sold to original listing price (OLP) ratio dropped to 87.3%. That's lower than the 5 year average and the year to date average. This may be the lowest I remember seeing for a while, but expect this number to hover in the high 80s and low 90s.
-The median sold price is down significantly – only $212,000 this month, down from $321,150 last month. I say this every month, but it bears repeating again – this number is always going to be off month to month. We don't have a cookie cutter market, as ALL of Garrett County is factored into theses stats. Some months, big dollar lake homes sales skew this number higher and other months. Interested in more specific stats for YOUR property/neighborhood? Drop me an email jay@deepcreekvacations.com
-The average days on market (DOM) was 209 days, which is an improvement. It remains ~25 days lower than the 5 year average.
In summary, March was another positive month for Garrett County real estate. If you are a buyer, you may be disappointed to not see so much in terms of new inventory versus previous spring markets. If you see something you like, do not hesitate – or it may be gone. I am still seeing multiple offer situations happen more often – another sign of a hot real estate market. If you are a seller, perhaps now is the time to test the waters. Lower listing inventory may mean more activity for your property and perhaps, the slightly better prices you have been waiting for!
Questions about the market? Whether you are buying or selling, I can put my experience to work for you! Contact me anytime for a free market analysis of any property you may be interested in purchasing or selling!
Jay Ferguson
Co-Owner
Associate Broker
301-501-0420 – cell
jay@deepcreekvacations.com
www.iLoveDeepCreek.com