Log cabins in Deep Creek, MD have long been a staple style of home. They evoke that perfect "mountain vibe" for vacationers, second home owners and full-time residents.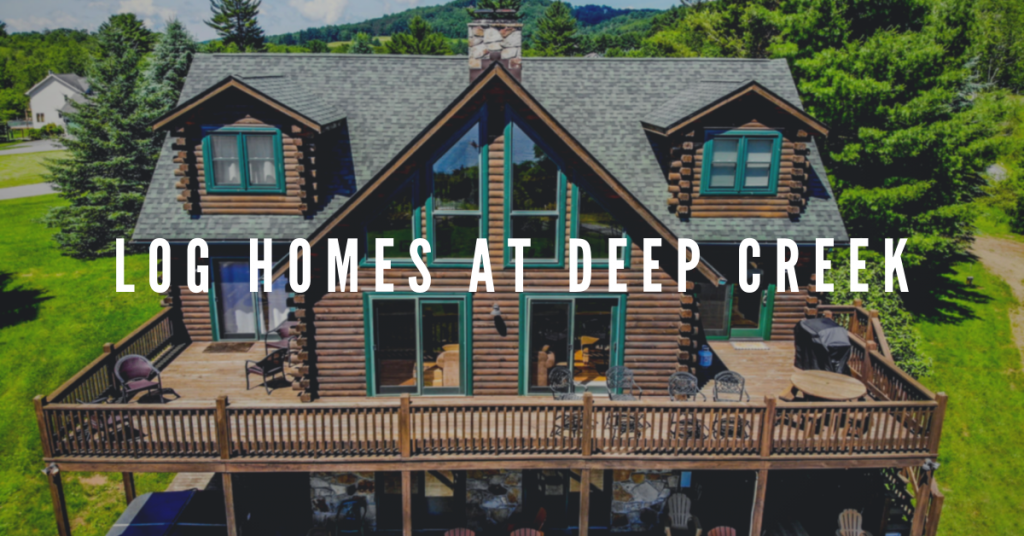 Past: Log Cabins in Deep Creek, MD
As you might know, Deep Creek Lake was built in 1924-25; within about 10 years, people realized what a gem it was and began building "camps and cottages".  Some of the early cottages were one-room log cabins, built with logs that had been felled for the lake's construction.  According to the August 28, 1938 newsletter of the Deep Creek Lake Association, there were 189 private cottages and 80 cottages for rent around all of Deep Creek Lake.  Many of those were very modest log buildings accompanied by an outhouse (privy) with no running water.
Present: Log Cabins in Deep Creek, MD
Today is very different.  We still have log camps and cottages; but we also have modern log homes and even log mansions with 6 or more bedrooms.  With modern building techniques, these log homes have not only the "natural warmth and beauty of wood", but also heating systems with A/C, very attractive furnishings, modern kitchens and the latest designs that will make your Deep Creek Lake stay nostalgic and a place to make many family memories.
Trust Taylor-Made Deep Creek Vacations & Sales to match you with the perfect vacation get-away for a week-end or a week, or your choice of rustic or modern log homes as the second-home you've been dreaming of.  Our team of reservation specialists is ideally suited to assist you in choosing from our selection of over 70 log cabins in Deep Creek, MD.
Additionally, you can browse real estate listings to purchase a log home at Deep Creek Lake of your own. For a custom log home, local companies like Mountaineer Log Siding & Company can help you create a home that is built to your specifications.
This blog post is courtesy of Karen Myers. As a buyer's agent, she can help you find your perfect log cabin in Deep Creek, MD.