Deep Creek Lake real estate terms can be challenging to understand if you are unfamiliar with the area. A review of the following terms used to describe real estate and permits around the lake will assist you in making your buying decisions.  Understanding these definitions will help you determine the property that's the best fit for you (Lakefront, Lake Access, Split Lakefront, Lake View).  Using a Taylor-Made experienced and trained REALTOR® will ensure that your best interests are at heart every step of the way. I am Betsy Holcomb, a co-owner of Taylor-Made real estate and a sales agent. Feel free to contact me any time at betsy@deepcreekvacations.com or 301-616-5022 with any questions you might have.
Deep Creek Lake Real Estate Terms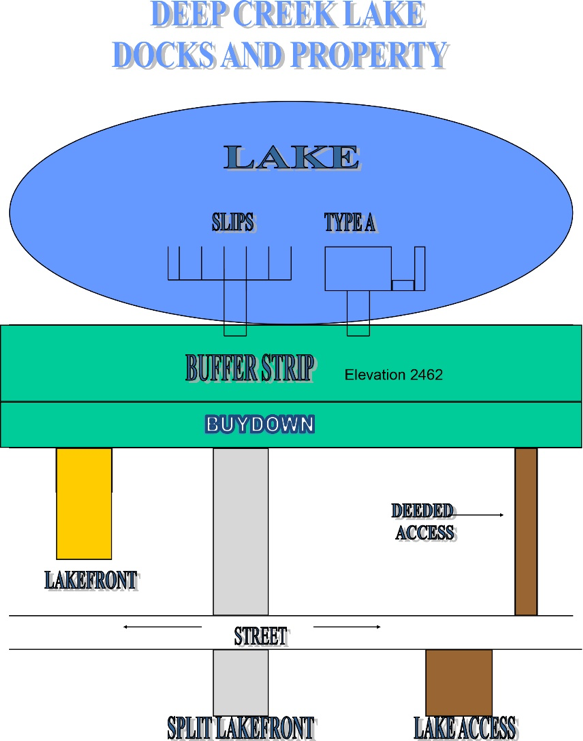 ASSIGNED SLIP – A term used to indicate that the residential unit or lot has the exclusive use of a specific boat slip issued to the Council of Unit Owners or Homeowners Association.
BUFFER STRIP – Land owned by the State of Maryland between the water's surface and the private property boundaries of adjacent landowners to an elevation of approximately 2466' in most locations.  Said buffer strip is designed to provide an access area between the actual water surface and private property adequately sized to permit the general public to walk or fish around the entire perimeter of Deep Creek Lake.
BUFFER STRIP USE PERMIT – A permit issued and then renewed annually by the Maryland Department of Natural Resources, Deep Creek Lake Management Office, that authorizes the placement of a floating dock in front of private land and upon the State of Maryland's Buffer Strip.  The number of boat slips permitted may vary.  The permit is issued to the landowner and terminates annually or with the sale of the real estate.  A new permit must be applied for upon acquisition of the property.
BUYDOWN AREA  –  Land being offered (or sold)by the State of Maryland, Dept. of General Services, to adjacent property owners that is part of the defined "buffer strip" above.  Said "buydown" area is subject to a special Conservation Easement which does not permit permanent structures or general brush and tree cutting.  When purchased, it is private property and not available for use by the general public.
COMMON AREA – The areas within a subdivision for the use and enjoyment of all property owners, primarily for private roads, green space areas or recreational purposes.  These areas are specifically designated on a survey plat or described in the Homeowners Association or Condominium documents.
COMMON DOCKS – A grouping of more than one boat slip for more than one property owner at a particular location.  Common boat docks are usually managed and maintained by a Homeowners or Condo Association; however, some common or group boat docks have less formal arrangements.  Specifics regarding use, rules, and regulations for use at a common dock should be obtained for review prior to purchase.
CONSERVATION EASEMENT – An easement restricting and limiting the use of "buydown" property purchased from the State of Maryland.  Uses restricted or prohibited on this buydown land by virtue of the conservation easement include:
No permanent structures or decks.  No dumping or storage of materials, No trees or brush cutting without permission.
A Special permit is required from Dept. of Natural Resources for non-permanent structures and/or any other change to the area subject to the Conservation Easement.
DEPARTMENT OF NATURAL RESOURCES (DNR) – Deep Creek Management Office– Regulates and enforces the recreational usage, maintenance and/or alteration of the lake and buffer strip by virtue of the Deep Creek Lake Regulations.  Their personnel can answer questions and issue permits for activities on the buffer strip as well as upon the water's surface.  Copies of regulations are available from their office, which is located at Deep Creek Lake State Park Headquarters Building, 30l-387-4lll.  Mailing address:  898 State Park Road,  Swanton, Maryland 2l56l.  Lake Manager – Eric Null
DOCK PERMIT – See Buffer Strip Use Permit (It's the same.)
EGRESS – The Building Code in Garrett County, which was enacted in 1998, requires that all bedrooms have at least one window or door with a minimum of 5.7 sq. ft. of egreee area. This requirement is based upon public fire safety requirements.
LAKE ACCESS – Real estate that has deeded rights to use a common access strip to reach the buffer strip area, and in some cases, boat docks.  Lake access landowners are also accorded special privileges on the buffer strip according to the Deep Creek Regulations promulgated by the Maryland DNR
LAKEFRONT – Real estate parcels with a boundary adjacent to State of Maryland waterfront property.  Owners of these parcels are accorded by regulation special uses of the buffer strip that are not available to the general public.  See Buffer Strip Use Permit and Dock Permit.
LEASED SLIP – A lease arrangement negotiated between an individual of the general public and a Marina operator (or other entity with boat slips for lease) for the exclusive use of a boat slip on a weekly, monthly, or annual basis. Leases cannot exceed one year in duration.
PENELEC – Pennsylvania Electric Company – The former proprietary owner of Deep Creek  Lake.  The lake is still used for hydroelectric power production and releases of water occur routinely to provide a regular flow of water to the Youghiogheny River.  The water levels are always reduced from the "normal pool" levels after Labor Day in order to provide for dam safety from freezing during the winter and to allow for the spring runoff which fills the lake again for summer recreation.
RULE BAND – A water appropriation permit issued to Reliant Energy permits the use of water from Deep Creek Lake for a variety of purposes, including hydroelectric power production, whitewater rafting releases, temperature releases for fish habitat, etc.  This permit designates both a maximum water level and a minimum water level for each month of the year, which gives Deep Creek Lake a dependable water depth for use by recreational boaters, adjacent property owners and other interested parties.  For specifics on the current level of the lake, check ___________________
SHARED SLIP – A term indicating that more than one property owner must share a boat slip that is managed  by a Homeowners Association.  Various methods of sharing exist around Deep Creek Lake and a complete review of the Homeowners documentation will clarify the sharing arrangements.
SINGLE SLIP – A term that indicates the property is entitled to just one boat  slip, to which only one watercraft can be moored or docked.
SPLIT LAKEFRONT – Lakefront real estate as defined above, but with a public road bisecting the site so that the house is located across the public road from the boat docking area and water.
TVRU – Transient Vacation Rental Unit – A license issued to owners of properties that are rented for periods of less than 90 days to a single renter within the area of the Deep Creek Lake Watershed.  Specific requirements include a parking space for each bedroom, bear-proof trash collection system, maximum occupancy of 2 people per bedroom plus 4 additional people, and a system to monitor and contain noise from ____ to ______.
TYPE A DOCK PERMIT – A Buffer Strip Use Permit that authorizes the mooring of up to two power boats, one personal watercraft and one non-power boat to a single docking facility.  It may be U-shaped, a platform, or other approved design.  It is a special type of Buffer Strip Use Permit.  Please confirm with DNR, Deep Creek Lake Management the specific requirements or restrictions for the property being purchased.
ZONING –The Deep Creek Lake Watershed Zoning Ordinance was enacted in 1975.  Any lots or improvements developed or built after that date were regulated by the ordinance.
Lake Residential is divided into two categories:
LR1 – Minimum lot area is one acre per single family home
LR2 – Minimum lot area is two acres per single family home
Town Residential – Minimum lot area is 10,000 sq. ft. per single family home or 8/acre
Town Center   —      Minimum lot area is 10,000 sq. ft. per single family home or 9/acre
For additional details and a Table of Uses, please go to www.garrettcounty.org, choose Permits & Licenses, then Land Use, then Planning & Land Management, then Deep Creek Lake Watershed Zoning, or  call the zoning office at 301-334-1920.
STATISTICS – Lake surface area ……………………… 3900 acres
Approximate Shoreline ………………….     65 miles
Maximum depth …………………………     75 feet
Approximate length ……………………. .    12 miles
Area of Buffer Strip ………………………1400 acres