"There are three kinds of lies: lies, damned lies, and statistics." – Mark Twain
My name is Jay Ferguson and I am one of the owners of the real estate division of Taylor Made Deep Creek Vacations & Sales. I am entering my 19th year in the real estate business here in Garrett County and at Deep Creek Lake. If you are interested, you can find out more about me personally and my background when you click here.
I will be writing a monthly blog post about our local real estate market, sharing & interpreting statistics and offering some insights into the market as a whole…as I see it. These are my personal thoughts and musings about the market in general and are not intended as anything more specific. And, to be clear, I am an optimistic, glass half-full kind of guy.
Lastly, every stat I reference is based on the official stats published by Bright MLS on or around the 15th of each month. My plan is to give you straightforward stats coupled with my analysis from the front lines and let you interpret what you read in your own way.
April 2019 brought a TON of new inventory – over 100 new listings on the market for sale. Its good news for buyers who want to have more choices, but it's a little nerve-wracking for sellers who now have more competition. Some very troubling news to report this month that will no doubt affect the area and the local real estate market here in Garrett County – the Verso papermill in Allegany County is closing its doors after 131 years.
This closing means the loss of 675 jobs and countless other related positions in the area – loggers, truck drivers, etc. A large number of these jobs belong to Garrett County residents and it caught nearly everyone by surprise. My grandfather worked there for nearly 40 years, so this really hits home for me, especially. I want to ask to keep these families that are affected in our prayers and hope that other opportunities present themselves soon.
While this won't affect the Deep Creek Lake market as much, it certainly will have an adverse affect on the monthly stats that I report here on this blog. I will do my best to keep you up to speed with those developments as they play out.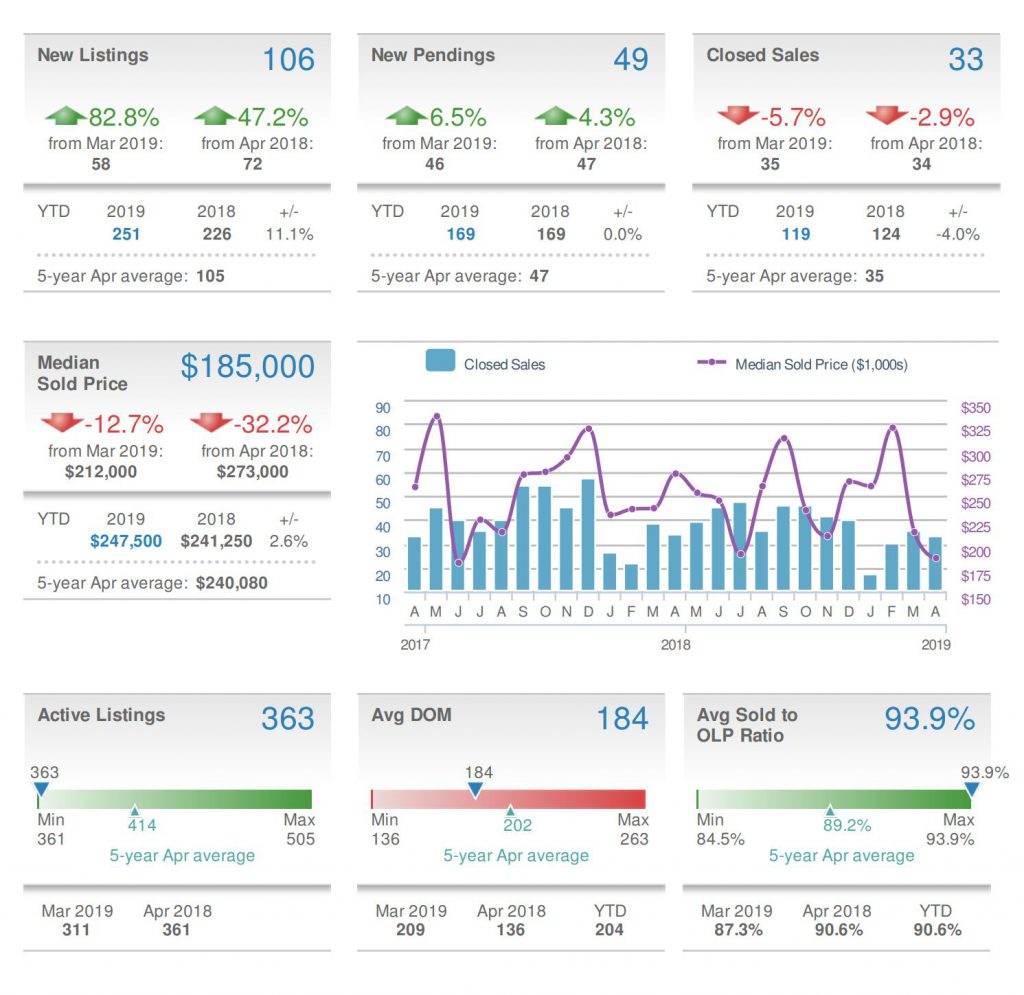 The specifics:
-There were a staggering 106 new listings that came on the market in April – almost double the new listings of last month. That's an increase of 82.8% from last month and a 47.2% increase from last year. The 5 year average was 105 new listings for the month of April, so this is pretty typical.
-Pending sales (homes that went under contract) were up 6.5% from last month. That's an increase of 4.9% from April 2018 and it was right in line with the 5 yr avg. Solid news!
-Closed sales (homes that actually sold) were down 5.7% from last month, and down 2.9% over last April. This number is right in line with the 5 year county average.
-The total number of active listings is now at its highest point in 2019. County-wide, there are now only 363 listings for sales versus 311 last month. It's a little higher than the 5 year average. The tables have turned now – far more selection for buyers and more competition for sellers.
-The average sold to original listing price (OLP) ratio jumped to 93.9%. This is higher than I recall seeing in recent memory, especially after having a lower number last month. This number will always fluctuate and has been pretty steady in the high 80's to low 90's.
-The median sold price is down significantly AGAIN – only $185,000, down from $212,000 last month and $321,150 the month before that. This is a little puzzling in terms of trends and its something I plan to keep an eye on. I say this every month, but it bears repeating again – this number is always going to be off month to month. We don't have a cookie cutter market, as ALL of Garrett County is factored into theses stats. Some months, big dollar lake homes sales skew this number higher and other months. Interested in more specific stats for YOUR property/neighborhood? Drop me an email jay@deepcreekvacations.com
-The average days on market (DOM) was 184 days, down from 209 days last month…another improvement. It remains lower than the 5 year average.
In summary, April brought a plethora of new inventory to choose from. Houses are starting to look better in general, as the weather is warmer and trees are blooming. Its starting to feel more like vacation time!! If you are a seller, perhaps now is the time to invest in some yard cleanup and landscaping or fresh paint to make your home stand out amongst the crowd.
Taylor Made Property Services can help!! – 301-387-5999 ext 2
Questions about the market? Whether you are buying or selling, I can put my experience to work for you! Contact me anytime for a free market analysis of any property you may be interested in purchasing or selling!
Jay Ferguson
Co-Owner
Associate Broker
301-501-0420 – cell