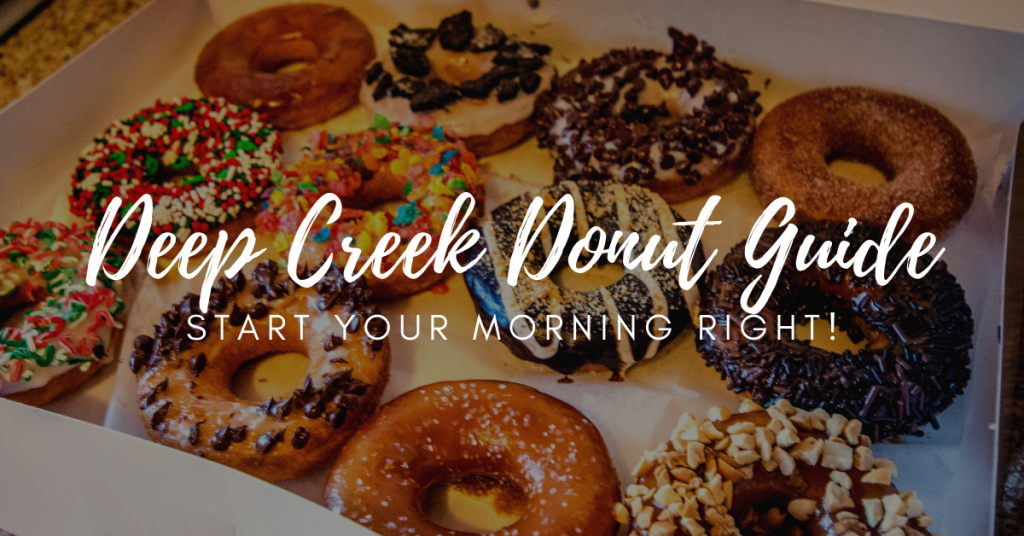 Our Deep Creek Donut guide gives you the scoop on sweet breakfast treats at the lake! There are several spots where you can grab some goodies to take back to your Deep Creek Lake vacation rental home. These spots are loved by locals and visitors alike!
Deep Creek Donut Spots
Deep Creek Donuts
20294 Garrett Highway, Oakland, MD 21550
Using a vanilla cake donut base, they have a lots of options on their menu. You can also choose from dozens of toppings to create your own. Located right next door to the popular Lakeside Creamery, you can eat fresh, hot donuts outside at the picnic tables that overlook the lake. They are open 7 days a week during the summer from 7 a.m. – 2 p.m.
Glazed & Confuzed Donuts
24450 Garrett Highway, McHenry, Maryland
Glazed & Confuzed is a far out food truck serving donuts and hot coffee in Funland's parking lot. Their extensive menu includes far out options like the "Wild Thang" (maple glaze with bacon) and the "Lake Monster" (vanilla glaze with crushed Oreos). Hours are Wednesday through Sunday, 7 a.m.-2 p.m. during the summer only.
The Casselman Bakery and Cafe
19595 Garrett Highway, Oakland, Maryland, 240-442-5202
Offering great home cooking for breakfast and lunch, these light and airy glazed donuts are a local favorite! You might want to call ahead to reserve because they do run out. Keep an eye on their Facebook page. They sell them at a discount when there is a surplus. If donuts aren't your thing, they have a great selection of breakfast sandwiches too. They are open year round starting at 7 a.m.
The Rolling Pin Bakery
203 North Main Street, Accident, Maryland
Located a few miles north of McHenry, these are not technically a "Deep Creek donut". However, they are worth the trip! This charming shop serves breakfast and lunch Tuesday through Saturday starting at 7 a.m. Their glazed donuts are available Wednesday, Friday and Saturday. They also have amazing muffins, sticky buns and cinnamon rolls! If you need a snack for later in the day, try their peanut butter or chocolate chip cookies.
In Conclusion
Satisfying your sweet tooth is just one way to make your Deep Creek Lake vacation special. Indulge in Deep Creek donuts at least once during your trip. Your family will thank you – I promise!