Deep Creek Lake September events offer a reason to visit every weekend! This is a quieter time of year when you feel like you have the lake all to yourself. With the busy summer season behind us, the area takes on a leisurely pace that is ideal for relaxation with friends and family.
As an added bonus, you can take advantage of September specials! Get a lake front location and lots of fun amenities for less!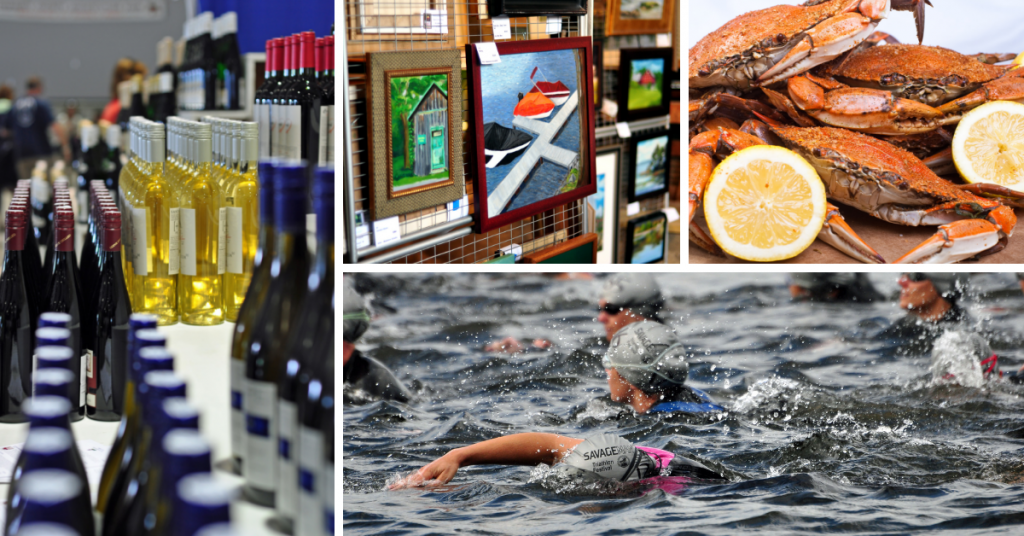 Deep Creek Lake September Events
Deep Creek Lake Art, Wine & Beer Festival
September 7, Noon-6PM, Garrett County Fairgrounds
With more than 200 wineries, lots of craft brews and area artists on-hand, this is a favorite late summer event. It supports both HART for Animals and the Garrett Lakes Arts Festival. Plus, there is great food, live music and activities for the kids. Plan a stay with Taylor-Made, and you can get discounted tickets too!
2019 AYCE Crab and Shrimp Feast
September 7, 3-9PM, Deep Creek Volunteer Fire Department
A limited number of tickets are available for this fun event that is the perfect follow-up to the Art, Wine & Beer Festival. Come out to show your support for the Deep Creek Lake Volunteer Fire Department!
SavageMan Triathlon
September 13-15
Having earned legendary status in the triathlon world, this race has courses for a variety of ability levels. Spectators cheer them on as they compete.
Mountain Lion Trek
September 21, Noon-4PM, McHenry to Oakland
Teams of 4 people will travel by car and complete missions for this fun, county-wide scavenger hunt! Sometimes you'll be submitting a photo or video, while other times you'll be checking-in at a specific location or solving a puzzle or riddle. Proceeds benefit the Deep Creek Lake Lion's Club Blind Skiers Program.
Deep Creek Lake Lion's Club Bark in the Park 5K
September 28, 8-10AM, Deep Creek Lake Lions Club Park
Bring your pup for an off-road race to remember!
Final Thoughts
Plan your mountain escape around one of these Deep Creek Lake September events. It is a great way to make memories and unwind with friends and family.