The Mountain Coaster at Wisp Resort offers year round fun! You have probably never experienced a roller coaster quite like this favorite Deep Creek Lake attraction.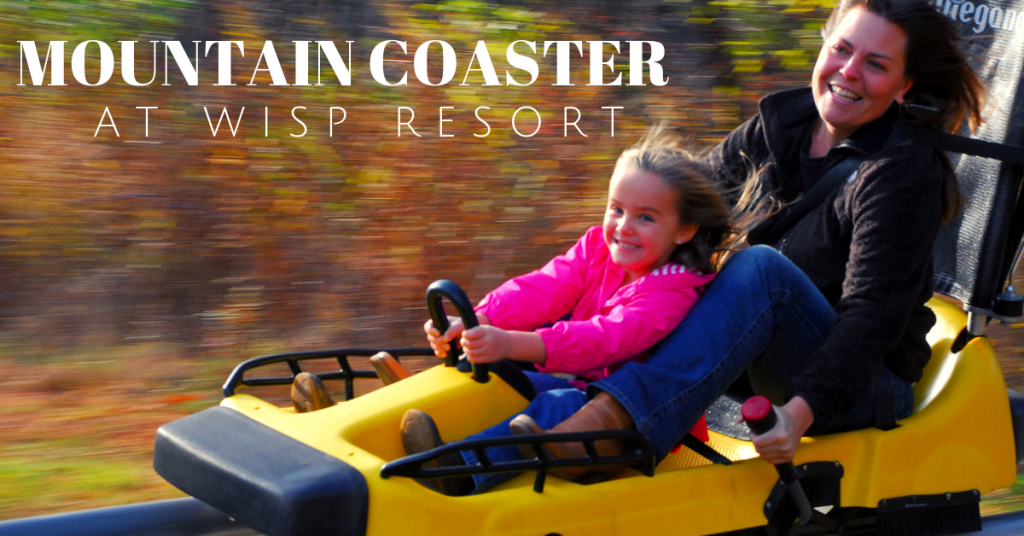 About the Mountain Coaster
The Mountain Coaster at Wisp Resort is a cross between an Alpine Slide and a roller coaster. It has 1,300 feet of uphill track that builds the suspense. Then, you twist, turn, dip and roll 3,500 feet down the eastern side of Wisp Mountain. Maximum speed is 28 mph. That might not be fast enough to scare coaster enthusiasts, but it is perfect for providing some thrills for everyone. You will ride in a "cart" that holds as many as two riders. Braking is up to you.
Once you climb the hill, gravity pulls the cart into the first turn.  You will go through a few rollers and then enter two back-to-back corkscrews.  The Mountain Coaster track finishes with more twists and turns. You will cruise into the loading area (say cheese for the camera!) smiling and laughing.
On your first Mountain Coaster ride, you will probably focus one controlling the cart. Take a second ride to enjoy the beautiful lake and mountain views all around you. During the winter, you can check out skiers on the slopes below.
Bonus Tip: You can "add-on" a Mountain Coaster ride at a discount. You just have to purchase any full-price canopy tour, archery, orienteering, chairlift ride, gem mining, disc golf round, or any other mountain park activity.
Mountain Coaster Requirements
To ride, kids must be at least 3 years old and 38″ tall. Children ages 7 and under must ride as a second passenger in the front seat of the cart. They must be accompanied by someone who is 16+ years old. Kids can ride alone if they are 8+ years old, at least 54" tall and can operate the brakes.