The best part of any vacation is spending quality time with family & friends. Deep Creek Lake holiday vacations are the perfect way to get away from it all & to reconnect with your favorite people.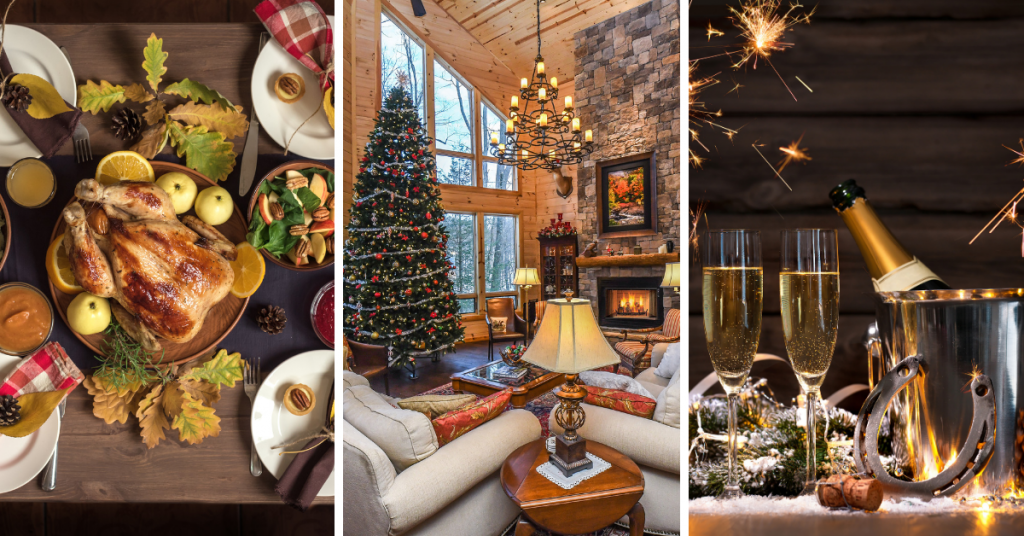 Thanksgiving at Deep Creek
Thanksgiving traditionally centers around family making it ideal for a trip to the mountains. November's crisp air creates the perfect fall vibe. Choose a Deep Creek vacation home with a fireplace, and spend cozy nights playing board games. During the day, the outdoorsy types can bundle up to explore hiking trails at area state parks.
Making a traditional Thanksgiving feast is easy. Place an order with Destination Grocers prior to arrival, and you can have all of your groceries delivered the day you check in. There are also options that take the stress out of preparing a big meal. Arrowhead Market offers homemade meals with all your favorite Thanksgiving dishes. You can also get a fully prepared dinner from Wisp Resort. Be sure to get your orders in early. If you want to dine out, many local restaurants will have holiday menus as well.
Festival of Trees
Shop local for Black Friday and Small Business Saturday. The Festival of Trees is November 29 or 30 at the Garrett County Fairgrounds. The kids can have breakfast with Santa, and you can browse items from local and regional artisans. Beautifully decorated trees are the true highlight of this event.
Explore historic downtown Oakland to check out Alder Street Diner, Sipside Lounge and Flipside Sounds. The Vagabond Taproom should be open by Thankgsiving too.
Christmas at Deep Creek
Christmas celebrations start early at Deep Creek Lake. December is filled with fun ways to catch the holiday spirit.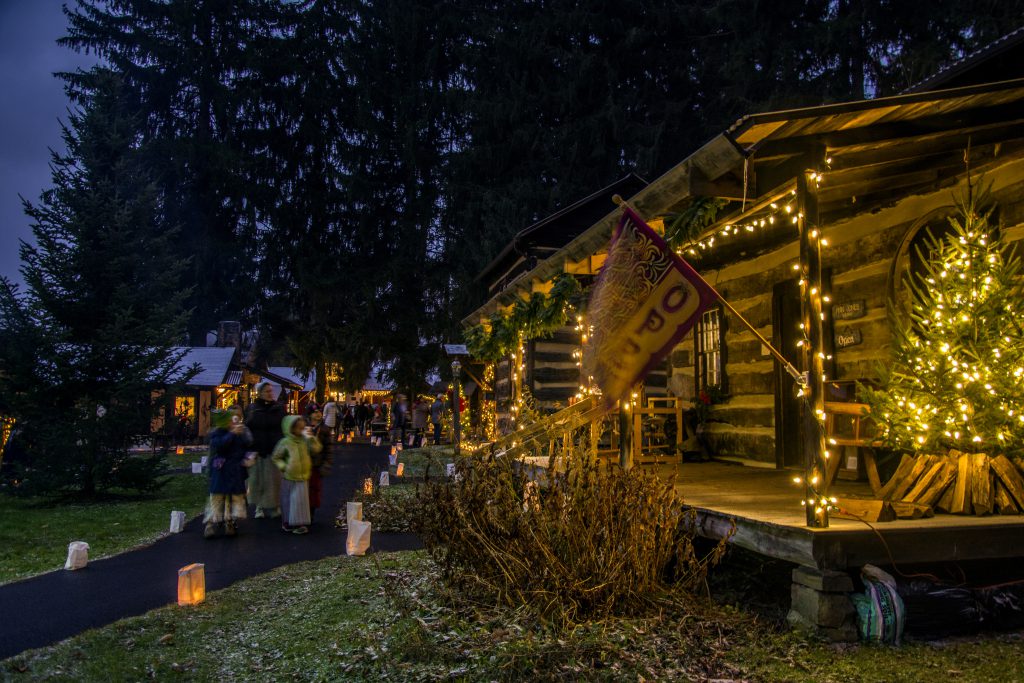 Christmas in the Village is December 6th and 7th. It is held at the "Little Crossings" area in nearby Grantsville. The event kicks off with lighted luminaries on the historic Casselman River Bridge. Explore Spruce Forest Artisan Village where skilled artisans showcase and sell their work. Their studios are in thirteen restored cabins, including a one-room schoolhouse. Dining choices include Penn Alps Restaurant and Cornucopia Cafe. You can also do some shopping at Grant's Mercantile.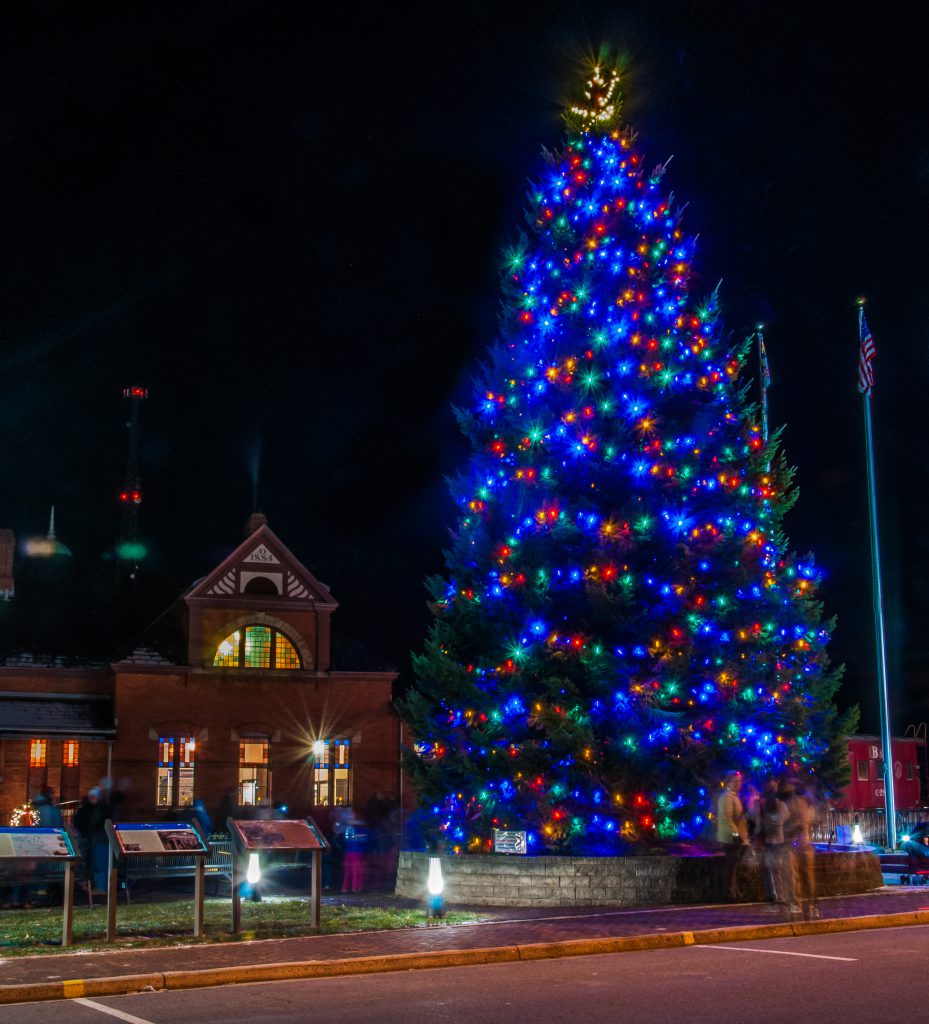 A Great Small Town Christmas also takes place December 6th and 7th. A tree lighting ceremony, sleigh/carriage rides, treats from Santa, music, shopping and dining specials are just a few of the ways to enjoy this fun festival in Oakland.
Reserve a home for Christmas to give your family the ultimate gift! Many of our homes are decorated for the festivities too. You can order a Christmas tree package for your vacation rental home. We supply the tree and you bring the decorations. Stop by our office December 24th for photos with Santa and yummy hot chocolate.
New Year's at Deep Creek
New Years is one of the most popular times to visit Deep Creek Lake. Plan early because vacation homes fill up fast!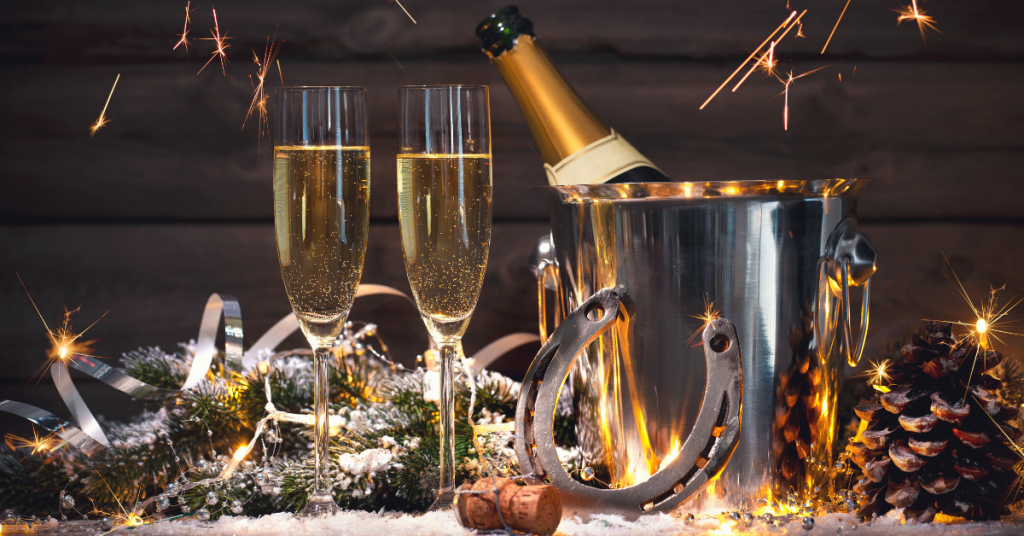 Spend winter days skiing, snow tubing, sledding or cross country skiing. Then, you can watch the ball drop and ring in the new year at your rental home. Gather all of your favorite people on a spacious great room for a champagne toast at midnight. Smaller cabins are ideal if you want a romantic setting for two.
If you want to go out to go out to celebrate, spots like Black Bear Tavern, the Honi-Honi Bar and MoonShadow will have live entertainment. You can also party for a good cause at the Annual Fur Ball Casino at Dutch's at Silver Tree. Proceeds benefit HART for Animals – a favorite local charity.
Check out our New Years guide to get more info on fun ways to enjoy the holiday at Deep Creek.
Holiday Vacations Wrap Up
No matter what time of year you choose, Deep Creek Lake vacation rentals are the starting point for lasting traditions and treasured memories. You can unwind, have fun and celebrate in your home away from home.