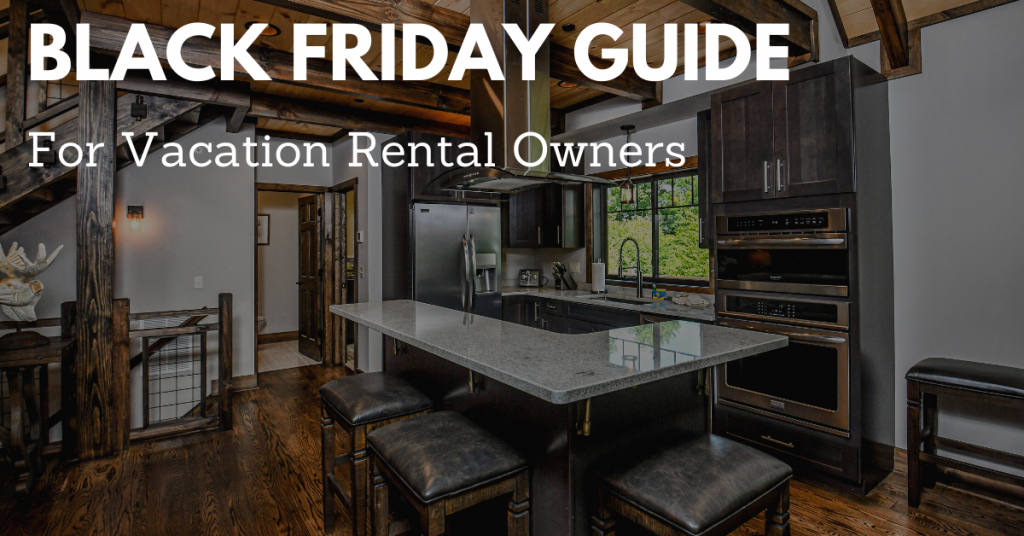 Black Friday and Cyber Monday present an excellent opportunity for vacation rental owners. You can redecorate a room or upgrade electronics for a fraction of the regular cost.
We put together a guide with some of the best deals of the season along with retailers who typically release significant savings.
Black Friday Redecorating Opportunities
Keep an eye out for sales on furniture and bedding. If you are not sure where to start, here are a few suggestions of items that will attract and retain guests:
-Replace bedding and get a set that has matching pillow shams
-Create a sitting area in your master suite by adding a cozy chair and end table
-Don't forget about your outdoor living space! Update resin (plastic) deck furniture with higher quality options.
-Update mattresses
-Modernize your window treatments by replacing vertical or venetian blinds with wooden blinds or curtains.
Redecorating Deals
West Elm – Buy More, Save More Event – Lighting, Furniture, Wall Art, Pillows, Rugs & More
Crate and Barrel – 20-30% Off Site Wide
Pottery Barn – Save on Furniture, Decor, Bedding & More
The Company Store – 30% Off Comforters, 20% Off Everything Else
Bed, Bath & Beyond – Deals on Bedding, Window Treatments & Wall Decor
If you are in the Deep Creek Lake area, look for in-store furniture savings:
Grand Central Station Home Furnishings
Add Ambiance with Fresh Decor
We suggest choosing neutral paint colors and adding personality with decor. Throw pillows, rugs, wall art and window treatments are a few recommendations. This will add ambiance when a guest is staying in your home as well as when they are booking online. Photos are key in the decision making process. Be sure your home looks inviting.
-Replace bedside lamps
-Update ceiling fans
-Replace old alarm clocks with new ones that have plug-ins for devices or bluetooth capability
-Get rid of faded artificial florals and trees
Black Friday Decor Deals
Kirkland's – Tons of Deals on Furniture, Throw Pillows, Rugs & Decor Items
Pottery Barn – Save on Furniture, Decor, Bedding & More
Etsy – Look for Markdowns on Unique Items from Individual Sellers
Upgrade Your Appliances & Electronics
Guests have high expectations when it comes to appliances and electronics. They want the same quality that they have at home or better. Black Friday is the perfect time to evaluate and decide if it is time for an upgrade. Additionally, vacation rental homes see more wear and tear. You can expect to replace items more often than in a primary residence. We recommend choosing mid-grade options in terms of quality/price.
Here are some great ways to save on appliances and electronics:
Home Depot – Savings on Appliances, Paint and Hardware
Lowes – Up to 40% Off Appliances and More
Target – Special Pricing in Every Department
Walmart – Samsung Savings Event (Smart TVs) and Small Appliances
Best Buy – Save on Smart TVs, Home Theater Equipment and Small Appliances
JC Penney – Deals on Small Appliances, Cookware & More
Macy's – Savings on Small Appliances, Cookware & More
In Conclusion
Whether you are shopping in store or online, don't miss out on the opportunity to spruce up your home. Take advantage of Black Friday deals before they are gone. As always, we are happy to answer any questions that you have when it comes to outfitting your Deep Creek Lake vacation rental. Contact Jodi Taylor Refosco at jodi@deepcreekvacations.com or call 301-387-5999.