"There are three kinds of lies: lies, damned lies, and statistics." – Mark Twain
My name is Jay Ferguson and I am one of the owners of the real estate division of Taylor Made Deep Creek Vacations & Sales. I am entering my 19th year in the real estate business here in Garrett County and at Deep Creek Lake. If you are interested, you can click here find out more about me personally and my background.
I will be writing a monthly blog post about our local real estate market, sharing & interpreting statistics and offering some insights into the market as a whole…as I see it. These are my personal thoughts and musings about the market in general and are not intended as anything more specific. And, to be clear, I am an optimistic, glass half-full kind of guy.
Lastly, every stat I reference is based on the official stats published by Bright MLS on or around the 15th of each month. My plan is to give you straightforward stats coupled with my analysis from the front lines and let you interpret what you read in your own way.
Our first month of 'COVID 19' real estate stats really wasn't that bad, overall. I expected the month of March to be down considerably (because of Marylands lockdown/quarantine in place strategy), but what I have discovered is actually surprising. Stats are up. The market is doing fine, so far.
Transactions are still closing – on time – which is spectacular. Homes are still being listed for sale. We have modified our approach to get our agents, photographers and video/3D tour folks into homes one at a time – adhering strictly to social distancing policies. Our staff and marketing department are getting the job done – from home. The only challenge is coordinating buyer showings and keeping everyone safe, but we have great processes for that, too – reliance on 'virtual walkthroughs/showings' and videos. Our core principle of investing in technology is paying off more than ever. Its helping to keep a vital part of our economy moving!
Lastly, there is a lot of demand for homes here – especially vacation/2nd homes. I have had 100+ phone calls/emails about properties I have listed since last month. Buyers seem to be doing their homework now so they can get into a property as soon as reasonably possible when the quarantine is up. The future looks bright, especially when you consider the stats:
In the meantime, here are the updated real estate stats. Moving forward, our sales numbers are going to be skewed by the restrictions preventing buyers & vacationers from visiting the area due to quarantine rules.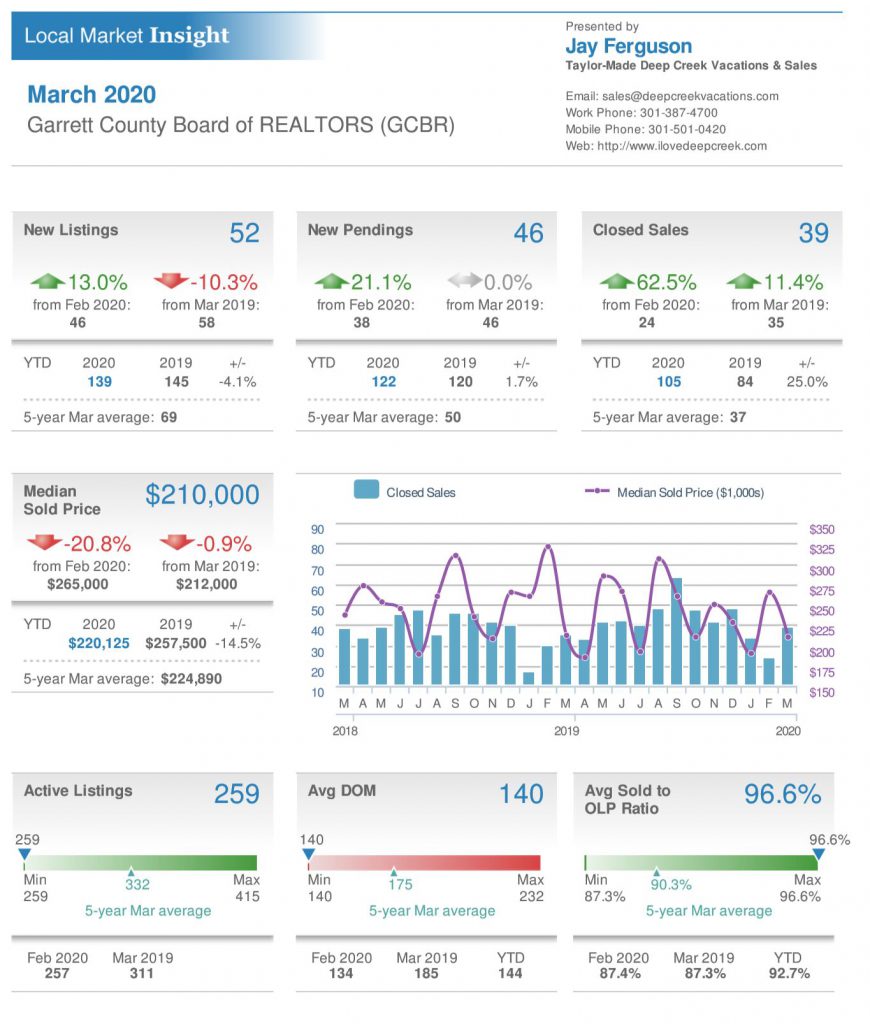 The specifics:
-There were more new listings in March…52 new listings versus 46 in February. That is 10% lower than last year but 13% higher than last month.
-Pending sales (homes that went under contract) were up 21% – 46 total homes. This is up from last months 15.6% but it is off a little on the 5 year average (50 homes).
-Closed sales (homes that actually sold) were up 62.5% from last month, with a total of 39 sales county-wide. That's 15 more homes than the 24 posted last month. That is higher than the 5 year average.
-The total number of active listings is still 259 active listings – up 2 from last month but substantially lower than the 5 year average and last years number in March – 311 homes for sale.
-The average sold to original listing price (OLP) ratio is 96.6% (WOW), up from 87.4% last month. The five year average is 90.3% and year to date is 92.7%. This may be the highest I have ever seen.
-The median sold price was up to $210,000. This is down 20.8% from last months $265,000. The 5 year average is $224,890. (Jay's note) *This number is always going to be off month to month. We don't have a cookie cutter market, as ALL of Garrett County is factored into theses stats. Some months, big dollar lake homes sales skew this number higher and other months. Interested in more specific stats for YOUR property/neighborhood? Drop me an email jay@deepcreekvacations.com.
-The average days on market (DOM) was 140, 6 days longer than the 134 days last month. This number has been consistently dropping but ticked up slightly in March.
I will refer you formally to Taylor Made's COVID 19 status page for more updates.
Questions about the market? Whether you are buying or selling, I can put my experience to work for you! Contact me anytime for a free market analysis of any property you may be interested in purchasing or selling!
Jay Ferguson
Co-Owner
Associate Broker
301-501-0420 – cell