Easter dinner takeout options make holiday meal planning easy! Whether you pick-up an entire feast with all the fixings or just some sweet treats, it is a great way to show your support for local restaurants.
Lots of other area restaurants that are offering takeout will be open too, but keep in mind some may close for the holiday. Be sure to give them a call to verify their hours.
Easter Dinner Takeout
The Cornucopia Cafe – Order by 6PM April 9th!
(301) 895-8142
Pre-order a dinner package for pick-up Saturday, April 11. Each package includes an entree, a hot side, two cold sides and a soup. Plus, you can pick-up wine to go with your holiday meal.
Trader's Coffee House
(301) 387-9246
Easter bundles from Trader's offer lots of options to enjoy starting with coffee and quiche for breakfast and peanut butter eggs and cookies to snack on throughout the day. Please order 24 hours in advance. Drop-off in Garrett County is available too!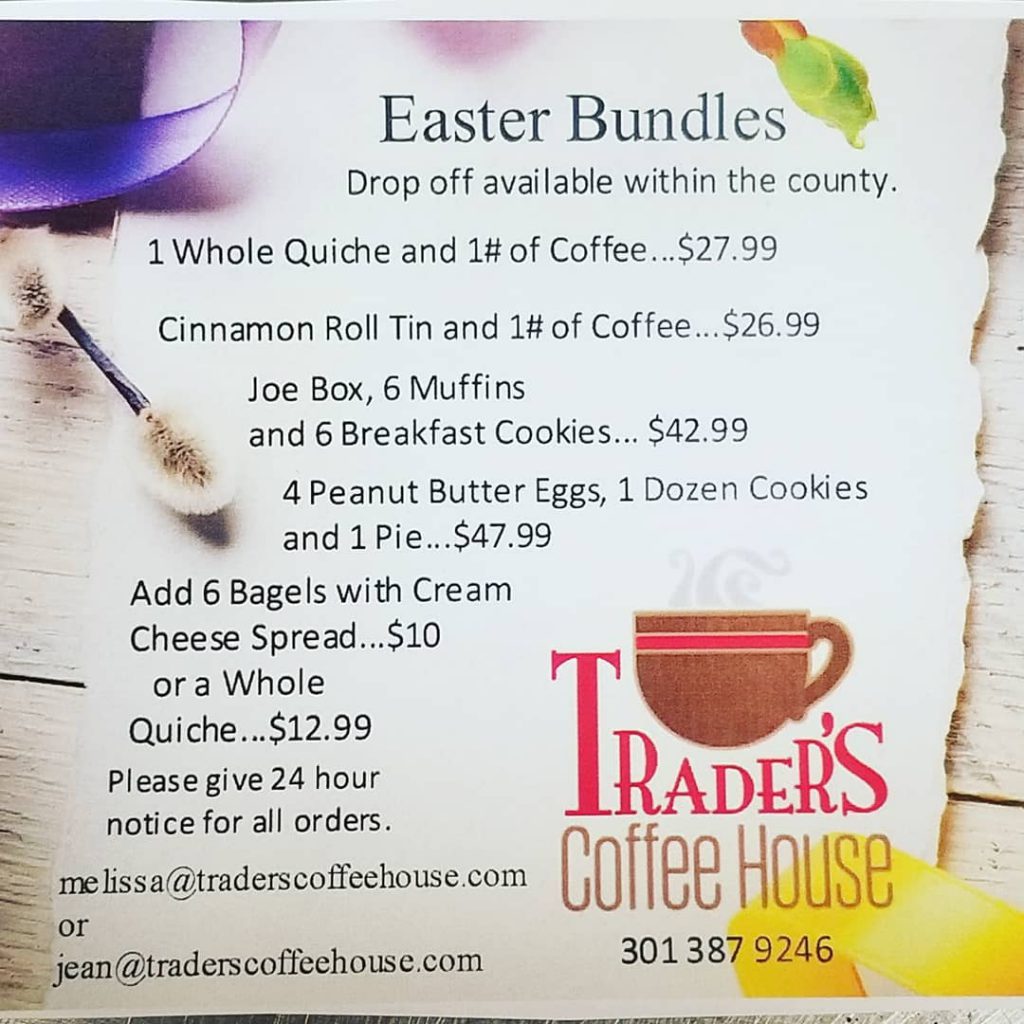 The Casselman Bakery & Cafe
(240) 442-5202
Give them a call to order dinner for four that includes ham, scalloped potatoes, green beans, bread and a fruit pie of your choice for $39.99.
The Vagabond Taproom
(240) 813-9373
Available for takeout or local delivery, this popular Oakland spot is serving a traditional Easter dinner on Sunday. You can get your growler filled with craft beer too!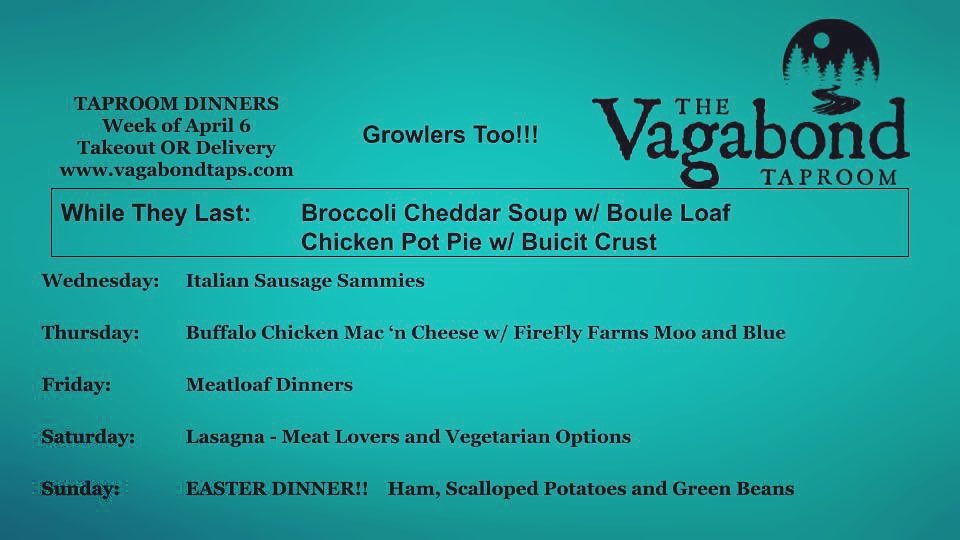 Dutch's at Silver Tree
(301) 387-0525
On Sunday, Dutch's will offer these Easter brunch and dinner menus. Regular and family style menus as well as beverages will be available Sunday as well!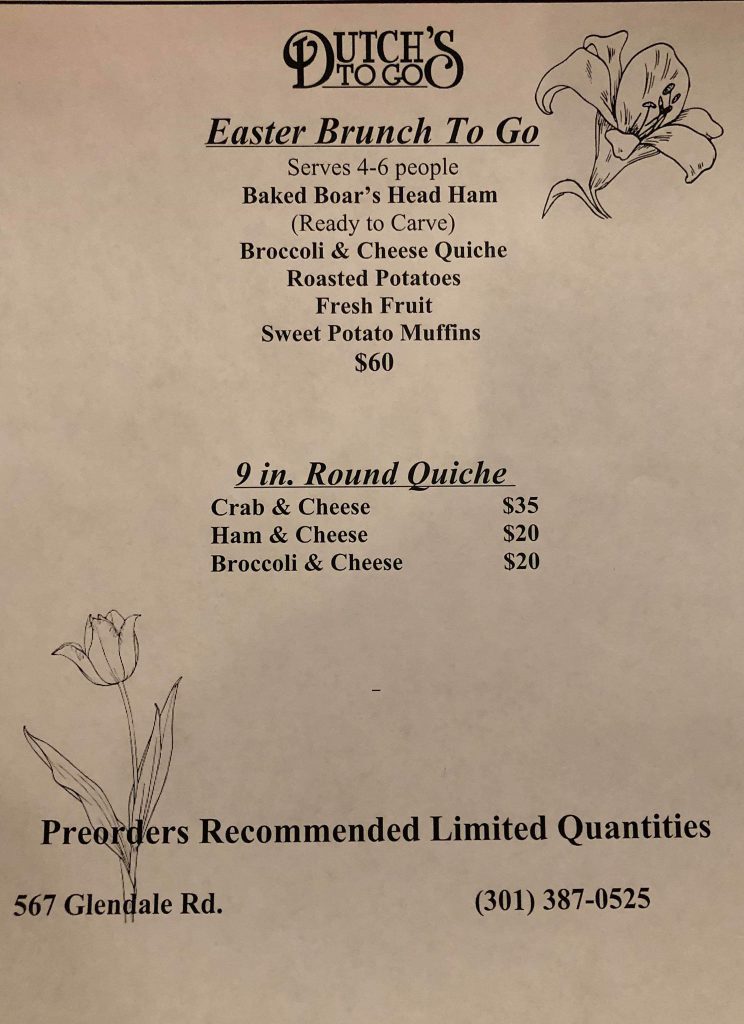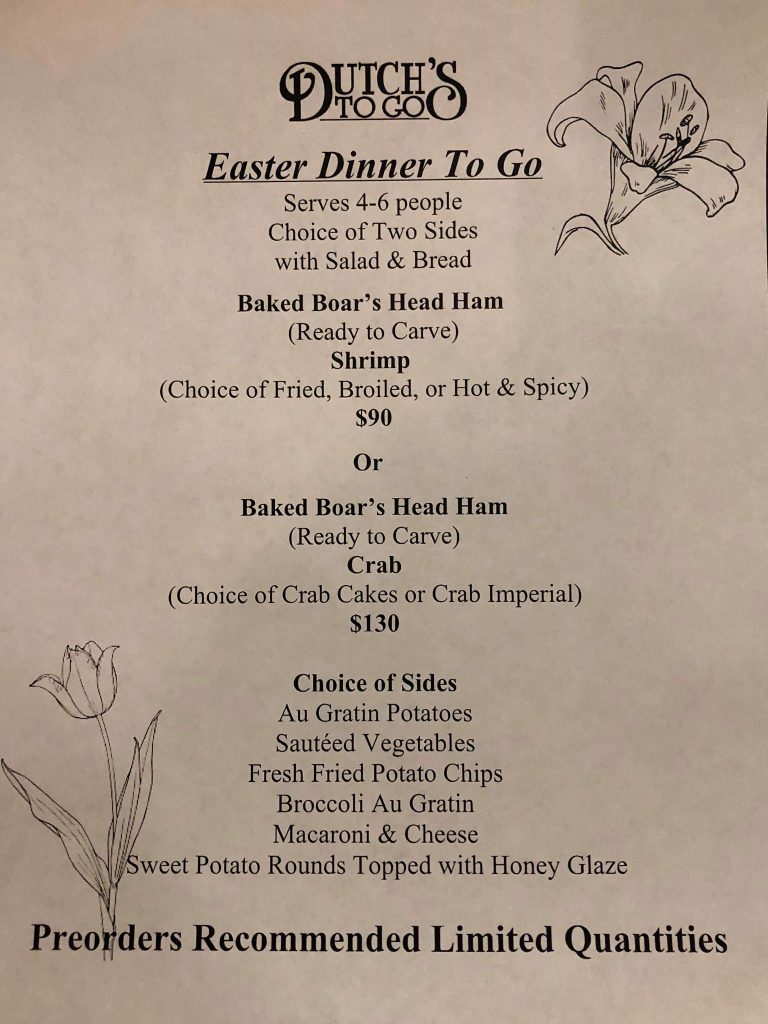 Heidi's Bakery & Cafe
(240) 321-5804
In addition to their regular menu, Heidi's has pre-dyed eggs in beautiful jewel tones along with iced cut-out cookies!
The Rolling Pin Bakery
(301) 746-8500
Call to order dinners for pickup Friday and Saturday. For $39.99, you will get ham or chicken, scalloped potatoes, green beans, rolls and your choice of amazing desserts like coconut cream pie, cookies or chocolate cake.
JG's Pub
(301) 387-6369
Call in your order for pick-up on Sunday 11AM-2PM. Get a traditional Easter dinner with dessert for only $15!
MoonShadow
(240) 442-5542
Get an Easter Dinner Box that includes a 2.5 lb Maplewood Smoked All Natural Ham, 6 Potatoes, 12 Farm Fresh Organic Eggs, 6 Rolls (2 Wheat, 2 White, 2 Pumpernickel), and 2 lbs of Green Beans. Recipes are included too!