"There are three kinds of lies: lies, damned lies, and statistics." – Mark Twain
My name is Jay Ferguson and I am one of the owners of the real estate division of Taylor Made Deep Creek Vacations & Sales. I am entering my 19th year in the real estate business here in Garrett County and at Deep Creek Lake. If you are interested, you can click here find out more about me personally and my background.
I will be writing a monthly blog post about our local real estate market, sharing & interpreting statistics and offering some insights into the market as a whole…as I see it. These are my personal thoughts and musings about the market in general and are not intended as anything more specific. And, to be clear, I am an optimistic, glass half-full kind of guy.
Lastly, every stat I reference is based on the official stats published by Bright MLS on or around the 15th of each month. My plan is to give you straightforward stats coupled with my analysis from the front lines and let you interpret what you read in your own way.
The second month of COVID 19 was exactly what you would anticipate with regards to the real estate market. Bad. Almost our entire real estate market was on lockdown. Our office was shutdown to the public. The Governor had determined that the only 'essential' home shopping was for a primary residence, which really rules out 80% of our clientele that is coming to look at 2nd homes or vacation/investment properties. The strategy was a success, and as I write this, Garrett County is now re-opened, as of last Friday at 5pm.
Update on existing business, transactions are still closing on time. Lenders are getting the job done, even working remotely. Homes are still being listed for sale and often selling quickly. We are entering Memorial Day weekend and the traditional kickoff to summer. Based on how busy I have been over the past few weeks, I am confident the market will stabilize. Hopefully, this time next month, we have stronger numbers to report. All in all, the median prices are up, days on market is still down and we still have declining inventory, so the news isn't all bad.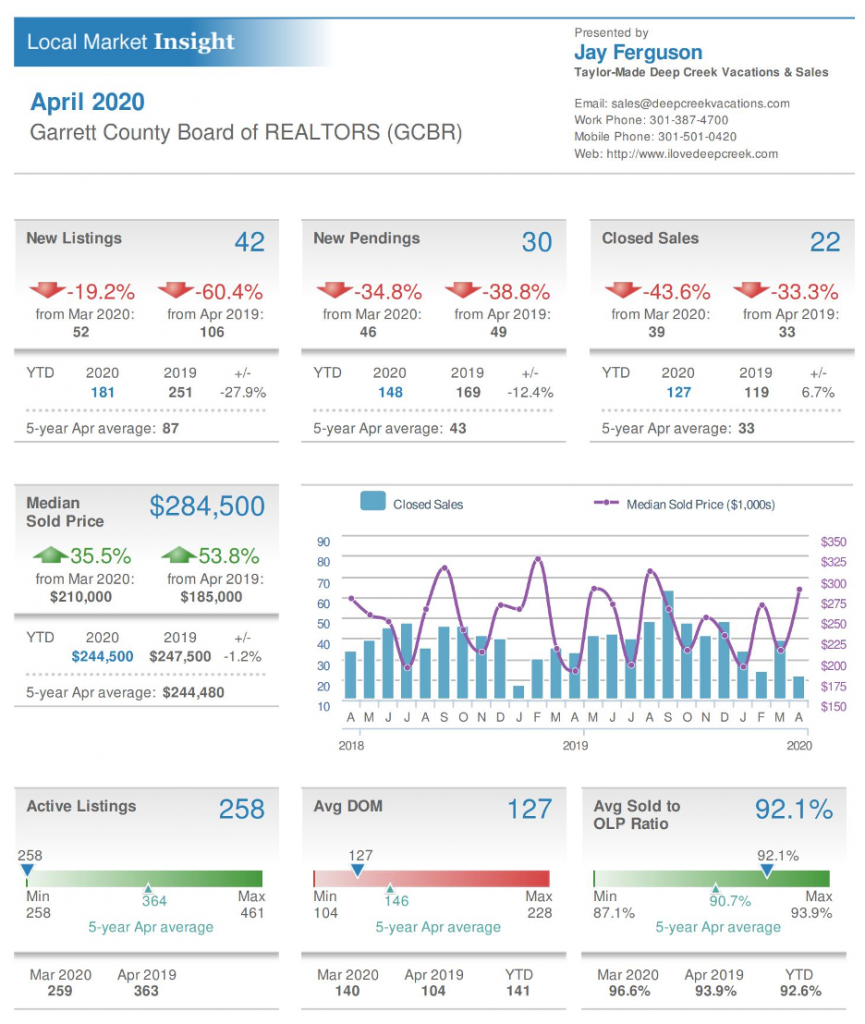 The specifics:
-There were fewer new listings in April…42 new listings versus 52 in February. That is 60.4% lower than last year 19.2% lower than last month.
-Pending sales (homes that went under contract) were down 34.8% – 30 total homes. This is down from 16 homes but it is only off a little on the 5 year average (43 homes).
-Closed sales (homes that actually sold) were down 43.6% from last month, with a total of 22 sales county-wide. That's 17 less homes than the 39 posted last month. That is far lower than the 5 year average.
-The total number of active listings is still 258 active listings – down 1 from last month but substantially lower than the 5 year average and last years number in April – 363 homes for sale.
-The average sold to original listing price (OLP) ratio is 92.1%, down from from 96.6% last month. The five year average is 90.7% and year to date is 92.6%.
-The median sold price was up to $284,500. This is up 35.5% from last months $210,000. The 5 year average is $244,480. (Jay's note) *This number is always going to be off month to month. We don't have a cookie cutter market, as ALL of Garrett County is factored into these stats. Some months, big dollar lake homes sales skew this number higher and other months. Interested in more specific stats for YOUR property/neighborhood? Drop me an email jay@deepcreekvacations.com.
-The average days on market (DOM) was 127, 13 days fewer than the 140 days last month. This number has been consistently dropping..
Questions about the market? Whether you are buying or selling, I can put my experience to work for you! Contact me anytime for a free market analysis of any property you may be interested in purchasing or selling!
Jay Ferguson
Co-Owner
Associate Broker
301-501-0420 – cell