"There are three kinds of lies: lies, damned lies, and statistics." – Mark Twain
My name is Jay Ferguson and I am one of the owners of the real estate division of Taylor Made Deep Creek Vacations & Sales. I am entering my 19th year in the real estate business here in Garrett County and at Deep Creek Lake. If you are interested, you can click here find out more about me personally and my background.
I will be writing a monthly blog post about our local real estate market, sharing & interpreting statistics and offering some insights into the market as a whole…as I see it. These are my personal thoughts and musings about the market in general and are not intended as anything more specific. And, to be clear, I am an optimistic, glass half-full kind of guy.
Lastly, every stat I reference is based on the official stats published by Bright MLS on or around the 15th of each month. My plan is to give you straightforward stats coupled with my analysis from the front lines and let you interpret what you read in your own way.
Look back at the last 6 months of real estate sales, the Garrett County area squeezed almost two years of sales into a few summer months and the results are shocking. I personally experienced a level of activity that I have never witnessed in my 21 years of real estate sales. In speaking with other agents in the lake area and even across the region, they were all reporting the same thing – real estate was on fire. There truly were not enough hours in the day to answer all of the questions and keep up with the activity. The market has now slowed down enough now to look back on the summer/fall season of 2020 and share some insights and try to make sense of what happened. And it bears stating, the only reason that the market has slowed down is because homeowners stopped listing properties for sale. More on that later.
Who was/is buying?
-Traditional vacationers who have experienced & love Deep Creek Lake & Garrett County
-Investors looking at rising rental rates
-Tele-commuters and remote workforce
-Re-locating families
-Buyers coming from a much farther distance – New York, Connecticut, New Jersey, Texas!
The first two categories are what we are used to. People who have vacationed here and know the area and have been planning to buy here one day or retire here – and buyers interested in leveraging their vacation home into a rental property. That is who typically fuels our market. The interesting thing to note is that other types of buyers were purchasing here, as well, and that's where the inventory issues started to set in.
If you work from home now or only need to visit the office sporadically, that is a fundamental life change for a lot of folks. For the first time, though, I think a lot of people started to realize that they can live almost anywhere now, so why not look around for a more suitable option. Garrett County checked that box for a lot of people. Part of this group includes buyers who were coming here for the first time – albeit out of necessity. It is not uncommon to see New York, New Jersey and Connecticut license plates here, but now there a lot more of them.
There were also people who were capitalizing on the hot real estate market (back home) and selling their primary home to permanently re-locate to Garrett County. This one intrigues me the most, as Garrett County didn't need to land a new Amazon distribution center or add a huge factory to bring these folks to the area. No, these people moved here because the perception was its safer and they could still keep a higher paying job in the city. A silver lining of the pandemic is that people now can live where they love – and DCL has a lot to love, apparently!
If you combine this with our booming vacation rental market – which was nearly 100% capacity for most of the summer – it drove more traffic to our area than EVER before and I think a lot of people realized just how rewarding owning here could be. Record profits for homeowners. Homes rented back to back ALL summer long. With all of these people in town, homes sold at such a breakneck pace that we have quite literally run out of properties to sell. The figures below put this in context. A 'normal' month in Garrett County is 25-30 property sales, higher in the summer months when more people are here. May 2020 was artificially low because of the stay at home orders. You can see what happened when the restrictions were lifted.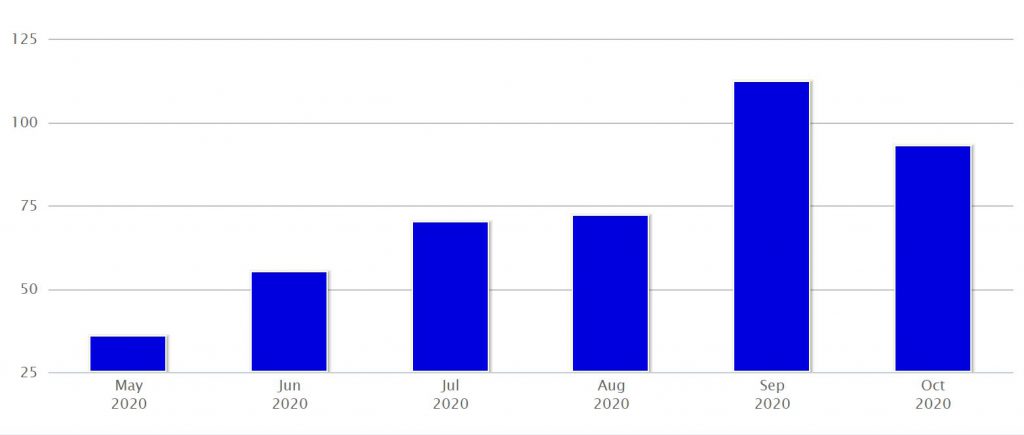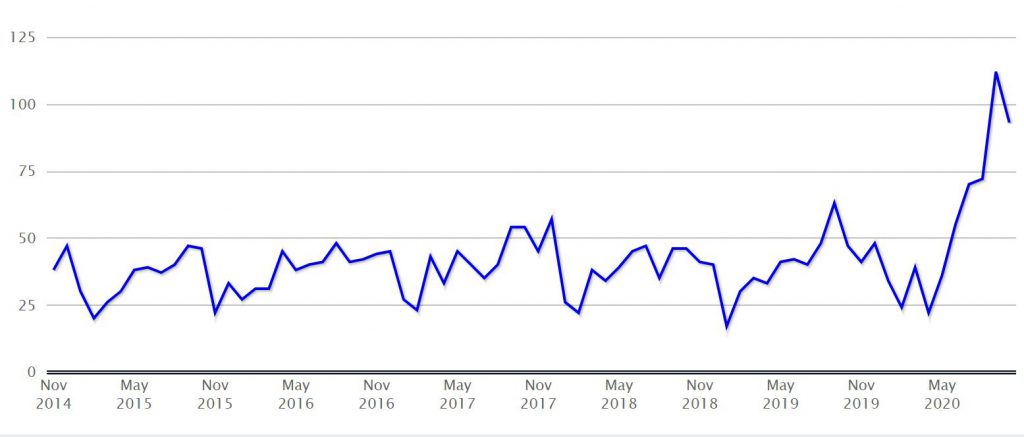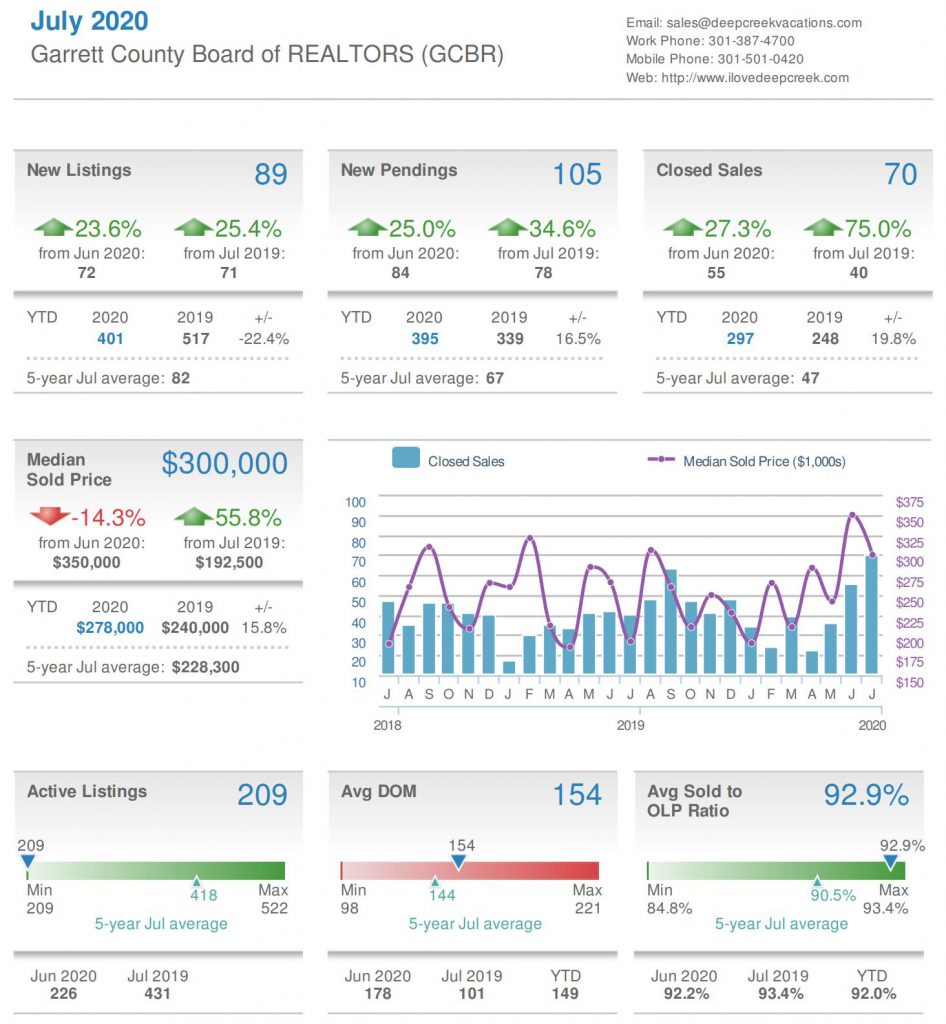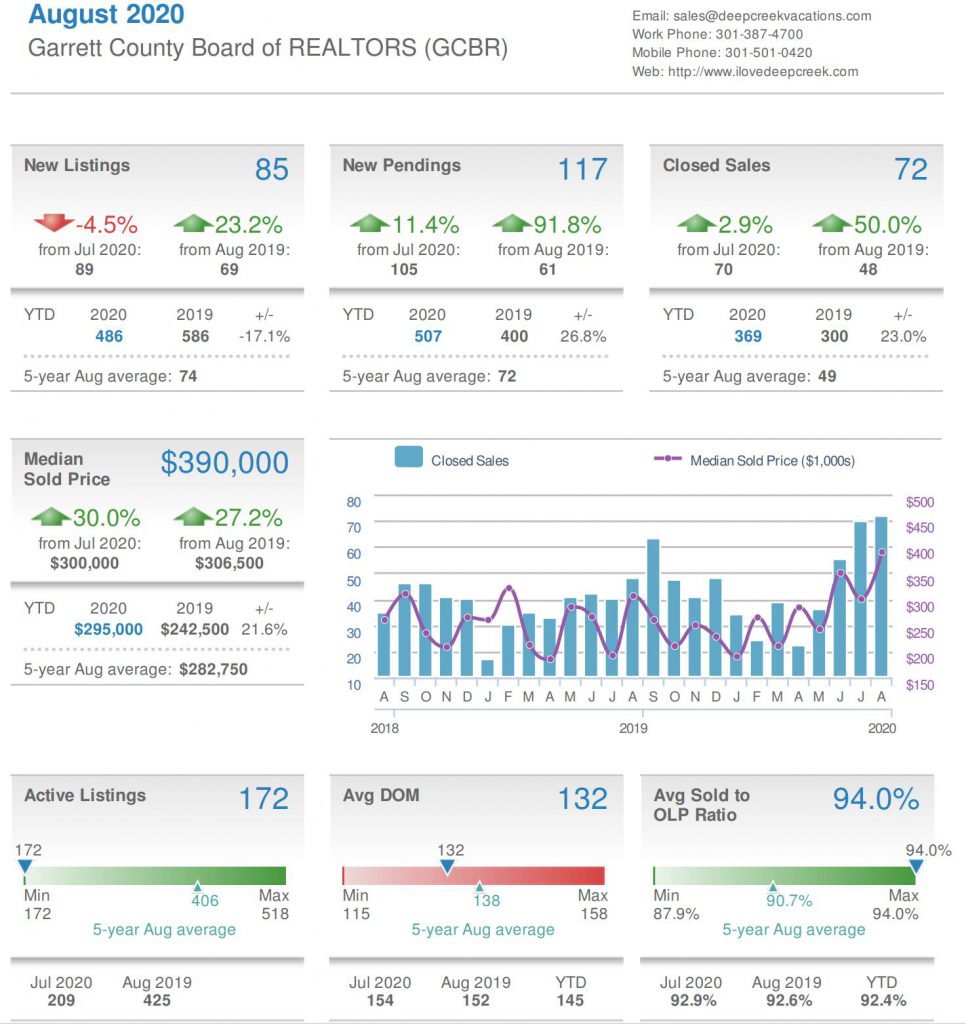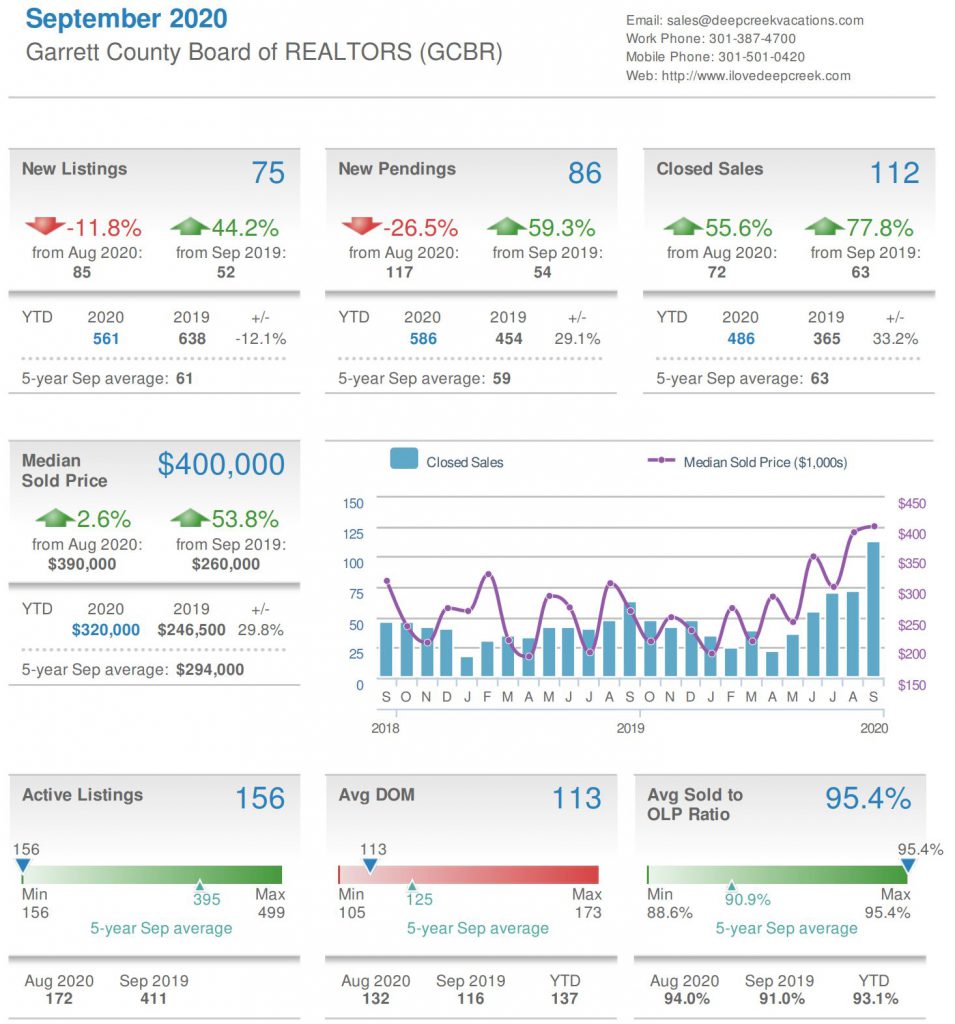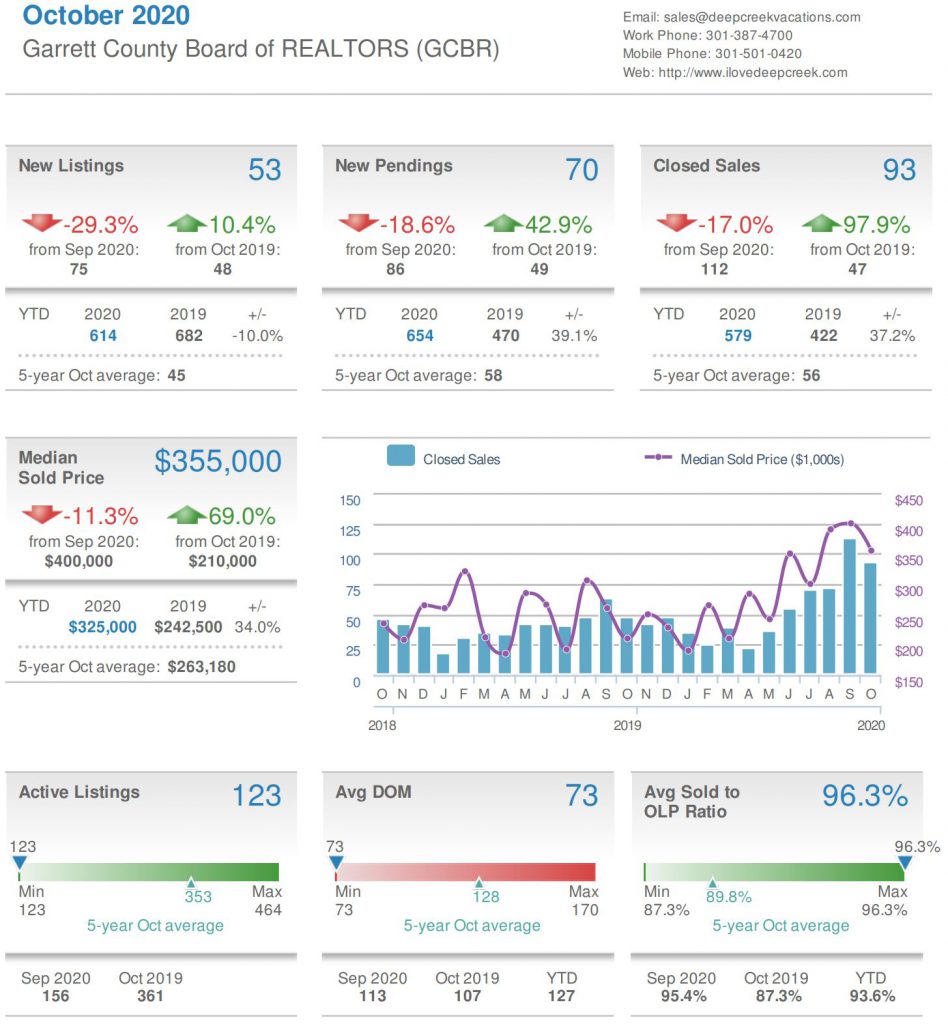 The specifics:
-New listings were up in June 2020 (restrictions just lifted) and then they were down on average every month after that.
-Pending sales (homes that went under contract) were up 34% – 92% every monthwhen compared to 2019.
-Closed sales (homes that actually sold) were up 50% to 98% when compared to 2019.
-The total number of active listings dropped each and every month. We normally have 400 homes for sale in summer. This year, it was less than half that. We ended October with merely 123 homes for sale county-wide.
-The average sold to original listing price (OLP) ratio jumped every month – from 93% to 96.3%. More competition brings stronger offers.
-The median sold price was up 25%-69% EVERY month when compared to 2019.
-The average days on market (DOM) dropped each month from 154 to 73
All in all, a summer/fall selling season for the record books. Certainly something the we can be proud of and the economic boost to the area bodes well for local employment, restaurants and other tourism based businesses who needed a shot in the arm. I think everyone can agree, this is not what anyone was expecting in April & May.
Where do we go from here? There are so few properties to choose from – what's left to buy? Homes here are like cars, boats, RVS & swimming pools – not much inventory ANYWHERE. Right now, there are not many people who are listing their homes for sale. The rising COVID #'s certainly have something to do with this and I think we had an election that may have played a part. Traditionally, the holidays and winter weather bring more activity to the Deep Creek Lake market. We'll see if sellers choose to take advantage of the hot prices and the uptick in the market or if they elect to wait this out and keep the vacation home as a place to getaway should the COVID numbers continue to spike in different regions.
Garrett County is within a 5 hour drive time of 35 million people. Getting here is easy and you certainly feel safe with the low case #'s and countless acres, trails & activities to distance yourself, all while safely enjoying the outdoors. None of that will change and if anything, more and more people are going to want to own a piece of this mountain paradise!
Questions about the market? Whether you are buying or selling, I can put my experience to work for you! Contact me anytime for a free market analysis of any property you may be interested in purchasing or selling!
Jay Ferguson
Co-Owner
Associate Broker
301-501-0420 – cell