"There are three kinds of lies: lies, damned lies, and statistics." – Mark Twain
My name is Jay Ferguson and I am one of the owners of the real estate division of Taylor Made Deep Creek Vacations & Sales. I am entering my 19th year in the real estate business here in Garrett County and at Deep Creek Lake. If you are interested, you can click here find out more about me personally and my background.
I will be writing a monthly blog post about our local real estate market, sharing & interpreting statistics and offering some insights into the market as a whole…as I see it. These are my personal thoughts and musings about the market in general and are not intended as anything more specific. And, to be clear, I am an optimistic, glass half-full kind of guy.
Lastly, every stat I reference is based on the official stats published by Bright MLS on or around the 15th of each month. My plan is to give you straightforward stats coupled with my analysis from the front lines and let you interpret what you read in your own way.
2020 was a crazy year for a lot of different reasons. The real estate market in Garrett County & at Deep Creek Lake was radically affected by the adverse conditions affecting us all. Our area grew substantially and our market quite literally transformed. We didn't add any factories or huge commercial enterprises to fuel this growth and create jobs. Nothing really changed, in fact. People just wanted to be here and I believe the rural aspects of our area were more attractive alternatives. We'll start with the year over year comparison, as you can see below (2020 versus 2019). There are lots of stats you can drill down in to, but I am focusing on 2 overwhelming numbers:
69% – The % change in sold dollar volume increase year over year.
26% – The % change in average sold price increase year over year.
The long and short of it is this – nearly 1/3 of a billion dollars transferred in 2020. Even homes that I previously thought were over-priced or had 'issues' sold. Demand was through the roof and still is. Prices, in turn, shot up dramatically. It is clearly a sellers market and inventory is low. As I type this, there are only 91 homes in the entire county available for sale. There are 8 lakefront homes/condos for sale. Pickings are slim, at the moment. Below, you can see the specifics on everything that sold. Below this chart, I will jump into the December 2020 month/month numbers.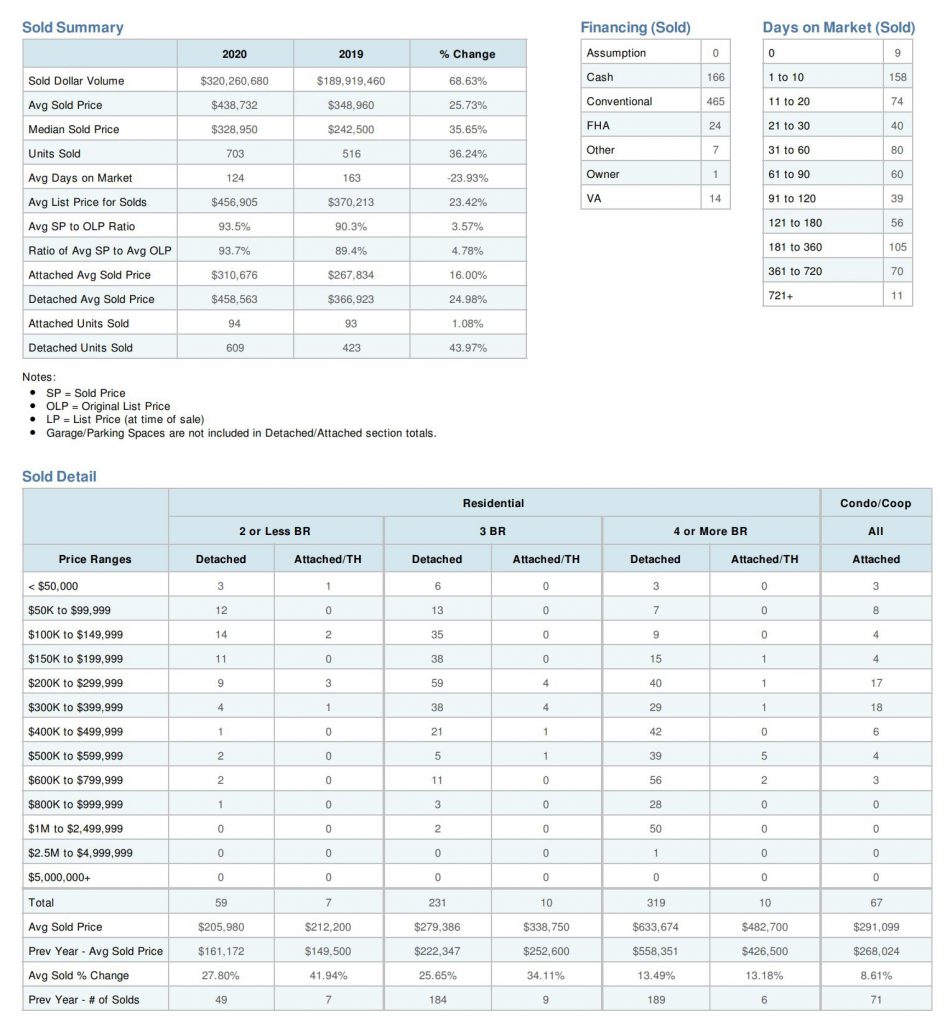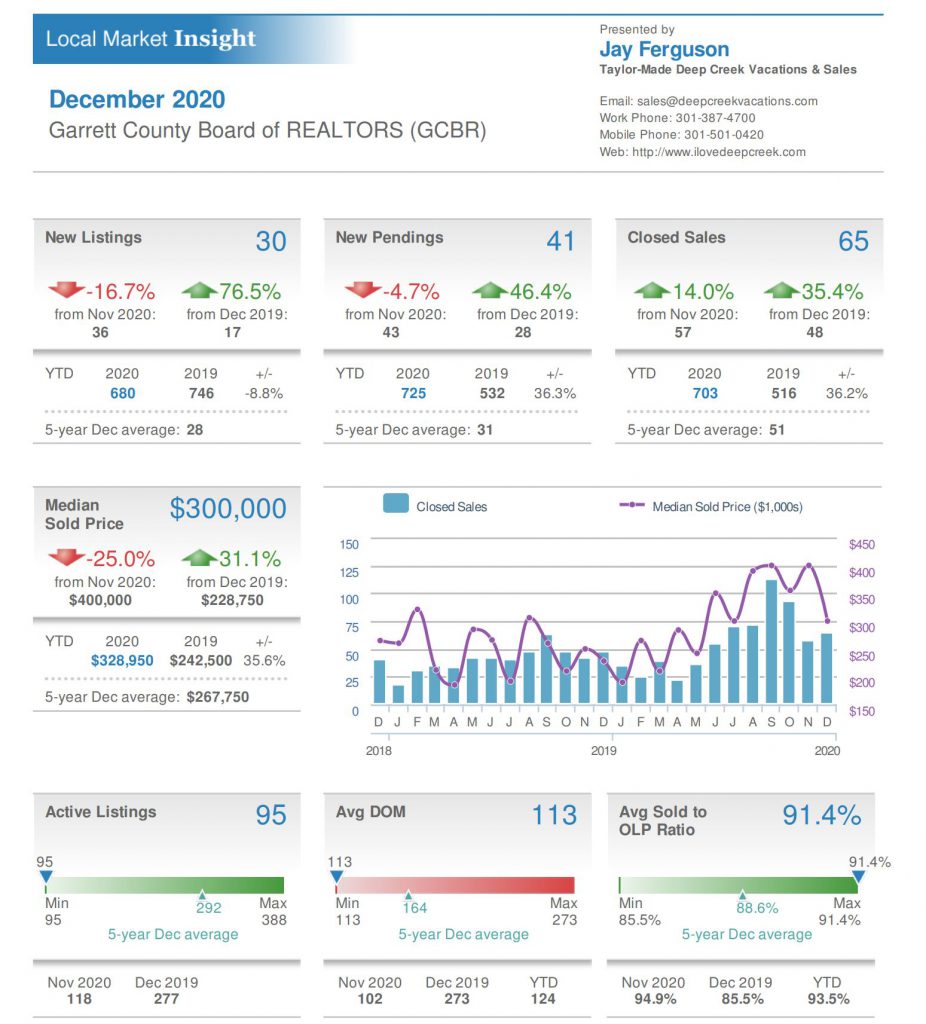 The specifics:
-There were 30 new listings in December 2020. Remarkably, that's a lot higher (76.5%) than in December 2019. This number was down from November (16.7%)
-Pending sales (homes that went under contract) were up 46.4%when compared to 2019. Down 4.7% from Nov 2020.
-Closed sales (homes that actually sold) were up 35.4% when compared to 2019 and up 14% from Nov 2020.
-The total number of active listings dropped each and every month through 2020. We normally have 275~300 homes for sale in December. We ended December with 95 active listings for sale.
-The average sold to original listing price (OLP) ratio was 91.4%, this is up ~6% from December 2019 (85.5%)
-The median sold price was up 31.1% versus December 2019.
-The average days on market (DOM) dropped to 113 DOM versus 273 in Dec 2019.
The stats speak for themselves. It's a challenge to find any property here right now, and when you do see it, there are multiple offers, often at or above asking price. This will continue for the foreseeable future. It's worth reporting that we have had a strong ski season thus far, and Wisp is THE place to be. That's bringing more and more people, all looking for their little piece of paradise.
Garrett County is within a 5 hour drive time of 35 million people. Getting here is easy and you certainly feel safe with countless acres, trails & activities to distance yourself, all while safely enjoying the outdoors. None of that will change and if anything, more and more people are going to want to own a piece of this mountain paradise!
Questions about the market? Whether you are buying or selling, I can put my experience to work for you! Contact me anytime for a free market analysis of any property you may be interested in purchasing or selling!
Jay Ferguson
Co-Owner
Associate Broker
301-501-0420 – cell