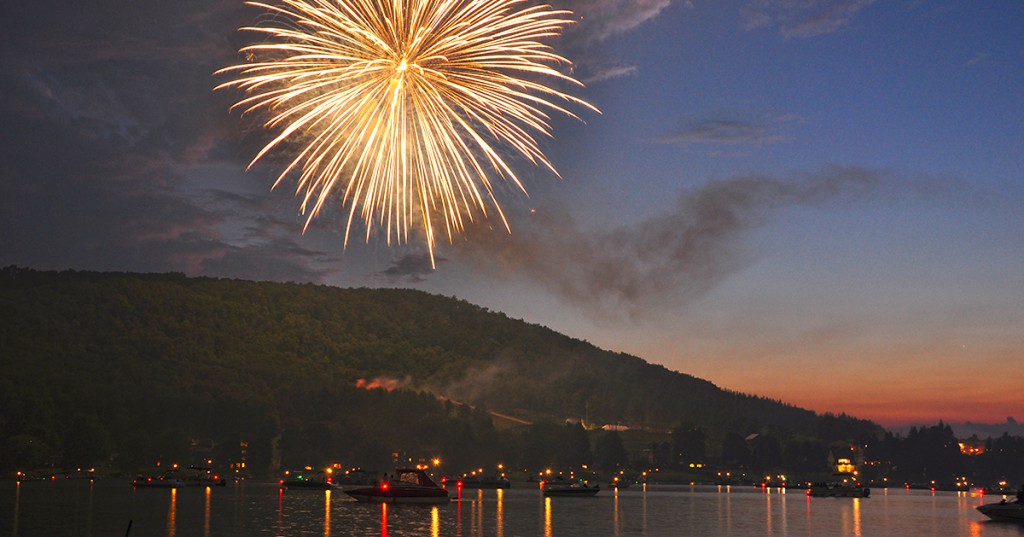 From fireworks over the water to small town parades loaded with charm, the Deep Creek Lake area is a favorite place to celebrate Independence Day!  I put together a guide to some "can't miss" events that you have to check out if you are here for the holiday.  They include some tips to finding the best spot to watch Deep Creek Lake fireworks.
If you are looking for live music throughout the weekend, check with the Honi-Honi Bar, Black Bear Tavern, or MoonShadow.
DEEP CREEK FARMERS MARKET (AT GARRETT COLLEGE)
Every Friday from 3-7PM, you can get fresh veggies, baked goods, and more. Click here to see the line-up of vendors.
MOUNTAIN FRESH FARMERS MARKET
If you miss the market Friday in McHenry, head to downtown Oakland Saturday from 10AM-1PM. Lots of great local produce, crafts, baked goods, and more.
Lions Club Boat Parade
Saturday at 7PM, decorated boats will line up in McHenry Cove and make their way to Dutch's at Silver Tree. Find out more about the boat parade.
BROADFORD LAKE FIREWORKS ON JULY 3rd
Start the Independence Day fun a little early when you head to Broadford Lake Park in Oakland.  Bring your picnic basket and get there at 7:30 when the Garrett Community Concert Band will present a musical celebration of our Nation's Birthday.  Broadford fireworks begin at about 9:30PM and are set off over the lake.
ACCIDENT INDEPENDENCE DAY PARADE
Head to this quaint village with the unique name to experience a slice of small town life.  The parade starts at 11AM on the 4th, and there are plenty of spots along the street that offer a great vantage point.
Afterwards, walk to the Accident Volunteer Fire Department for burgers, and ice cream.  There are activities for the kids, and all proceeds support the fire department.
BOAT PARADE ON DEEP CREEK LAKE
The Boat Parade on Deep Creek Lake will be held Saturday July 2nd from 7-9PM. It starts from McHenry cove and will proceed in single file past a number of judging stations along the route. Spectators at the judging stations will vote for their favorite boats, and prizes will be awarded in a number of categories.
Sponsored by the Deep Creek Lake Lions Club.  Funds raised by this event support our Blind Skier and Camper Programs as well as our local and global service to the visually impaired and those in need.
July 4, Throughout Maryland
Take advantage of the opportunity to fish the state's waters without  a fishing license, stamp or registration.
DEEP CREEK LAKE FIREWORKS
The Fire on the Mountain Fireworks Display is the main event that everyone gets excited about.  They are launched from the top of Bear Claw Snow Tubing Park at Wisp Resort and the areas around McHenry Cove at the north end of the lake offer the best viewing. Fireworks start at about 9:30.
The rain date for the Deep Creek Lake fireworks is July 5th.  You can tune in to 104.5 WKHJ for status updates.
Favorite spots to watch the Deep Creek Lake fireworks include:
-Deep Creek Lake vacation rentals with a view of Wisp Resort – especially homes & townhomes along the northern end of Deep Creek Drive.
-Many McHenry business allow viewing from their parking lots.
-The lawn at Garrett College.
-Parking is typically available at the Garrett County Fairgrounds on Mosser Road for a fee.
-Park your car along the road at the Scenic Overlook on Rt. 219 – get there early though!
-Watch the sky light up from your boat in McHenry Cove. This is hands down one of the best ways to experience the fireworks!
No matter how you choose to celebrate, a Deep Creek Lake vacation over the holiday is a great way to be sure your trip is a real "memory maker"!