Deep Creek holiday activities are happening throughout the month of December. There are lots of opportunities to catch the spirit of the season. You can visit with Santa, attend a tree lighting, find the perfect gift local shops, check out Christmas light displays, and much more.
Deep Creek Holiday Activities
Christmas in the Village
Friday, December 2nd, 4:00 pm to 8:00 pm , Saturday, December 3rd, 12:00 pm to 8:00 pm
Held at Spruce Forest Artisan Village in Grantsville, this is a favorite area tradition. Enjoy strolling and live music in the Village Church, activities in the Village buildings, hot chocolate and cider, and luminaries throughout the Village paths and over the Casselman River Bridge. In addition to the activities in the Spruce Forest Artisan Village, there are guest artists in the Great Room above Penn Alps.
A Great Small Town Christmas
December 2nd and 3rd, Oakland
A Great Small Town Christmas kicks off with a walking holiday light parade led by Santa followed by the tree lighting ceremony on Friday, December 2nd at the B&O Museum. There will also be sleigh rides, carols, store specials, and a special treat from Santa! Saturday the fun continues with Soup N' Santa! Area non-profits will hand out free soup (donations are encouraged), visit with Santa, free sleigh rides, live music, and local shopping.
Holiday Open House
December 3rd from 10 am to 12 pm, you can enjoy cookies, crafts, and photos with Santa and Mrs. Claus at the Deep Creek Lake Discovery Center.
2022 Joy of Christmas Light Show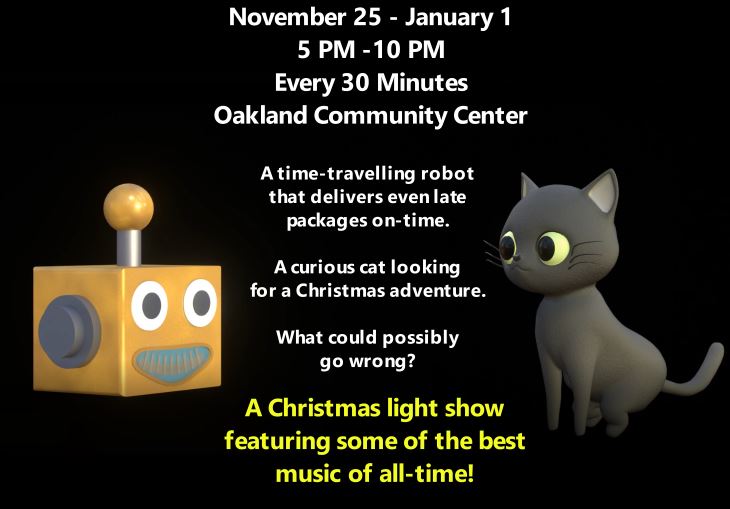 Holiday Lights at Broadford Park
Thursday-Sunday, 6pm, Set your GPS to 1600 Pittsburgh Ave. in Mt. Lake Park, MD
See the many light displays provided by various businesses, churches, extracurricular groups, and family groups. Money raised on the first night will benefits organizations. Cost is $10 per car.
Holiday Open House at Deep Creek Pottery
December 3rd, 10am-5pm
This festive Holiday Open House includes guest artist Connie Pardini of Wirestorm Creations! Lots of new pottery, handmade jewelry and decorative metalwork along with door prizes, holiday snacks, and cider too!
Dutch's Ugly Sweater Party
December 2nd, 5pm
Dutch's at Silver Tree will have Tito's drink features and a contest for the best ugly sweater.
Oakland Express at the B&O Museum
December 10th and 17th, 5:30pm-7:30pm, B&O Museum in Oakland.
For children ages 4-9, there will be crafts, snacks, and a visit with Santa.
The event is free, but donations are always appreciated.
There is limited space for this event. Please call Nicole McCullough at 301-334-2691 to make a reservation. RESERVATIONS ARE REQUIRED.
Get Your Jingle On – Holiday Open House
December 10th, 10am to 4pm, Deep Creek Lavender Farm
Annual Holiday Open House with music, raffles, sales and more. Enjoy Lavender teas or a cup of lavender hot chocolate and munchies as you shop.
Christmas at Brodak's
December 11th, 2 pm to 4 pm
Brodak's banquet hall hosts crafts for kids and story time with Santa himself!