Wondering where to get Thanksgiving dinner at Deep Creek?
If you are heading to the lake for the Thanksgiving holiday, you might want to spend less time in the kitchen and more time enjoying the area with family and friends.
Here is a list of places to get Thanksgiving dinner at Deep Creek.
Arrowhead Market
Individual dinners from the deli are available on Thanksgiving Day. Call 301-387-4020 for info.
Ace's Run Restaurant & Pub
Dine in or take out your turkey dinner on Thanksgiving Day. They are open 12PM-8PM. Call 301-387-6688 for more details.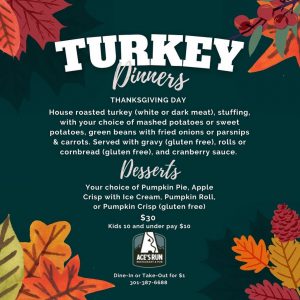 Hen House Restaurant
Thanksgiving buffet from noon until 4:30PM. Reservations are recommended. Call (301) 689-5001.
Dutch's at Silver Tree 
Thanksgiving buffet from 11AM-8PM. Reservations are required. Thanksgiving pre-ordered meals are also available. Orders must be placed by November 20. Call 301-387-0525 for more info.
Shop 'N Save Fresh
Pick up a complete turkey dinner. Thanksgiving day hours are 7AM-6PM. Call 301-387-4075.
The Cornucopia Cafe
Order your Thanksgiving supper package by November 20 for pick-up November 23.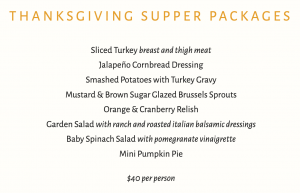 Get your sweets at Traders Coffee House!
Have a Happy Thanksgiving!