It's a common conundrum – what's a non-skier to do when friends and family are hitting the slopes at Wisp Resort?  Deep Creek Lake winter activities offers lots of options that can keep every member of your crew entertained.  It's a great way to enjoy a weekend getaway near Pittsburgh, Baltimore, or Washington, DC.
Here are just a few of our favorite Deep Creek Lake winter activities for the non-skiers staying at a Deep Creek Lake vacation rental:

Hiking at Swallow Falls State Park
Crisp white snow makes this beautiful place even more spectacular, and it's definitely a must see throughout all four seasons.  If you're up for some serious hiking, explore trails to all three of the waterfalls – Swallow Falls, Muddy Creek Falls, and Tolliver Falls.  There is also a handicap accessible trail and view platform at Muddy Creek Falls for those that need an easier route or just want to take a short stroll.   Be sure to bring your camera and wear sturdy hiking shoes or boots.  Trails can be slippery during the winter months.  Get more info.
Simon Pearce Tours
Watch master glassblowers at work, then shop for the beautiful items they make in the retail store.  You can also choose from a wide variety of second-quality glass. Located in Mountain Lake Park, it is just a short drive from most Deep Creek Lake vacation rentals. Find out more.
Guided Snowshoe Tours
Weather permitting, All Earth Eco Tours offers another great way to experience Swallow Falls State Park. Their snowshoe tours are a "no experience required" way to cruise through the woods and take in the scenery.  For those seeking high adventure, ask about their trips to Big Savage Mountain and Lost Lands.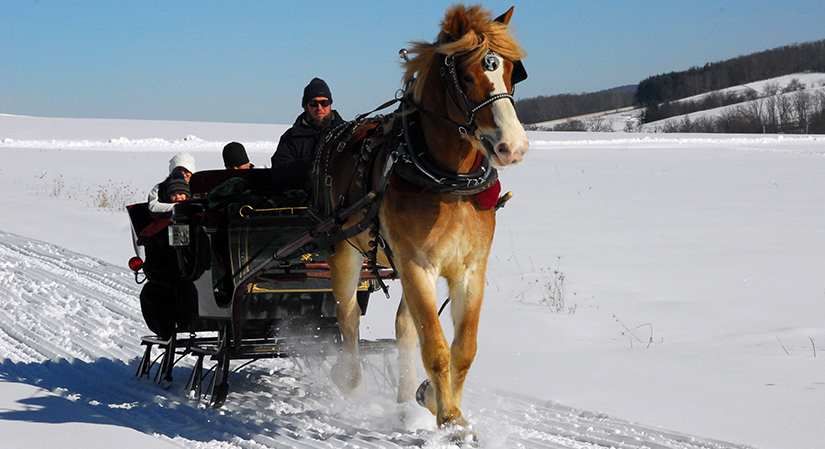 Sleigh Rides
One of the classic Deep Creek Lake winter activities, you can take a ride back in time as you swish through open fields and over hills listening to the sound of muffled hoof beats in the snow.  Sleigh rides at Pleasant Valley Dream Rides are an ideal way to enjoy the outdoors no matter what your age.
Cold Drinks By a Warm Fire
Get cozy by the fireplace at local restaurants like Firewater Kitchen & Bar, Uno Chicago Grill or Dutch's at Silver Tree, and warm-up with your favorite beverage.
Sled Riding at Blackwater Falls State Park
Within one hour of the Deep Creek Lake area, you'll find the ultimate sledding hill!  Head to Blackwater Falls State Park to ride up on a conveyor, sled to the bottom, and repeat!  Bring your own sled or rent one on-site.
Sample Award Winning Cheeses
Stop by Firefly Farms in nearby Accident, to check out their award winning goat cheese and browse their selection of gourmet foods. They can even make you a personalized cheese board to go.
Cross Country Skiing
With minimal instruction, you can kick and glide on cross country ski trails at Herrington Manor State Park and New Germany State Park.  Call ahead to check trail conditions and for rental equipment availability.
Shops & Antiques
Avoid the cold temperatures when you visit area shops and antique stores.  Schoolhouse Earth, Bear Creek Traders, A Mountain Fix, and High Mountain Sports are a few of our favorites at the lake.  Take a short drive to Oakland to browse antiques at Englander's or Cabin Fever. You can also shop at The Painted Cupboard or Oakland Mercantile. While you are there, hit up Flipside Sounds – a vinyl shop in downtown Oakland.
Deep Creek Axe Throwing Co.
Test your skills in the Deep Creek Lake axe throwing arena! This fun indoor activity is suitable for ages 8 and up.
Museum Tours
When visiting Oakland, history buffs should stop at the two museums operated by the Garrett County Historical Society.  Return to the past as you explore area treasures, learn about early settlers, and check out Model T Fords. Call for hours of operation.
Snow Tubing, Mountain Coaster Rides, & Escape Games
Wisp Resort is well-known for skiing, but they also offer a variety of activities that anyone can enjoy. Reserve a snow tubing session, try out the escape game, or take a ride on the mountain coaster.
Arcades
Everyone in your group will enjoy playing a wide variety arcade games and snacking on great food at Deep Creek Fun Zone.
Deep Creek Lake Discovery Center
Fun for kids of all ages, the Discovery Center is a one-of-a-kind environmental center with hands-on exhibits that showcase the natural resources of Western Maryland. Open Friday-Sunday from 10AM-4PM during the winter season.