"There are three kinds of lies: lies, damned lies, and statistics." – Mark Twain
My name is Jay Ferguson and I am one of the owners of the real estate division of Taylor Made Deep Creek Vacations & Sales. I am entering my 19th year in the real estate business here in Garrett County and at Deep Creek Lake. If you are interested, you can click here find out more about me personally and my background.
I will be writing a monthly blog post about our local real estate market, sharing & interpreting statistics and offering some insights into the market as a whole…as I see it. These are my personal thoughts and musings about the market in general and are not intended as anything more specific. And, to be clear, I am an optimistic, glass half-full kind of guy.
Lastly, every stat I reference is based on the official stats published by Bright MLS on or around the 15th of each month. My plan is to give you straightforward stats coupled with my analysis from the front lines and let you interpret what you read in your own way. Contact me for a candid conversation about the real estate market and how it may apply to your situation.
Greetings from the snow covered paradise that is Deep Creek Lake! We have had an incredible winter, perhaps the best in 10 years. There is plenty of snow on the ground and I think the last time I saw grass in my yard was late December. The ski resort is thriving and seems to be running at max occupancy, certainly on the weekends. It's common to see people looking for skiing & tubing tickets on Facebook, as the Wisp has sold out most weekend days. Our restaurants and most local businesses seem to be running strong, as well. State parks and trails are filled with people who want to enjoy the winter vibe and the fresh air. Locals are out in all their glory riding snowmobiles on the lake, sled riding and ice fishing. Parents are growing weary of the many trips to and from the ski area, dropping off and picking up our kids (and all of their friends) after virtual school lets out at 12pm each weekday. It's a labor of love, so the burden is light! These are all incredible signs for the economy in our beloved Garrett County.
The real estate market is no different. The market remains hot in spite of the freezing temperatures. Inventory is the lowest I have seen in my 21 years of real estate sales. Sellers have a tremendous amount of leverage and often have 3 or 4 different offers to choose from. Often times, this flurry of activity occurs in the first few days of being on the market. It can be frustrating to miss out on homes, but our team at Taylor Made has been successful in many multiple offer situations and have excellent strategies that can be applied in almost every situation. If you want an outside of the box approach to successful offers, give me a call or drop me an email. Now on to the stats: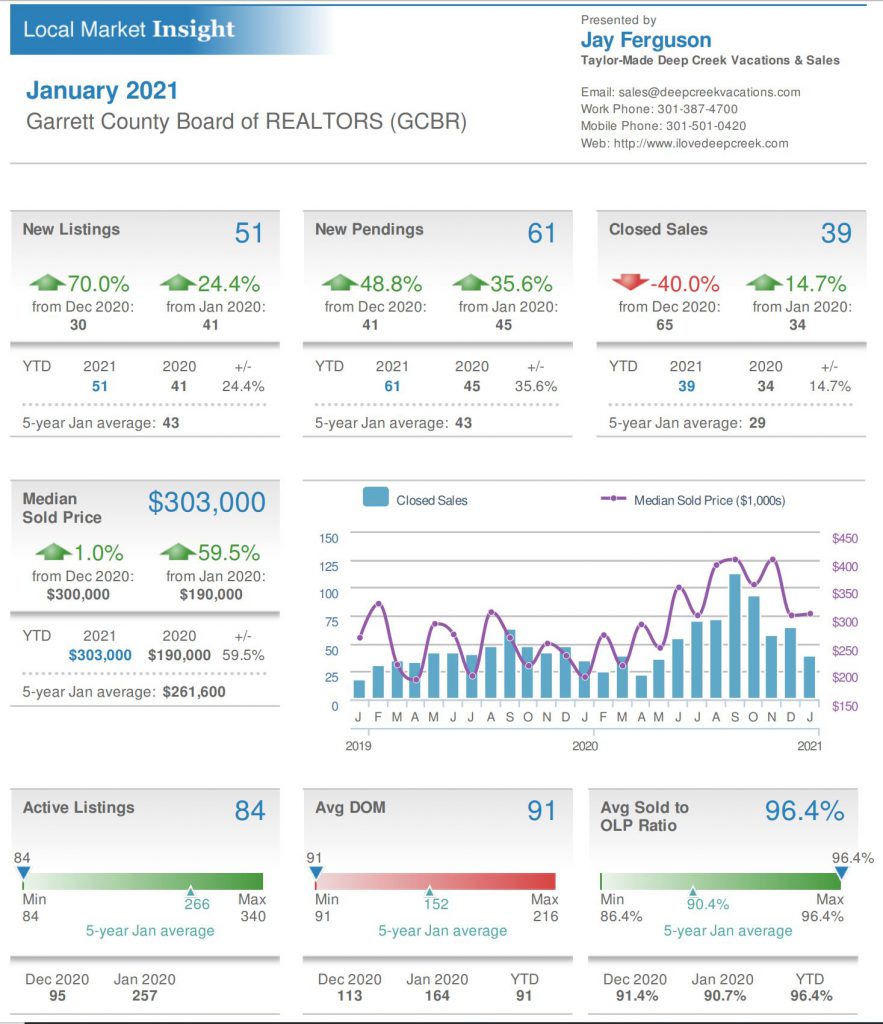 -There were 51 new listings in January 2021. Remarkably, this number was way up from December 2020 (70%). That's also lot higher (24.4%) than in January 2020.
-Pending sales (homes that went under contract) were up 48.8% when compared to last month. Up 35.6% from last year.
-Closed sales (homes that actually sold) were up 14.7% when compared to last year and down 40% from Dec 2020. There is always a lull around the holidays and those transactions get pushed to the new year.
-The total number of active listings dropped each and every month through 2020. We normally have 300~ homes for sale in January/mid winter. We ended January 2021 with 84 active listings for sale. As I type this, its down to 80 homes for sale.
-The average sold to original listing price (OLP) ratio was 96.4%, this is up 5% from December and up nearly 6% from January 2020.
-The median sold price was up 1% versus December 2020 but is a whopping 59.5% higher than January 2020.
-The average days on market (DOM) dropped to 91 DOM versus 164 last year. This is down from 113 last month.
The bottom line – it's a crazy time to buy right now. Everybody wants to be here in majestic mountain Maryland. There are so many buyers sitting on the sidelines right now, just waiting for the right property to pop up on their radar, there will continue to be bidding wars for the foreseeable future.
Buyers, if you are tired of missing out on these homes, give me a call. I would love to talk strategy with you and help you WIN when it matters most.
Conversely, if you are thinking of selling, there has never been a better time in terms of low inventory. Several of the past few homes I have listed went under contract at full or above asking price within days – sometimes hours! Reach out for more info and I can make your transaction smooth and successful!
Questions about the market? Whether you are buying or selling, I can put my experience to work for you! Contact me anytime for a free market analysis of any property you may be interested in purchasing or selling!
Jay Ferguson
Co-Owner
Associate Broker
301-501-0420 – cell